Finding Creative Alternatives to Shows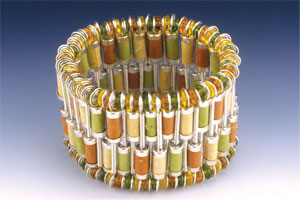 In this uncertain economy, many craft artists are re-evaluating their commitment to doing shows. There has been much debate lately between artists and promoters about the health of the show as a selling platform, as well as some finger-pointing on both sides. Some artists report they have stopped doing shows altogether, many have cut back and others have never done one. The debate will continue, but there are viable alternative ways to market and sell fine crafts.

Pam Corwin has had a 27-year successful career as an artist and teacher and has continued to do wholesale shows. But, Corwin has always been a proponent of other creative marketing tools. She uses them in her business and the workshops she teaches, as well as outlines them in her upcoming book. Corwin and other craft artists recently shared how they use these tools in their changing industry.
Good "old-fashioned" networking
Staying in touch through networking with peers, vendors and customers is critical to all business ventures. Second-generation lampworker Faith Davis Ferris jokes about starting her business in the "ancient past of the later '70s, early '80s when there were surprisingly few venues for marketing and selling." When starting out in pre-Internet days, Davis Ferris would routinely leave her business card "on the table of every eatery I visited. Calls from waitresses and dishwashers began ap­pearing on my answering machine asking where they could find my work."
When thinking of eliminating or cutting back on shows, artists often worry about the loss of direct customer contact. Davis Ferris believes that maintaining good contact is "soundly important. Be diligent in communication, obsessive in fact. Expedient response to client inquiries (new or established accounts) is essential."
While glass artist Jennifer Daggs does about 12 shows a year, she continues to use traditional networking outlets to get the word out about her work. "My target audience is middle to upper income women, so I joined an Executive Women's networking group in my area. At each meeting, I get to stand up and give a quick '30-second billboard' about me and my business. I have even taken the opportunity to give a presentation on the creative process to the group. I've received several custom orders through this group."
Corwin uses press releases in promoting her business and teaches marketing and PR in her workshops. One resource she recommends is publicityinsider.com for PR tips and press release secrets. "With 20 years in the PR business, Bill Stoller shares his secrets for scoring big publicity for your business. Even if you aren't able to afford his subscription, there is still tons of free information available."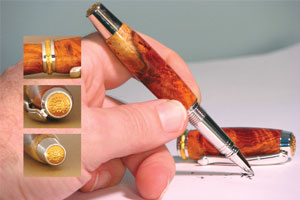 Cyber marketing
Utilizing technology as a marketing tool has revolutionized how artists do business. Online craft artists' forums and discussion boards are a nice extension of face-to-face networking. Corwin keeps tabs on peers, customers and gallery owners through these boards. "Although many of them are beginners, I get great ideas because they are often young­er and so much more Web-savvy than I!"
Most craft artists have had websites for years—some as a virtual brochure and others as a retail sales outlet. But how they employ the Internet is evolving. Building and maintaining their own sites takes time and/or money. There is a variety of existing Web-sales sites that make it easy for those who don't want to sell from their own sites. Started in 1998, one of the earliest was wholesalecrafts.com; it has been a successful venue for artists and galleries. The site's vice president, Mary Strope, reports that members' (both artists and retailers) stats increase each year—16,800 enrolled retailers to date, 1,355 artists. "2006 saw a 78-percent increase in order dollars placed online and a 76.6-percent increase in number of orders placed online. And 'they' said no one would buy crafts online!"
A newer retail sales site is etsy.com. Multimedia jewelry artist Nicolette Tallmadge has had good experience with Etsy. "I use my Etsy store to feature one of my jewelry lines that really doesn't fit with my main work. Setting up a store is really easy even if you don't have any experience building websites or selling online. Maintaining the store is easy as well. I think I spend about an hour or two a month at the most. The site also provides ways for artists to promote their stores, including on-site advertising, featuring stores on their daily blog and in gift guides and co-op advertising in magazines like Bust, Craft and Mary Engelbreit."
Blogs and videos
Some artists have begun to embrace a blog on their sites or have replaced conventional websites with blogs.
Tallmadge runs two blogs: the Crafted Webm@ster and mixed media designs. "One is on my website for my jewelry and another is for artists who need advice on how to market on the Internet. If you're going to do a blog, you need to make sure that you commit to it long-term and be patient. You never know when something you blog about will be the one thing that will make traffic to your website explode. Once I was at a show and a customer came to me and said, 'I really liked that article you wrote on your blog.' I was completely floored!"
If blogging is cutting-edge technology, then uploading videos about your work is bleeding edge. Michael Doyle crafts wooden pens. He recently shot and posted a video on YouTube. By using dolls as props that describe the process in text, he effectively captures his audience. "My real intent was to show the work involved in making a wooden pen, without me doing the showing and boring the viewer to sleep like most how-to videos. I've had buyers tell me that they would not have bought at the asking price had they not seen what kind of effort is involved."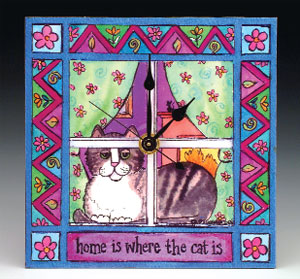 Think "niche" marketing
Charity auctions/fundraising—Daggs has made and sold special pieces for charities that were important to her. "I had friends who were doing the Susan G. Komen walk. An important cause for me, as breast cancer runs in the family. I designed a special pendant, my friends took orders and I sold them at shows and to friends and family. This helped raise money for a cause and put my work in the hands of many people."
Museum stores—Corwin suggests joining MSA (Museum Store Association). "Its $250 a year membership includes a year-long listing on their web­site as a vendor. This is a list often referred to by buyers from museum stores, zoos, national parks, etc."
OOTBM—One of Ferris Davis' first "out of the box marketing" tools was inserting a business card or brochure about her work in the envelope when she paid bills. "A thrilling number of replies came back!"
So if you are considering not going to any more shows or just cutting back, there are creative ways available to market and sell your work. According to these craft artists, it just takes ingenuity, perseverance and the willingness to explore new tools.TCR