By Stephanie Finnegan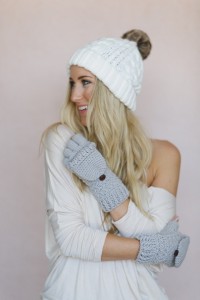 Launching a business—spearheading a new direction in one's life—can be scary. Taking that leap of faith into the big, bold, beckoning unknown is like a bird learning to fly for the first time. It's a major step forward: hopping off that familiar branch, spreading one's wings, and seeing if one's fate is to soar effortlessly or if there are bumps and turbulence ahead.
For Alicia Shaffer, the proprietor of Three Bird Nest, that propulsion into uncharted territory was spurred forward by both her desire to create and her acknowledgment that her three little children at home were the most significant and central part of her days and nights. Her girlish and gypsy-ish online boutique—Three Bird Nest (named for her trio of kiddies)—is a juggernaut on the Etsy handmade site. It has garnered fame and attention for its charming accessories, top-tier boho wardrobe choices, and a very free-spirited and quirky marketing sensibility.
"Based on sales quantity, we are the second largest shop in handmade on Etsy," Shaffer, a native Californian, observes. "We have gotten our name out there by delivering amazing products to our customers so that they are excited to tell their friends about us. It is not an overnight success. To put it bluntly and honestly, our success is a 'not very glamorous, no sleep, no energy, but you still keep going' success. We continue to grow by staying dedicated to our brand. We don't look at what other shops are doing. We keep focused on our shop alone, on a daily basis."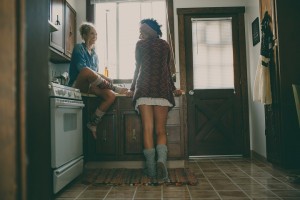 Part of Shaffer's ability to keep her sales climbing is a keen understanding that she must stay connected to her customer base. Beyond selling her handmade headbands, leggings, scarves, boot socks, and other delicate and feminine accessories, Shaffer is offering and curating a lifestyle and a rallying cry for women: "We have a good Facebook following and are active on our Instagram and Facebook outlets. We post photos daily of behind-the-scenes activities. We always show off photos of our new products and create contests to keep our customers connected to us. We set up special sales throughout the year for holidays, spring, and summer, and we ask our customers to talk about us and to tell their friends about us."
Shaffer and her team are laboring to entice and court women who are confident and contemporary. According to her mission statement, she wants to attract "women who want to make a statement without saying a word—one that is sophisticated, yet fun. One that loves fashion, but not being trendy. She's a mom, a daughter, a student, a bride, a woman going on a first date. She's YOU." (She's also your granddaughter, niece, or newborn—Bohemian Little Girls is a section of the Etsy shop that features headbands, turbans, scarves, and other accessories designed for very young, fashionable shoppers who want to be just like the grown-ups in their lives. Shaffer's daughter, Liv, is the delightful model for these toddler and tween favorites.)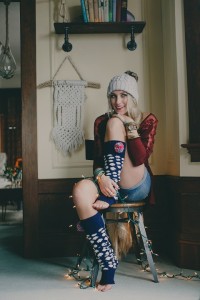 Capitalizing on that universality—while still making every customer feel that she's unique—is Shaffer's true achievement. She credits her husband of 14 years, Demetrious, for being her rock and greatest cheerleader. "My husband knows me and knows what I need, and he believes in me. That alone allows me to feel successful. I have days where I feel so scattered because I am at a soccer game or need to be there for my kids—a day where I get in-and-out because I am so swamped with the business. My laundry is always piled up, and my office is kind of a mess. I always have 500 things to do, but I wouldn't have it any other way. At the end of the day, the only way I can do it all is because of my husband and because of my support team."
The employees and colleagues who have helped Three Bird Nest ascend to its heights are imbued with the spirit of trying their best and working their hardest alongside her. Their roles vary from knitters and sewers to stylists and customer specialists, wholesale overseers to social-media gurus and photographers. They all take their cues from their fearless leader: "I expect a lot from my team, and they know it. It's not easy working with me. I am kind of obsessed with the business. If I was going to give mentoring advice to others, I'd simply say, 'If you have a dream, make it work. Don't give up. Work hard and do whatever it takes not to give up. It's not always a balance, but at the end of the day you'll make it work.' That's my credo."
For more information, visit www.threebirdnest.com
10 Questions with the Mama Bird
Handmade Business sat down and asked Alicia Shaffer, a self-made, self-confident entrepreneur, to discuss how she's made such a stellar reputation for herself in the handmade arena. The proprietor and founder of Three Bird Nest cleared time to engage with us and explain her successful flight plan—how she navigated her Etsy shop to huge sales success, as well as establishing her own e-commerce online destination!
HB: You are a force to be reckoned with on Etsy. Did you start selling there as an artisan, who had a crafts fair background, or had you owned a brick-and-mortar store and then sold your personal creations via the Etsy site?
AS: I owned a boutique at the time I started Three Bird Nest. I've always enjoyed making things and have been passionate about leather and crafting. I started selling on Etsy because my shop didn't have an online presence. I sold my small store at that point so I could concentrate 100% on the burgeoning Three Bird Nest. At first, I didn't know a lot about Etsy. As my shop grew, I began to do research. I learned more and looked up successful shops. I did research on SEOs (search engine optimizations) and shop titles and how to make my listings come up in searches.
HB: You have three children. I assume they are the ones referenced in "Three Bird Nest." Is your business a family affair beyond just the naming of it?
AS: Yes, my three kiddos are the three birds. I have a tattoo of three birds in a nest on my arm. When I was naming my Etsy shop, I looked at my arm and the name has just stuck! My husband and my kids play a daily part in the business, but my team is also essential for all the activities that a business requires.
HB: What do you find in your routine that you never could have envisioned before you had this online Etsy success? Is there some kind of rule of thumb that you can share with us to inspire others?
AS: I always knew I wanted to run my own business. I believe that a person needs to really take a look to determine if he or she is willing to do what it takes—not just initially but consistently. That's how you achieve a successful shop. You have to run your shop like a business, because that's what it is. It stops being a hobby as soon as you start to sell to the public. You need to be professional in order to deliver your products to the public. You have to be ready for business. You have to believe your product is amazing. You have to be prepared to work.
HB: Besides direct sales to your loyal clientele, do you also sell to other retail outlets?
AS: Yes, we do wholesale to retail stores. It's a great way for people to see our items in person.
HB: What is the hardest part—yet the most fulfilling part—of being an entrepreneur?
AS: Managing my time is the hardest part! I am a true entrepreneur so I always have a million ideas. I always want to add new products, so I have to remember to be patient. It is hard for me to be patient. I want my new items up the same day we make them. I design a new item and I want it up that same day. I want my customers to see new things from us and how hard we are always working for them.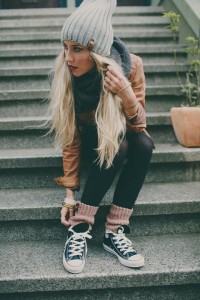 HB: Since being an entrepreneur is in your bones, was this something you were raised with? Is this a case where the crafts world surrounded you in your childhood or teen years?
AS: My mother was very crafty. She made everything—our costumes, piñatas—and sold crafts at local fairs and holiday boutiques to earn money. My grandpa lived in his workshop and I spent my weekends there. I learned how to woodwork and also watched my uncle create belts, leather stools, and jewelry. I grew up surrounded by creative people who used their hands to make money.
HB: Did you study a particular kind of craft at college? Or did you pursue some kind of degree that helped you in this handmade business?
AS: I actually majored in communications and public relations in college. It has DEFINITELY helped me with my business and my ability to market the company. That's a hidden truth in successful businesses. Day in and day out, there is no miracle or lucky button for success. The brands and the people you see are successful because they have worked tirelessly for it. They have planned and worked and strategized and have succeeded.
HB: What are some of the special qualities or unique components of Three Bird Nest that showcase your strategizing and marketing?
AS: Well, for instance, our model. Her name is Alexa Nunn and she's been a part of our team for around four years. She's become a part of our family and she is now the face of our brand. She adds that layer of recognition and familiarity. That is essential. Customers feel like they know her and know us. We focus on our brand at all times and always work to have customers feel involved and cared about. That is important. If you are thinking about starting an online presence, ask yourself this: Can I take a good image? Can I write a description of what I'm selling? Can I answer "convos" (conversations online) like a business?
HB: Beyond your own handmade creations, which reflect your sensibilities, do you buy from other like-minded artists and vendors?
AS: All of the items we sell in our Etsy shop, we upcycle, create, or make ourselves. There are some items we sell on our site that we do not make. We have several sources for those items, and we bring them in according to the season and our needs.
HB: It was a pleasure getting to know you. Is there anything you want to add or anything I didn't cover?
AS: I think our bottom line is that we connect with our customers because we are thoughtful in every step of our design. We truly are grateful for their support. We love to share our story with them—like we had the chance to do here—and for them to see that their support helps us to grow.