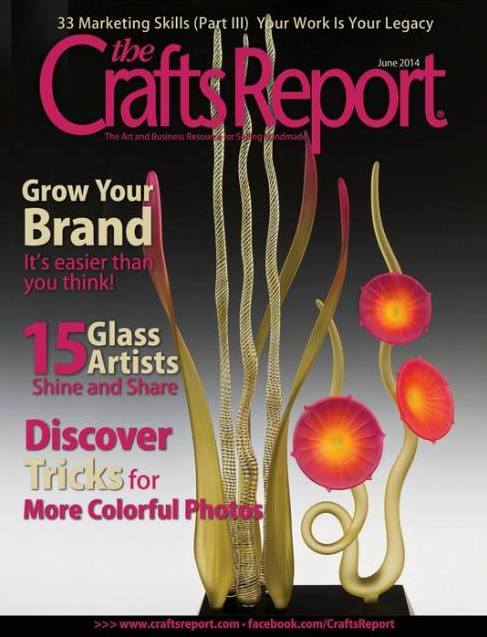 Kick your craft business into high gear with a one-year digital subscription, for only $2.00!
The Crafts Report is the only magazine devoted specifically to the success of your craft business. Since 1975 TCR has been knows as "the Wall Street Journal of craft." Whether you're a craftsperson, artist, gallery owner, or retailer, The Crafts Report has the most important information you need to make your business a success. Each issue gives you:
How-to articles on all facets of crafts business management and related topics
All the most-important industry news
Information on current issues and trends
Ideas and concerns from other craftspeople and retailers
Encouragement and recognition
Expert advice

Each issue is jam-packed with great money-making tips from the most respected people in the craft business: Bruce Baker, Steve Meltzer, Donald Clark, Patrice Lewis, Nancy LaFever, and Luann Udell. Plus you get insights from craft insiders like Nancy Vince, founder of wholesalecrafts.com; Mary Andrews, lead merchandising specialist at Etsy.com; and Wendy Rosen, author of Crafting as a Business.
You'd have to pay thousands of dollars in consulting fees to get this information on your own. But now you have the opportunity to access this wealth of knowledge at the lowest rate we have ever offered!
Special offer
Subscribe today and get 12 digital issues for just $2.00. OR, get our print AND digital editions for the lowest rate we have every offered… 12 issues for $17.95! That's over 60% off the regular subscription price! And if you act now, you'll also receive the digital edition e-mailed to your inbox for free.
Subscribe today and begin making more money with every issue.
Your Price (Print and Digital): $39.95 $17.95
1 year subscription = 12 print issues
Add digital edition at no additional charge


-OR-
Your Price (Digital Edition Only): $11.95 $2.00
1 year subscription = 12 digital issues