Is Fair Trade Fair to United States Artists?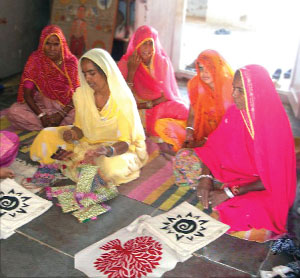 An artist prepares her workstation and gathers her materials in a small space. She begins by taking the stone and metal pieces and slowly turns them into a work of art—a polished, wooden necklace with silver-colored metal beads to complete the look. A necklace like this could easily find a home with any woman who appreciates handmade jewelry. It could have been made by an American artist—but it wasn't.
The necklaces are handmade by women artists in India and were brought to the United States by way of Handmade Expressions in Austin, Texas. Handmade Expressions, an importer of fair trade and handmade jewelry as well as other items, is among the growing list of organizations who are supporting demand for fair trade products in the United States.
What is fair trade?
Fair trade is an international movement designed to alleviate global poverty and promote sustainability through global trade of commodities (such as coffee) and crafts (baskets, jewelry, etc.). It encompasses principles such as:
• Against slavery and child labor
• Environmentally friendly processes
• A respectful relationship between producers and buyers
• A fair wage for producers
• A healthy working environment for producers
• Gender equality in respect to wages and working conditions
• The development of communities for self-sustainability
Consumer demand in the United States has increased and retailers have responded by incorporating more fair trade products into their merchandising mix. Even trade shows such as Beckman's Handcrafted  Show in Chicago, Ill., introduced more fair trade vendors than ever before this past July.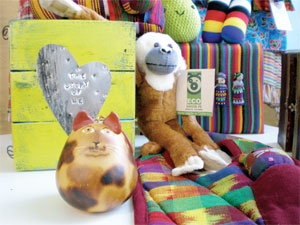 Artist versus artist
Galleries such as Mindscapes Adornment in Evanston, Ill., are noticing the increased demand for fair trade goods and are responding by bringing in some fair trade pieces from Nepal. Carole Richey, owner of Mindscapes Adornments, is mindful of the type of fair trade products she brings in and tends to seek out items that are less "ethnic" looking to appeal to her market.
"Evanston is very supportive of fair trade," Richey says. "I think it complements our other pieces." Nancy Phillips, general manager of WomanCraft, agrees that incorporating domestic and international products can be a smart strategy for retailers. "Customers today can access product from anywhere around the world," Phillips adds. "Retailers today are competing in a global market, and to get people in their doors, they need to bring in a range of products to appeal to a larger consumer base and draw more traffic to their store."
WomanCraft provides artisan positions and transitional jobs to women facing barriers to employment so they may earn income, improve job skills, build a work history and increase economic self-sufficiency. The artisans learn to make eco-friendly note cards and customized bridal stationery as part of their training, and the nonprofit organization is noticing an increase in retail interest as more customers are seeking out these types of products.
Phillips admits, however, that the fair trade story isn't enough to compel a customer to buy. "The product has to have value; it has to appeal to the customer," Phillips says. "The fact that it's fair trade is icing on the cake." Textile Artist Debbie Bartz, owner of Taylor and Coultas in Jacksonville, Ill., has been in business since 1988 and has seen her business as an American artist dwindle over recent years. She has recently started to source some of her work internationally, a decision driven by "economic necessity, but a regretful one," Bartz feels.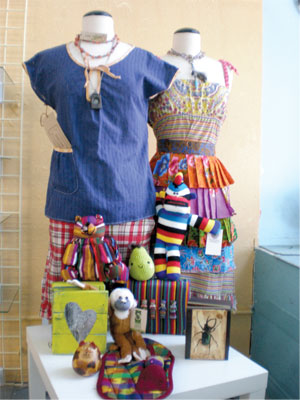 "I would like to see American retailers support U.S. artists over third-world artists," Bartz begins, "but retailers won't because they're concerned about price more than ever." Howard Schwartz, a jewelry designer and co-owner of Whitney Howard Designs in California, sees art as art—no matter where the person lives. "It's important in today's economy to support artists all over the world," Schwartz believes. "It shouldn't be limited by any border as long as it's legitimately fair trade."
Manish Gupta, founder of Handmade Expressions, works with artisans in India to create gifts, home accessories and jewelry, and agrees with Schwartz: "The handmade market is a very small market…it is competing against machine-made products from large industries that offer value and consistency." He notes that fair trade can help the handmade market in that it has a strong human appeal and, therefore, introduces more American consumers to the beauty of handmade items.
Schwartz and Gupta also note that geography plays a part when it comes to the look of the art. "A product from Egypt has an Egyptian style to it," Schwartz explains as Gupta adds, "Artists in developing countries have their own wealth of rich and traditional art forms and need more support and encouragement to keep their art alive."
One big happy family
Rather than looking at it as us versus them, Carmen Iezzi, executive director of the Fair Trade Federation in Washington, D.C., chooses to look at it from a more collaborative perspective and a shared mission of understanding, "Artists in general have a shared interest in educating consumers about their craft," Iezzi observes. "We need to educate to value and effort of a handmade product and appreciate what it took to make that item." The fair trade movement, according to Iezzi, is about using handmade products as a catalyst for change. "The cultures and techniques used by some of our artisans are underrepresented in the United States, but it doesn't have to necessarily compete against American-made art. It can easily complement their work in shops."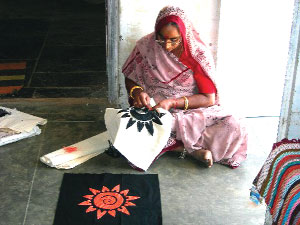 Andy Spyros owns Handmade Galleries LA in Los Angeles, Calif., one of Los Angeles magazine's top 25 gift shops, and shows local handmade and fair trade in her 5,000-square-foot store. "The biggest gift in the world is creativity," Spyros maintains, "and we want to support creativity wherever that may come from." She makes the analogy that incorporating handcrafted works from other countries is like being a parent of more than one child. "You love your first child and you wonder how it's possible to love another child just as much," she begins. "Then you have another child and you realize that you can love them both—there isn't a finite amount of love and that's the same thing with our artists."
Nonetheless, Spyros has definitely seen a change among her customer base. "Los Angeles has always been a little bit ahead of the curve when it comes to social consciousness," Spyros notes. "Our customers were into Green before it was fashionable. But 15 years ago, people didn't ask for fair trade. Now they are and part of that is because of the backlash against Chinese-made products, and they are more educated on what fair trade is and what it means to the artisans."
Iezzi also recommends American artists consider sourcing some of their raw materials from fair trade sources. "The Fair Trade Federation website (fair tradefederation.org) has a listing of members who offer fabric by the yard or beads, for example," Iezzi adds. "We want to make it as easy as possible to work with our partners, whether it's by providing a flyer of fair trade members exhibiting at trade shows on our website or being a resource through access to our members." Explains Gupta, "Ultimately, art is a representation of free mind and free soul, it cannot be bound by territory." And that's something we can all agree on. TCR
Megy Karydes is a Chicago-based professional writer and marketing/public relations consultant. She can be reached at Megy@KarydesConsulting.com.