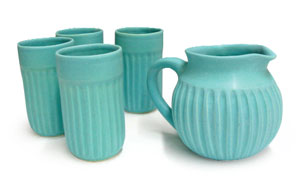 If the stream you're in isn't moving, move to another stream. Bob Silberberg of The Clay Pot in Brooklyn recently used this analogy in reference to the current market situation. With this simple thought and powerful message in mind, I set off for the New York International Gift Fair (NYIGF®). This annual event in January attracts nearly 3,000 wholesale players and 60,000 buyers from around the world who have to keep their boats moving along.
Those of you who follow my monthly column (Just Ask) know my stance on pricing and selling your work. Everything begins with and is driven by the wholesale market, even if you never sell wholesale. Craftspeople typically don't have the cash flow to justify spending large sums on marketing strategies and schemes that will strengthen their market share. The NYIGF seemed the perfect place to observe the wholesale marketing plans developed by the big companies to deal with the current slower financial stream.
Conversations with makers, wholesale sellers, retail buyers and others revealed very different thoughts about the current challenging wholesale climate and the tactics needed to thrive in the years to come.
An interesting conversation with Carol Sedestrom Ross, former director of and current consultant to George Little Management, promoters of the NYIGF, set an upbeat tone for the subsequent interviews. Ross, who has been a major player in crafts marketing for three decades, has seen her share of recessions. She has observed that craftspeople come through recessionary times better than the larger manufacturers because they can change products and marketing strategies quickly in response to the market. Unlike the big manufacturers who may need 12 to 18 months to introduce new products into the market, we can do it in two or three. We can also implement new marketing plans quite quickly. You talk to the product development department (which is you), and the marketing department (also you), and then you decide what to do.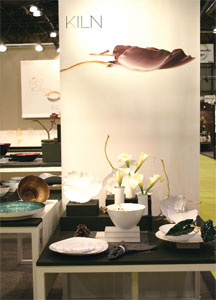 The majority of the exhibitors I spoke with reported sales down in the last quarter of 2008, and they were also expecting sales to be down at this show. However, there wasn't a shared solution to this situation; as I talked with various people, many differing ideas came forth. At one end of the spectrum were the people who admitted their sales were down and had no special incentives to get buyers to buy.
Although I didn't speak with Roger Fargeon, sales manager for Annieglass, about the company's sales, he did share that he had discussed the options with his sales representatives around the country before deciding how to proceed. His reps had told him that offering incentives such as discounts, shipping deals or changing minimums really wouldn't help the struggling merchant. They planned to work with customers to help them fill in their best sellers. This makes sense to me; retailers know that, as sales slow, venturing into the unknown is a no-no. The message here? This is not a great time to introduce lots of new product.
Jill Pearson, jewelry designer and CEO of Wasabi Jewelry, had definitely planned for a different selling experience. She took a smaller booth and redesigned her display. Pearson, who has always had a way with pearls, displayed these designs in one-quarter of her booth. The minimum order here was also reduced from $500 to $350; orders of $500 or more received free shipping and $1,000 orders also got a five-percent discount.
Wasabi is a large, seasonally changing, fashion-driven line and Pearson had therefore never taken on the expense of printing a catalog. Serious customers at this NYIGF were offered a photo pack of selected designs to facilitate buying from the office. Another first for Pearson was the addition of a retail component on her website. "I use it to feature only the one-of-a-kind pieces I create incorporating classic costume jewelry fragments," she says, adding, "I never compete with my stores." The Wasabi site has always been used to drive potential buyers to the shops selling the designs, and Pearson is careful not to infringe on these businesses.
KILN Design Studio is a Brooklyn-based company producing high-end enameled tableware. James Leritz, the designer, created a group of more moderately priced pieces for this show, and the minimum order was lowered from $750 to $500. In addition, KILN allowed select customers the opportunity to trade back product in order to bring in the best sellers and keep their display fresh. Even in the best of times, this is a very smart way to keep your display updated and drive sales.
Judy Jackson, an old friend and master studio potter in Manhattan, has been doing the NYIGF for about 15 years. She feels it offers valuable exposure for her line and provides the opportunity to show new items to the largest possible audience. Jackson is a strong believer in the value of customer service. She has begun working with a rep on the west coast, a move she feels will provide better service to those customers she can't see herself. Her website serves as a gateway to her line and connects retail customers to the shops that offer her work. She, like Jill Pearson, is very careful not to compete with the shops that carry her line. As a special thank-you, Jackson sent her best customers a little gift before the show—now how's that for smart marketing! While visiting another booth, a buyer carrying a big bag stopped by and gave the exhibitor a gift from her store, saying she'd be back to place her order after she delivered the rest. Thoughtfulness never goes out of style.
At the booth of Jonathan's Spoons, owner Jonathan Simons was quite philosophical and spoke of nurturing the creative spirit that got him into the business in the first place. He has used his creativity to develop better packaging and presentation materials, and has also mechanized his production in a move to minimize the cost of repetitive labor-intensive work. The use of lasers to cut new designs has allowed him to enlarge his line and at the same time keep costs down.
Alison Alten, another old friend who with her husband Bo Jia owns Middle Kingdom, had an interesting idea. Middle Kingdom imports very simple, classic porcelain vases and bowls designed by Bo and produced in his hometown in China. As the end of 2008 approached, she began calling their better customers and offered to consign pieces from inventory. This resulted in sales of items that would have sat in the warehouse and also brought in a number of reorders.
As I walked the aisles with eyes and ears open, I collected several ideas that may be helpful. A number of manufacturers were sharing booths and many were in smaller spaces. There were deals everywhere—$1,000 orders receiving free freight with free freight on the next order of $500 or more, offers of free product with a minimum purchase, and display furniture offset by product (the biggest businesses have always done this).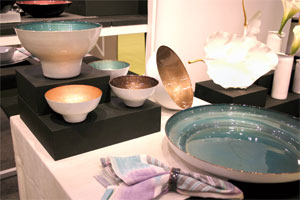 In one aisle, I encountered Susan Levine and Elaine Powell, co-owners of Jubilation in Newton Centre, Mass. We used to shop together when I had a store. Since they are still at it, I asked about their current shopping tactics. They have an interesting strategy that allows them to travel to fewer shows. They contact craftspeople whose work they want to buy and request a shipment of available items. They go through the box, choose what they want and return the rest. They pay shipping both ways and guarantee the goods with a credit card. I'll bet we are going to see more of this—first, because it makes economic sense and second, because it's Green (it takes much less energy to move a box than two bodies).
A seminar, "Retailer to Retailer: How to Thrive in a Changing Economy," caught my attention—I'm always interested in change and thriving is always a good goal. The presenters were Carol L. Schroeder, a store owner and author from Madison, Wis., and Tom Ungrodt, a publisher of catalogs for independent gift stores and also a store owner from Ann Arbor, Mich. This team presented a number of ideas during their hour-long seminar. I'll share a few highlights here that I feel can be helpful for the producer as well as the wholesale buyer. Perhaps the most straightforward message: shopping will go on, with birthdays and anniversaries (for instance) continuing to generate gift purchases.
Ungrodt pointed out that historically, the gift industry is the first to feel the negative effects of a recession and is the first to recover as the recession ends. Since we're in the gift business, this news works for me. According to Schroeder, buying locally will be an increasingly important factor in shopping decisions as we move into the twenty-first century, and what is more local than buying from an independent retailer or directly from a craftsperson? Ungrodt was emphatic that we must go forward with the confidence that we are going to be successful. I agree and completely believe in the power of believing in ourselves.
So, as we go forward, let's find strength and confidence from the knowledge that in the era of mass production, handmade stands out as a true luxury. And as marketing expert Pam Danziger has pointed out, luxury doesn't have to be expensive, just special. More targeted promotion of our businesses will allow handmade to grab a larger and larger market share as new shopping patterns evolve and play to our strengths over the next decade.TCR
Resources
Bob Silberberg, The Clay Pot, www.clay-pot.com
Roger Fargeon, Annieglass, www.annieglass.com
Jill Pearson, Wasabi Jewelry, www.wasabijewelry.com
James Leritz, KILN Design Studio, www.kilnenamel.com
Judy Jackson, Judy Jackson Stoneware, www.judyjacksonstoneware.com
Jonathan Simons, Jonathan's Spoons, www.woodspoon.com
Alison Alten and Bo Jia, Middle Kingdom, www.middlekingdomporcelain.com
Susan Levine and Elaine Powell, Jubilation, www.jubilationcraftgallery.com