by Mike Ricci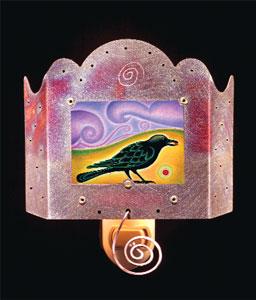 If you're thinking of packing up samples of your handmade creations and taking them downtown to the eyes of local gallery owners, some retailers have this not-so-subtle suggestion: Don't do it!
Stopping in unannounced is easily the biggest pet peeve gallery owners have when it comes to dealing with eager artists. That doesn't necessarily mean retailers aren't interested in your work. But it does mean that to improve your odds of getting a second glance, you first need to consider what approaches work well from the perspective of successful gallery owners.
Making initial contact with galleries
"I am open to being approached however the artist feels comfortable making the first contact," says P.J. Heyman, founder and owner of the Village Artisans Gallery, an acclaimed gall­ery in the small town of Boiling Springs, Pa. Prior to contacting her, Heyman recommends that artists should visit the gallery—or at least take a look at its website—to see if their work is something that might fit in with the gallery's overall feel.
Heyman explains that she started the gallery as a way to have a nice studio space for her stained glass business when she was working as an artist. "Having been on the artist's side of the fence, I feel that I have a good understanding of their needs," she adds.
After you've made initial contact with a gallery, if both of you agree there is interest in considering a working relationship, it's time to showcase you and your work. "Give me information about you and how your work is created so I [could] describe and explain it and the creative process to customers," Heyman advises. "Show me work that is organized and ready to sell." This includes having jewelry (or similar small work) on professional- looking cards, providing clear information about the work and the artist and including prices on the work, she continues.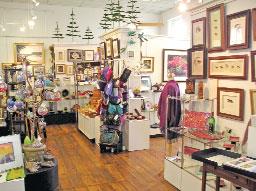 Peggy Wolf, co-owner of Chiaroscuro, a nationally known gallery in Chicago, echoes many of Heyman's thoughts. Wolf prefers initial contact by e-mail or regular mail so she can see an artist's work, descriptions and prices, all without wasting anyone's time if she feels that it is simply not right for her gallery.
Both gallery owners are adamant in their belief that unexpected visits are not appropriate. "I definitely do not like it when an artist just drops in unannounced and wants to show things," Wolf notes.
No experience? No problem
Getting your first few "breaks" with galleries that will carry your work can make future efforts easier, but being a rookie isn't always a bad thing. While some galleries like to work mainly or exclusively with tried-and-true work and artists with experience wholesaling their craft, others find benefits in taking a chance on a relative newcomer.
"I always think that maybe if someone [who is] up-and-coming contacts me, their [work] might not be in a lot of other places yet," Wolf says, adding, "and I like that."
Consider consignment
In the current economy, galleries often can't buy as much work outright as they did in the past, Wolf says. "So it would really behoove a new artist who wants to be here to consider giving work on consignment to get a foothold," she continues. Consignment is admittedly a scary proposition for many artists who have felt taken advantage of by such arrangements in the past. So Wolf advises doing consignment work only with established galleries that have good track records.
"I probably would not do consignment with a gallery that is newly opened," she warns. "This is not the time for that kind of risk."
Let the galleries come to you
Despite the Internet's ever-expanding reach, wholesale shows are still a standard part of many galleries' efforts to find new and exciting work to carry. Both Heyman and Wolf say they continue to travel to a handful of trade shows each year.
But if you're going through the effort and expense to attend wholesale shows as an artist, make sure you do them right, advises Joline El-Hai, the Seattle-based owner of Bella Luz Studio, and creator of lighting, note cards and fine art glass. El-Hai's creations are carried in dozens of galleries nationwide.
"Have a spectacular, classy booth display that really draws in the customers from the aisles," El-Hai recommends as a requirement for standing out from the crowd at busy trade shows. After years of carefully building a gallery base, El-Hai has accumulated a handful of other tips to catch and keep the attention of gallery owners:
Conduct yourself professionally and ethically.
Decide on clear policies, communicate them well and operate within them.
Don't skimp where it matters. Spend wisely on quality photography and presentation materials.
El-Hai has found the most success in attracting gallery attention to her work by doing trade shows and by advertising in craft trade magazines that are read by gallery owners. (The Crafts Report magazine's "Craft Showcase" pages are an example of an advertising section aimed at retailers, and some other magazines in the field have similar pages.)
Networking to get into galleries
Furniture maker Gary Keener of New Carlisle, Ohio, made his first few gallery arrangements with store owners he met during his apprenticeship (with another furniture maker while learning his craft). Having a common connection can help a fledgling artist-gallery relationship get started in the right direction, he believes, and can alleviate a gallery owner's initial hesitation to work with an unknown artist.
Dealing with unique needs
Some types of handmade work have unique considerations when you're trying to get into galleries. For instance, Keener realized early in his career that the sheer scale of much of his work might prevent smaller galleries from carrying his creations. He has since tried to work around such hurdles.
"I have some pieces I try to tailor to smaller spaces," Keener shares, which can allow a gallery with limited floor space to carry some of his work. Still, he admits, it's sometimes a challenge to find galleries that are both interested in carrying furniture and able to accommodate it.
Artists and gallery owners working together
To help galleries find success selling his furniture, Keener explains that when inquiries about his work come directly to him, he points would-be customers to a nearby gallery that features his line (if there's such a retailer within a reasonable distance). Keener also allows galleries the flexibility to adjust his prices if they feel this is necessary.
Sometimes, it seems that gallery owners and artists treat one another as adversaries. But Keener argues that he tries to appreciate and understand the concerns and issues that gallery owners have about carrying new work, as well as their need to price work appropriately to cover expenses for marketing and other overhead costs.
"I have a better understanding, so it's not this adversarial relationship," he notes. "Besides," he adds, "We're all in this business together and should be helping each other."

Mike Ricci is the former art director of The Crafts Report, and a current freelance writer and designer. He can be reached at mricci7165@comcast.net.