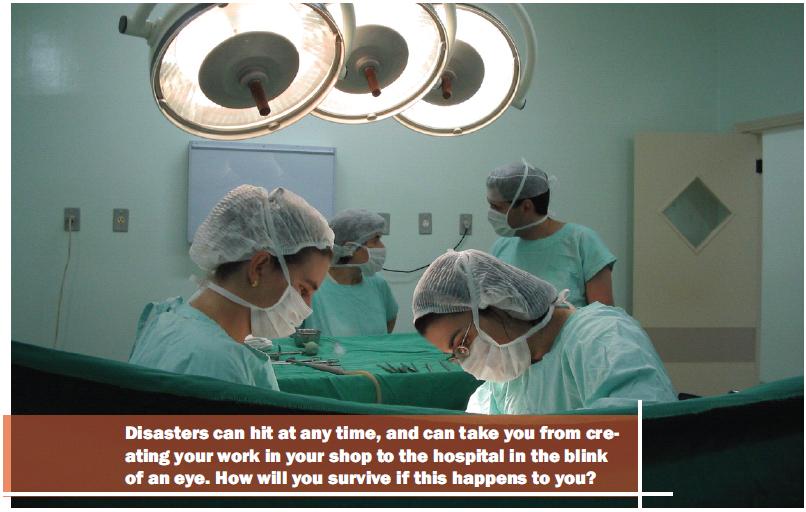 Some disasters aren't easy to prepare for.
Kelly McLain, a glass artist in Seattle, started her day in May 2006 with a headache.
By the end of the day, she was blind in one eye and within 24 hours, she was in surgery with three brain aneurysms. For a month, doctors kept her sedated and for another two months she was hospitalized. Then she moved to Michigan for several months of recuperation in her sister's care.
In all, McLain was out of commission for almost nine months, and is still at risk of seizures.
Finding help
While she was unconscious, a friend in the Glass Arts Society submitted McLain's name and situation to the Craft Emergency Relief Fund and she received a $1,000 emergency grant that helped cover immediate expenses. Later, McLain applied for and received a $3,500 no-interest loan to help her convert her studio into an apartment while she rented out her home to manage costs.
Other grants from the Pollack-Krasner Foundation and the Adolph and Esther Gottlieb Foundation helped with medical bills and financial steps to get McLain back to work.
The Craft Emergency Relief Fund (CERF), a Montpelier, Vt., nonprofit organization was founded in 1986 to help people just like Kelly McLain. Last year, the organization disbursed almost $100,000 in grants and no-interest loans to about 25 craft artisans who had encountered a crisis of some kind, impairing their ability to do business.
How to apply for an emergency grant
"We want them to know the work they do is important, so we don't want to create any additional red tape or stress at this time in their lives," says Les Snow, operations and financial services manager at CERF.
An application for assistance is on the website, but Snow and his staff often work with artists over the phone to gather the information needed for assistance. Between show operators and gallery owners who can provide documentation of the artist's work, and financial records easily accessible by the IRS, the CERF committee usually makes a decision about grants and loans within two weeks of application. Factors that influence the committee's decision include the nature of the emergency, the quality of the work and the professionalism of the artist in need.
CERF is also working with the insurance industry to better educate industry leaders about the unique businesses and community contributions of craft artists. Additional workshops are coordinated for artists to provide advice and assistance in determining insurance and other disaster preparation plans. Volunteers, contributions and ideas are welcome at the Craft Emergency Relief Fund, (802) 229-2306.
Back on your feet
Just before Christmas 2007, McLain watched the installation of her first creation since the massive headache interrupted her life—a 40-by-11-foot glass and metal sculpture commissioned by the Washington State Arts Commission for a community college in Spokane.
"An installation is always nerve racking, but I felt an extraordinary sense of accomplishment and hope to see that installation go up," McLain says.
From her experiences, McLain has three pieces of advice for other artisans who face a disaster or crisis of some sort:
Don't be afraid to ask for help from family and friends, "because wouldn't you help if you could?"
Keep your records and office up to date and orderly so if you are out of commission, others can begin to make sense of, and hopefully salvage, some of your business.
Get back to work. "It helps you heal and you'll be amazed at the emotions in need of expression and the new ideas that form."
Diana Lambdin Meyer is a freelance writer based in Parkville, Mo. This post is an excerpt from her article, "When Disaster Strikes," which appeared in the April 2008 issue of The Crafts Report.