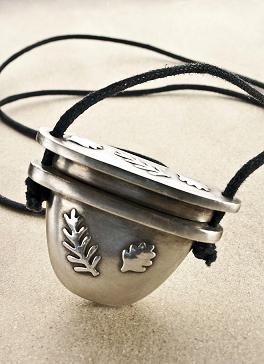 "Summerhaven" by Jennifer Gastelum
By Stephanie Finnegan
Metal clay is a medium consisting of very small particles of metal, such as silver, gold, bronze, or copper, mixed with an organic binder and water. Metal clay can be shaped just like any soft clay, by hand or using molds. After drying, the clay can be fired in a variety of ways, such as in a kiln, with a handheld gas torch, or on a gas stove. The binder burns away, leaving the pure sintered metal.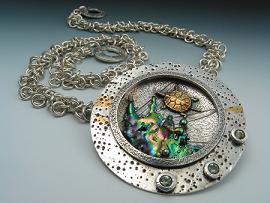 Necklace by Christine Norton
The Alluring Secret of Metal Clay
Metal clay is a fairly recent innovation. As such, it still remains rather secretive or even fantastical to the uninitiated. It doesn't have centuries of history and lore behind it. Rather, it was created in the early 1990s in Japan and was imported into America soon after. It is an art form that is young, poised for bigger and better breakthroughs, and brilliantly transformative in what it can do. Not even 25 years old, the medium of metal clay is the message: it is cutting edge, alluring, and holds people under its sway.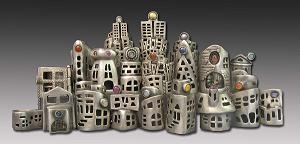 "City of Rings" by Hadar Jacobson
The Death-Blow to Sterling Silver
"Precious metal clay is still relatively new to art-jewelry galleries and to customers, " cites Monique Perry, "Creations made with fine silver metal clays are actually more pure than sterling silver. After firing, the fine silver content is 99.9 percent pure silver versus 92.5 percent for sterling silver work. Due to its purity, many deem metal clay jewelry to be more valuable than sterling silver. Plus, since it tarnishes much more slowly than sterling, shop owners greatly appreciate the lower maintenance demands."
Having created art jewelry for 21 years, Perry discovered metal clay seven years ago. Her attraction and adherence to it was immediate: "I could achieve deep textures that I couldn't achieve using traditional metalworking techniques. I also was drawn to the tactile nature of working with metal clay. Not only could I apply many traditional techniques—such as soldering, stone setting, and riveting—but it could be rolled, sculpted, carved, and even enameled."
A Trend Setter's Jackpot
Holly Gage agrees wholeheartedly with her precious metal clay peer. She also is impressed by the medium's versatility and vibrancy. "There are no limits!" she enthuses. "People are experimenting every day—so from jewelry to vessels to wall art, people are producing new and exciting pieces regularly. One of the reasons why it has come so far in such a short period of time is the willingness for artists to share their techniques and innovations with each other."
A first-rate artist, author, and instructor, Gage emphasizes how the medium is a kinetic one. It is constantly evolving and growing, gaining more admirers and popularity as it continues to attract aspiring artists and collectors.
"The quality of work from the top metal clay artists sets a new bar of talented trend-setters. If a gallery, store, or shop wants to set itself apart, being in front of the trends is a prudent place to position one's self," she encourages.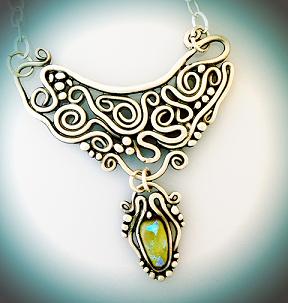 "Rain Drop" necklace by Lis-el Crowley
Irresistible to Customers
Having begun in the metal clay arena in 2007, Jennifer Gastelum has challenged herself to try her hand at varying styles and themes. "The allure for me is that I am doing something different," she affirms. "The jewelry market is oversaturated, and metal clay is a medium that is unusual. Every time a customer reads about it, he or she wants to know more. The metal clay process is very unique, and customers are interested because it has a certain 'mystery' about it. The mystery is you can change a lump of clay into real metal. To the average citizen, this seems impossible! As it is often said, it is the 'story' that sells the piece—not just the piece itself."
Assault on Mass Production
Angela Crispin began working with metal clay in 2003. She was immediately impressed by the metal clay's texture: "I love its 'softness,' for lack of a better word. It came into my life at a time when I was coming to realize that I no longer wanted to or needed to 'tough it out.' I realized that 'tough' and 'hard' did not mean 'good.' I love to hammer, and solder, and use the jeweler's saw. I still do! However, with metal clay I can make volume and textural pieces with ease and with pleasure.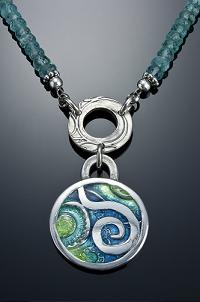 Necklace by Monique Perry
No Limits
The pliability is a true boon for artists of all ages, according to Beata Kacy. "Its pliable form is priceless," Kacy observes. "I look at my 75-year-old mom, who would never be able to work at metal fabrication due to the lack of strength in her hands, but she can still use her fantastic imagination and creativity while making gorgeous pieces."
"You are not getting limited by metal specifications anymore. You tell metals what to do, instead of them telling you what can be done."
Christine Norton sees the world of metal clay as a magnet for artists from different backgrounds, with different skill-sets. Because of the ease of working with the material, it attracts a group of artists such as myself," Norton explains. "I'm talking about someone who works a traditional day job, who doesn't have formal art training, but is drawn to creating jewelry."
Norton initially wanted a medium that she could work with that wouldn't require enormous studio space and implements. "I wanted to create using a limited number of tools within my own home. I can carve it, form it with my fingers, tear it, or break it! It is a very accessible and exciting material to work with."
For Hadar Jacobson, the material is not just exciting—it is "forgiving." According to Jacobson, working with metal clay has two big advantages. "First, unlike ceramics, there's no rush," she underscores. "A piece does not have to be completed in one session. In fact, there is no time limit. Second, you can correct yourself and change the design as you go along. Nothing is final until you fire a piece, and even then you can still change it. I like to experiment, and this uncharted territory was perfect for me."
Stephanie Finnegan is a senior contributor at JP Media. A former editor of THE CRAFTS REPORT and SMART RETAILER, she is well versed in how commerce and creativity intersect. A contributor to HANDMADE BUSINESS and SUNSHINE ARTIST, Stephanie loves to showcase how artists rise to the challenge of being enterprising and entrepreneurial in today's competitive climate. An author of several books on collectibles and American artists, she has also written a time-travel book and a series of short stories. Stephanie can be reached at www.stephaniefinnegan.com