These are some of the talented artisans returning to—or making their debut in—NY NOW HANDMADE this February.
Pig Butcher Block by Swaine Street Woodworking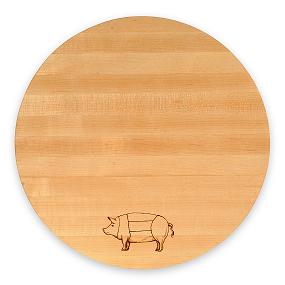 Jana Bookholt handcrafted this piece in her Nova Scotia studio from domestic North American maple, which is naturally anti-microbial and easy to care for. Featuring her unique hand-drawn design, it is meant to become an heirloom with proper care. Bookholt's distinctive cutting boards, charcuterie board, and butcher blocks represent a fusion of her training in fine art and woodworking. Its dimensions are 12 inches diameter, 1.5 inch thick. For more information, visit swainestreetwoodworking.com.
Olympirings by Delight London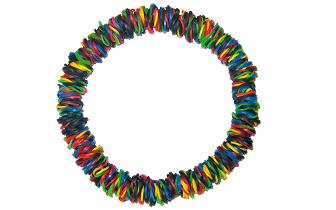 This range of sporty rubber band fashion jewelry will make its U.S. market debut at NY NOW this winter. Designer Ros Weaver got the inspiration for her quirky "rubellery" after seeing her twin sons wearing rubber bands discarded from the mail. She uses ethically sourced, natural latex bands from sustainable rubber tree plantations in southern India. The bands are threaded on strong elastic and include a special printed nylon signature disc. For more information, visit delightrubellery.co.uk.
Lily of the Valley by Kinaloon
Each piece of Barbara Raidl's hand-crafted stationery is an original piece of artwork. She draws the designs, then silk screens them on 100# paper using a rustic press. This set of six 4.25-inch x 5.5-inch A2 cards are screened with super opaque white ink on French's recycled Jellybean paper, and come with six white envelopes. The inside is blank. Each set comes in a clear box. For more information, visit kinaloon.com.
Leather Cuff Collection by Billykirk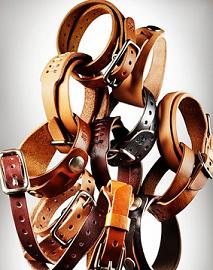 Handmade in Pennsylvania of U.S.-sourced leather, this line of unisex wrist cuffs features eight styles, both single and double-cuffed, in several color choices, from tan to black. Hand-burnished and edged, Chris and Kirk Bray's sculptural and minimalistic designs are finished with coated or plated brass hardware. For more information, visit billykirk.com.
(Re)Bottled by Green Glass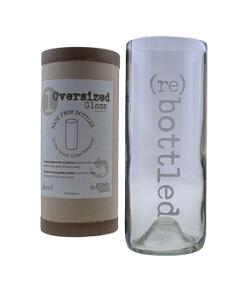 With the goal of reducing the use of plastic bottles, this reusable oversized glass can hold 20 ounces of liquid. It's made from a reclaimed Chardonnay bottle, rescued from the North American waste stream, and converted in central Wisconsin. The sturdy glass still has a punt at its base, clearly showing off its origins. For more information, visit greenglass.com.
Scalloped Bowl with Servers by Swahili Imports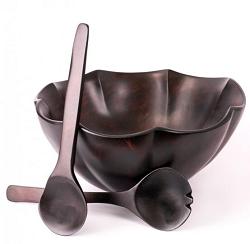 Acclaimed Haitian artist Einstein Albert and his co-op of artisans hand-carve this serveware from the native Obeche tree, a fast-growing and sustainable plantation wood. These limited-edition bowls feature a gentle scalloped shape and are finished with a rich stain that highlights that natural coloration of the wood. They are filed and sanded repeatedly for smoothness. The set comes with two salad servers. For more information, visit swahiliwholesale.com.
Cokoons™ Footwear by HWD Felt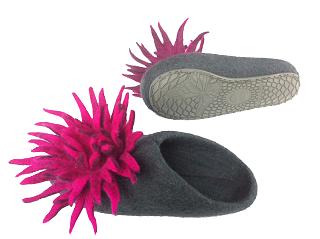 Wool felt, a renewable resource, naturally insulates, ventilates, and can be easily formed. To create these durable and unique slippers, feltmakers layer wool fibers, rub them together with soapy water, and then hand-sculpt each pair. The uppers are made from 100% wool and are attached to modern rubber soles for indoor and outdoor wear. For more information, visit cokoons.com.
Hmong Bridal Book by Marina Paper
A beautiful brass brooch from the Hmong tribe in the Golden triangle of Southeast Asia adorns this journal's hard vegetal leather cover. It closes in the soft wrap of a thin fabric twisted around the spiral brooch. The spiral is symbolically related to water, the moon, and feminine energy, which, in turn, are connected to fertility, birth, love, and marriage. It contains 40 sheets of thick, patterned Daphne paper. For more information, visit marinapaper.com.