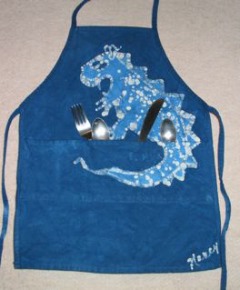 Brooklyn, NY–Celebrating 40 years of designing batik wear, The Melting Pot studio will mark its ruby anniversary with a weekend-long, in-store party October 20 and 21. Nancy Cogen and Tammy Johnson, the mother-daughter proprietary team behind The Melting Pot, will host the two-day event which will feature art workshops and demonstrations in batik.
Cogen started The Melting Pot in 1972 in the front parlor of her brownstone in Boerum Hill, Brooklyn after taking a "homemaker" class in batik at the YWCA. Obsessed with the centuries old Indonesian technique of hand-dyeing cloth with a wax-resistant process, she designed batik t-shirts for family and friends. Previously a stay-at-home mother of three, Cogen turned her newly discovered prowess at batik into a business. Plain white garments were altered with Cogen's bright color palette and fun whimsical patterns into wearable art. Sold at street fairs – and sometimes out of her home studio to last-minute present seekers – her designs were eventually picked up for retail sale by a neighborhood boutique.
Over the next decade, demand for her product required expansion, so Cogen rented space on Brooklyn's Atlantic Avenue and transferred wholesale and retail operations there. By 1981, Cogen, with the assistance of her late husband and business manager, Bob, had opened a second retail store, Model Tee, in Manhattan and boasted an annual revenue exceeding $100,000. The Melting Pot's batiks have appeared on TV, most notably on "The Cosby Show" and in the following films: The Door in the Floor, Happiness, and Rachel at the Wedding.
The success of The Melting Pot (nicknamed "Batik by Nancy" by her friends and neighbors) enabled Cogen and her husband to focus full-time on the business as early as five years after incorporating. After renting at two different locations, in 1989, Cogan purchased the building that now houses The Melting Pot's wholesale production facilities and retail storefront. Their daughter, Tammy Johnson, began working for the company in 1990. In 2006, Cogen transferred ownership of The Melting Pot to Johnson, but continues to work alongside her daughter as a self-described "semi-retired volunteer."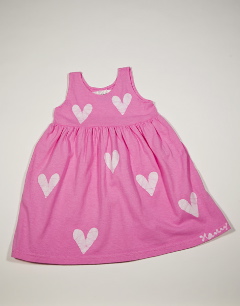 Each piece The Melting Pot produces is hand painted with wax onto white goods made from 100% natural fibers. Graphics Cogen and Johnson have presented over the years include dragons, hearts, flowers, clouds, birds, raccoons, and pandas, with up to 70 basic patterns in rotation. The boutique's most popular depiction is the Brooklyn Bridge, followed by their iconic Smiling Dragon motif. "The Dragon t-shirt was practically a uniform at St. Ann's, a neighborhood school, in the 1970s," Cogen states. "Parents liked it for the quality of the fabric and kids were drawn to it for the bright colors and the image of a happy, smiling one-fanged creature whose tail continues to the back of the shirt."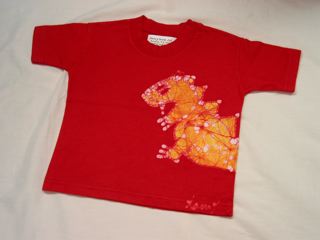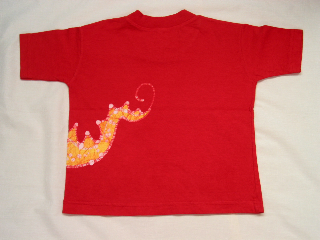 Shopping for batik clothing at The Melting Pot provides clients with a "one-of-a-kind" retail experience. While a host of Dragon t-shirts may be on display at any given time, no two dragons are exactly alike, due to the variables of the batik procedure and the peculiarities of the artist. This individuality has fostered a long-standing loyalty among the store's clients and expanded their customer base. Wholesale and retail orders are filled from across the United States, Japan, and Europe.
Today, The Melting Pot's line includes pillows, totes, scarves, baby items, and other accessories. One of Cogen's first patterns during the class was a lion that originated in 1972 on a t-shirt made for her husband. The latest symbol from The Melting Pot is one most prevalent in modern communication: the smiley-faced emoticon : ). Cogen notes: "Perhaps the most fun we had was when we designed men's underwear!"
Fortieth anniversary festivities for The Melting Pot are scheduled to take place at the store. To commemorate the art class that Cogen took more than four decades ago, workshops will be given in Oil Pastel Resist Watercolor drawing from 2 to 4pm on both Saturday and Sunday, October 20 and 21. Open to all ages, the class is an introduction to the resist process similar to that utilized in batik. Demonstrations of the batik craft will be held throughout the day. Everyone is encouraged to participate in the sessions, observe and ask questions at the demonstrations, and browse the boutique. In honor of The Melting Pot's four decades of making new craft available to their clients, a 40% discount on all batik merchandise will be offered to all customers.
The entrepreneur's dream of turning a passionate hobby into a full-time job; the small business owner's hope of building a multi-generational family enterprise; the stay-at-home mom's wish to build a career for herself on her own terms: this is Nancy Cogen's story and these are Nancy Cogen's achievements. Long before the maker's movement or green products or women's business meet-ups there was Nancy Cogen, a motivated Brooklyn housewife turned clothing boutique owner, creator of an instantly recognizable brand – simply because she fell in love with a craft she wanted to share with her community.
The Melting Pot is located at 492 Atlantic Avenue in Brooklyn. For more information, visit www.nancybatik.com.