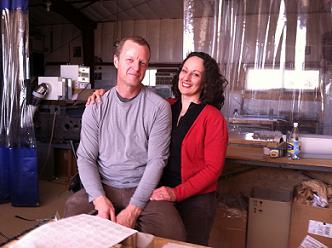 By Stephanie Finnegan
For more than five years, Michelle Karol has worked hand-in-hand, heart-to-heart, with a great number of talented artisans and craftspeople. In her position as sales manager for NY NOW's HANDMADE collection, she has had the front-row seat for watching artists sometimes fly beyond their comfort zones.
"In my experience, most companies that had exhibited in smaller retail shows (long-term) before making the switch to NY NOW were intimidated by a larger-scale wholesale market and thought, 'Am I ready for this?' For Designer/Makers, in particular, the overriding concern seems to be 'Will buyers understand that no two pieces are identical, and that production time and quantities for handmade products are different from mass production items?' While retail shows remain a very important part of many businesses, wholesale markets offer the opportunity for artisans to connect with galleries, museums, boutiques, and so much more. This type of business-to-business marketplace exposes their work to a variety of buyers throughout the United States and internationally."
Urging artists to shed their timidity, and to emulate the crew of Star Trek's USS Enterprise—"to boldly go where they have not gone before"—Karol stresses that fear should not stop an artisan from achieving the next step for their business success.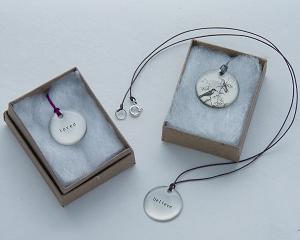 A company that definitely understood the allure of a large wholesale marketplace was Everyday Artifact LLC. Based out of New Mexico, the husband-and-wife team has been making the rewarding trek to the New York venue for 14 years.
"NY NOW definitely attracts high-quality buyers and retailers. Living out in New Mexico is pretty remote, so aside from the occasional buyer vacationing in Santa Fe, we would not have access to these accounts," Barbara Edelman admits. "Exhibiting at NY NOW and the Buyers Market Americanmade Show has provided us with a high level of credibility, which has helped us to access larger accounts as the years have rolled on. It is definitely the case that the more established buyers need to see you over and over again, so they can be assured that your company is reliable both in quality control and the ability to deliver a product."
Situated in the HANDMADE Designer/Maker section of NY NOW, Edelman feels fortunate that she and her husband Jeff's jewelry company was accepted into that category: "Now that the HANDMADE division has been split into two sections, we are surrounded by our cottage industry peers. We get very qualified buyers who are actively searching for carefully made goods, handmade by the actual artisan. We started Everyday Artifact LLC with the idea that we could inform everyday objects with fine art quality imagery, and offer those to the general public at reasonable prices. Our goal with our artwork is to have low impact on the environment, but high impact on the human spirit."
Veterans of this large-scale wholesale venue, Barbara Edelman and Jeff Ryan feel that their exchanges with the buyers are quality interactions. The people who attend the show "are serious about buying." Plus, Edelman affirms, they are an educated, savvy group that appreciates the motivations behind their handiwork: "Making our jewelry is definitely a labor of love. In all, there are nearly 40 steps to our proprietary process, each important to the whole. Without 25 years of printmaking craft, these works couldn't exist. There is no replacing the craft to achieve the same outcome." The buyers who shop NY NOW recognize that and respond.
"In this day and age, the search for calm and focus is a common goal. Our product line is a quiet, reflective one. The feedback we get from customers tells us we have struck a more universal chord with our imagery and words. We are regularly touched by the heartfelt notes we receive from individuals, telling us how our work has impacted their lives," Barbara Edelman reveals.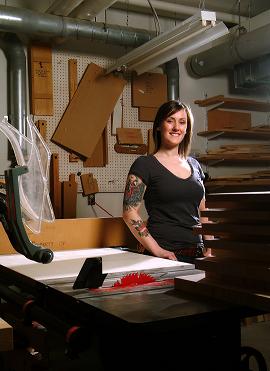 On the novice front, Jana Bookholt overcame her trepidation and dove into the wholesale marketplace in August 2013. The owner of Swaine Street Woodworking, based out of Nova Scotia, Bookholt worked closely with Michelle Karol. Her hesitation about showing at NY NOW was put aside when the jury recommended her. Bookholt was afraid of taking that "leap of faith" into a bigger and busier pool.
However, her decision to do it paid off handsomely. According to Bookholt, the exposure she garnered and contacts she made were innumerable. She received e-mails from Calvin Klein, Williams Sonoma, and a luxury housewares chain in the United Kingdom. Immersing herself in a wholesale venue catapulted her "business to a level that I was hoping to achieve two years from now!"
Hearkening back to tried-and-true maxims, NY NOW and other large wholesale shows prove that "there is nothing to fear, but fear itself."