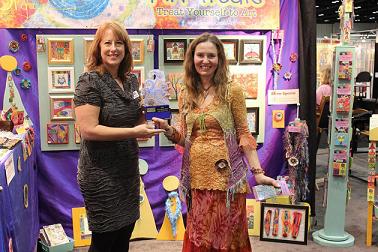 Nancy Vince always knew she was going to be her own boss. As a young girl, Nancy knew she would be running her own business one day and had toyed with the thought of becoming an attorney. Ultimately, Nancy went into marketing, and it wasn't long before this ambitious young girl saw her dreams come true. At the age of 24, Nancy Vince was running a successful direct-marketing and advertising firm.
Fearless Entrepreneur
Vince's true passion in life is entrepreneurship and service. Fifteen years after opening her marketing firm, she dove head-on into dot-com mania in 1997 with a visionary new concept for the craft community—an online wholesale art marketplace. Wholesalecrafts.com™ is Vince's resulting labor of love, merging her technical skills with the creative innovation needed for craft buyers to do business more efficiently.
Vince is a visionary with a strong passion for helping others. She explains, "This is the perfect job for me! On a daily basis, I am affecting many lives and I am facing challenges that drive me forward and push me to think outside the box."
Thinking outside the box is exactly what she did. Wholesalecrafts.com™ is a marketplace that showcases the best of American craft for buyers. The entrepreneur did her homework. She researched to determine what the artists needed to succeed in the wholesale arena and what the buyers were looking for.
The Ins and Outs of the Site
All artists participating are juried into the wholesale crafts marketplace. The jury (a mix of professionals from all mediums) scores artists on craftsmanship, originality, and photography. The scores and the jury comments are provided as feedback to the artists as a form of mentoring. Vince wants each artist who applies to walk away from the jury process with productive feedback and guidelines on how to improve, if necessary.
The buyers represent the best of American boutiques and galleries and Wholesalecrafts.com™ provides them with the products they are looking for. "Jewelry sales account for 30 percent of the average boutique sales, and at Wholesalecrafts.com™ we showcase approximately 35 percent jewelry artists with a range of price points and varying mediums," Vince observes.
This type of understanding led the inquisitive business owner to realize that, while the Internet was a valuable tool for both artists and retailers, the world of print was not going to vanish. She knew from her years running that successful direct-marketing firm that a print catalog would offer the buyer a tangible and enticing way to connect with artists.
"Print catalogs are engaging and visually stimulating. Today the Wholesalecrafts.com™ buyers guide is printed and mailed to boutiques and galleries on a quarterly basis to over 30,000 galleries," she stresses. "But the artists wanted more and I had to help."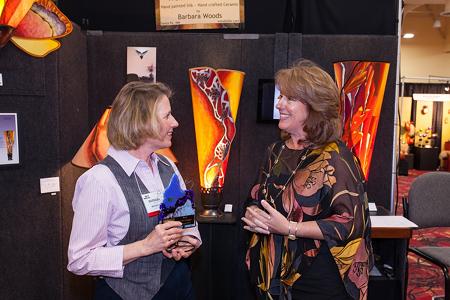 Tireless Dedication
Vince was asked by artists to produce a show in the West that would connect them with buyers from the West Coast and the South. So what does an ambitious, highly motivated woman do? "I hired a consultant, started researching, and realized that I wanted to do it better and offer what no other show was offering." ACRE (American Craft Retailers Expo) has steadily grown since its inception in 2007. The success of the show comes from the research Vince tirelessly put into it. ACRE's booth fee is less than other shows; drayage is paid for by ACRE; and the booth fee includes an online presence at Wholesalecrafts.com™ for one year.
"The ACRE show has been and continues to be a hit with artists. They love the amenities we offer and they love the attention and assistance they get from my staff. All ACRE employees attend each and every show, and they are on hand to assist both the vendors and the buyers. Every year the energy of the show increases and you can feel the excitement from both the buyers and the vendors as they interact," Vince attests.
ACRE takes care of their buyers, too, by offering more than just shopping. One third of each show includes educational seminars by industry experts that allow buyers to work on professional development and provide a platform for networking.
When asked how the show has changed over the years, Vince reflects and says, "We started out on a good foundation of research, which put us in a good position and not needing to change much. We still offer the same amenities with each booth package, and we are still 100 percent committed to each and every artist and buyer attending our shows."
What has changed, however, is more opportunity for artist and buyer to connect. Wholesale shows are regional by nature, with most buyers coming from the surrounding states. ACRE, realizing the opportunity this presented, now offers three regional shows each year: Orlando in January, Las Vegas in June, and their newest show, New Jersey in August.
Profitable Innovation
The satisfaction and pride in her voice are evident as she explains how ACRE has grown over the last several years: "ACRE is driven by need. We started with one show and today we are offering three. Our shows take place in three distinctly different seasons and three distinct areas of the United States."
The stats page on the Wholesalecrafts.com™ website proves they are a major player in the art and craft world. Total sales placed by retailers to artists through the online shopping cart for July, August, and September 2013 came in at $1,766,328. That's a 23.7% increase over 2012, and the highest-recorded third-quarter sales amount to date. There were a total of 6,357 orders placed online—a 17.9% increase from 2012, and the highest number of third-quarter orders ever recorded.
Vince is quick to point out that the evident success is not singularly hers: "I cannot do this alone. On a daily basis, my team of employees inspires me. I have an amazing team that shares the same passion I do for helping artists become successful. It is hard work, but my team makes it fun, too."
A woman with a vision, Nancy Vince will continue to push the boundaries and provide artists and craftspeople with innovative tools and opportunities.