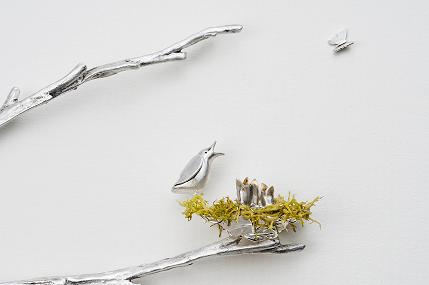 Ontario-based artist Suzanne McNenly's love of precious, miniature objects started when she was a child, fueled by an early visit to the Queen's Dollhouse at Windsor Castle. After spending 20 years in the investment industry, McNenly took a sculpture class at The Alberta College of Art and Design and discovered that working with precious metals on a miniature scale brought her creative visions to life in a way no other medium could.
Once she discovered metal clay, there was no turning back. "As soon as the opportunity presented itself to live a more creative life, I jumped," McNenly said. "I've been seriously creating a body of work and selling for about five years now."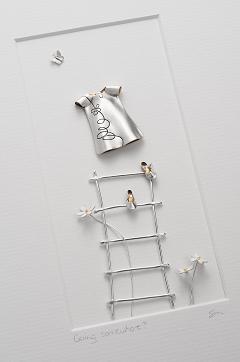 McNenly has "a profound love of words," as she says, and has a propensity to think visually. "I hear something, and a vignette pops into my head, fully formed—phrases, song lyrics—they appear as a whimsical vision immediately."
With her whimsical vignettes, McNenly seeks to add happiness to the world. "I am simply striving to bring a smile to a viewer's face, as they reconnect with a memory of their lost childhoods. I make vignettes to celebrate these moments, and I usually end up with a booth full of customers laughing and reminiscing. When I hear 'I remember that,' I smile."
For more information, visit www.suemcnenly.ca.