Stephanie Crossman learned the traditional knotted netting craft from her great-grandmother on a trip to visit her in Vinalhaven, Maine, where Crossman now lives, when she was 92 years old. "I am the only family member to learn from her," Crossman said. "I inherited all of her handmade needles and meshboards, along with a 100-year-old netstand, built by her uncle. I use them every day.
Crossman's craft began pragmatically, constructing nets for the fishing industry. As that process became mechanized, she sought a solution to bring netting into the new age. She applies her skills to bags, purses, shawls and scarves, but two years ago, she started experimenting with three-dimensional netting. "I net over a toothpick with a handmade metal needle from the 1800s. My designs are inspired by the natural world of the island I live on. I figured out a process to make the pieces keep their shape. Then I needed a way to display the netting. The result was a netted sculpture in a custom-made shadowbox."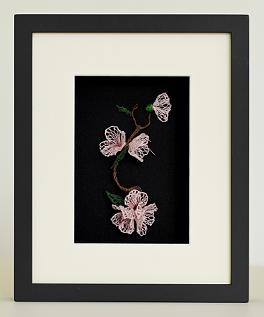 For more information, visit www.stephaniecrossman.com or www.mainenetbags.com.