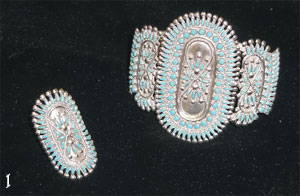 Tombstone, Ariz., site of the infamous shoot-out at the O.K. Corral, has been called lots of things over the years: The Wickedest Town in the West, The Town Too Tough to Die, and similar monikers reflecting the rough-and-tumble nature of this windswept patch of desert an hour south of Tucson and an hour north of the Mexican border.
But calling it a hub of creativity, a haven for craft artisans, a destination for those interested in quality handmade art? It's not as big a stretch of the imagination as one might think. "Tombstone, well it's not on the way to anywhere," says Adam Klein, whose mother Arlene opened the gallery that carries her name here in 1978. Coming west from New York City during a national economy very similar to today's, Arlene Klein has succeeded by offering visitors to Tombstone the unexpected. "We have vacationers come down from Tucson every year, bringing friends and family with them," adds Adam Klein. "They open the door and say 'this is the store you have to see.'"
What they see is a gallery that carries work from approximately 100 artisans, mostly those from the Southwest. The 5,000-square-foot space also includes some manufactured items, but as Klein argues, "We have to have something for everyone, because most people don't come to Tombstone looking for art."
The handmade works include glass cacti, barbed-wire crosses, sand paintings and raku, from artists in Texas, Kansas, California and beyond. Jewelry, pottery, sand paintings and rugs by the local native tribes are also very popular items.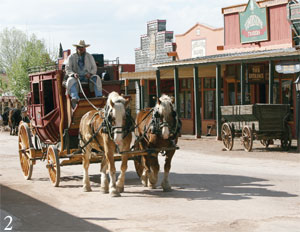 In a tiny building a fraction of the current studio's size, the Kleins started their business with jewelry made by American Indians, and then began including pottery. Then tourism, which is the only industry in Tombstone, received a huge boost in the mid-'90s with the 1993 release of the movie Tombstone, starring Kurt Russell and Val Kilmer, among others. The next year, Wyatt Earp, starring Kevin Costner, continued to feed the public's fascination with this legendary Western community of 1,500 residents.
The '90s were when Klein began advertising in Tucson hotel and visitor guides and placed a billboard on State Highway 80. And just this year, he is expanding that advertising, along with an expanded website, to attract many of the upscale homeowners in the growing population surrounding Tucson.
Arlene's Gallery could be called "upscale," with sculptures and other artwork priced upwards of $5,000. But as Klein shares, "For Tombstone, the word 'upscale' is a little different than it is in Santa Fe and other parts of the world."
And while much of the work carried in Arlene's reflects the Southwest and the Old West, Klein welcomes artisans to submit work that appeals to visitors from other parts of the world. "When I look at an artisan's portfolio, I'm looking for what reflects Tombstone, but also what will work in someone's home in Michigan or New York or Saskatchewan," he notes. He also looks at the complexity of shipping items, knowing that many tourists who arrive by air are not in a position to carry much back on an airplane.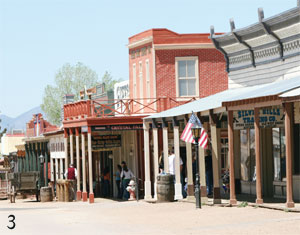 Tombstone welcomes about 400,000 travelers each year, all drawn by the legendary names of Wyatt Earp, Doc Holliday, Johnny Ringo, and a little incident at the O.K. Corral. Jim Allen, a Tucson drywall contractor, is one of those attracted to the history of the region. In 2003, when a little house down the road from Boot Hill, reputed to have been owned by Wyatt Earp himself, was for sale, Allen and his wife, Liz, jumped at the chance to buy it. "We don't have a solid paper trail yet, but there is a good indication that this house was built for the Earps," notes Liz Allen. The couple is hoping for historical designation within another year or two.
After returning the home to its original nineteenth-century condition and filling it with period furnishings, the Allens were then faced with how to make it affordable and attractive to visitors. Liz and Jim had taken an art class near their home and decided that by making the Wyatt Earp House double as an art gallery, they could eliminate an admission fee, therefore attracting more people to learn about the home and see some fabulous art.
Since opening in October 2005, the Allens have not yet broken even on their investment, but they are pleased that each month sees a few more visitors and a few more sales. In addition to two-dimensional art that fills the walls, visitors are intrigued by the turquoise jewelry, wooden bowls, and pins made from the tree under which Johnny Ringo allegedly died. In all, 22 artisans are represented in the little four-room house.
"It takes a while for a gallery to get its roots, and we realize in Tombstone, it may take a little longer than most places, but we're optimistic," says Liz of the 500 or so visitors who come through the gallery and house each month.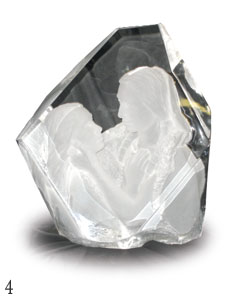 An artistic addition to the grounds in the fall of 2008 should increase visitor interest to the site. An 8-foot-tall bronze of Wyatt Earp, commissioned by the Allens of Arizona artist Tim Trask, is to be placed on the front lawn, visible to all who travel along the highway to Boot Hill Cemetery. In addition to the Trask structure outside, the Allens have commissioned a number of 22-inch versions of the statue that will sell in the gallery for $3000.
"People often open the door and say 'oh, this really is an art gallery,' as they come in," adds manager Terrie Dolphin.
And as the number of visitors to the house and community continues to grow, the Allens, the Kleins and others are hopeful that a town with a reputation as "too tough to die" can also share the reputation as a good place to find quality handmade art.TCR
For more information about Arlene's Gallery, call (520) 457-3833 or visit arlenesgallery.com. For more information on The Wyatt Earp House and Gallery, call (520) 457-3111 or visit www.wyattearphouse.com.
Captions
Photo 1: Jewelry by Vincent Johnson, $1,200
Photo 2: Main Street, Tombstone, Ariz. Photo by Bruce N. Meyer
Photo 3: Main Street, Tombstone, Ariz. Photo by Bruce N. Meyer
Photo 4: Each to the Other by Christopher Pardell, Lucite, $849 at Arlene's Gallery