Asheville, North Carolina, is quite simply one of the great craft centers of America. Many of today's handcrafts have their origins in the region's Appalachian Mountains and this craft heritage has been passed on from one generation to the next. Today many of the nation's finest craft artists make their home in Asheville and its environs.
The phenomenal impact of cultural arts on Asheville has been well documented. According to a HandMade in America commissioned study, the aggregate economic contribution of the craft and handmade industry was nearly $122 million in 1994—a figure that removed the veil from this otherwise invisible industry. Thirteen years later, that number has grown to about $140 million, and will continue to increase in the years ahead according to Becky Anderson, executive director. The study concludes "the craft industry has a civilizing influence, rising above dollars and cents to enrich the lives of local residents and travelers from the world over." In 2006, an American Style Magazine reader's poll ranked Asheville second of the top 25 small arts destinations in the country.
Among the area's leading crafts organizations, the Southern Highland Craft Guild was chartered in 1930. Today it is one of the strongest craft organizations in the nation, representing 930 members (210 from the Asheville area). During the 1930s, it helped to create a commercial market for craftspeople in the Appalachian region. Today, the guild plays a major role in the Southern Highlands craft economy through the operation of five retail outlets and the Craft Fair of the Southern Highlands. Last year marked the sixtieth anniversary of the biannual fair, a four-day-long event held in July and October that draws more than 10,000 people to downtown Asheville. The guild also has the largest and most important collection of Appalachian craft in the world.
Opened in 1980, Folk Art Center on the Blue Ridge Parkway serves as headquarters for the Southern Highland Craft Guild and includes three exhibition galleries, a library, and Allanstand Craft Shop. The oldest continuously operating craft shop in the nation, Allanstand was begun in 1895. It offers a wide array of traditional mountain crafts, folk art and contemporary crafts. The guild also operates Guild Crafts Gallery in downtown Asheville.
HandMade in America does its part
HandMade in America is a major force in the craft scene in western North Carolina, promoting craft and culture for community and economic development. It serves as a support system for craftspeople and works to expand and enhance the region's position in the crafts community both nationally and internationally. It also works to enhance opportunities in the marketplace and develops entrepreneurial strategies for the region's craft artists.
HandMade In America has published two excellent guide books. The Craft Heritage Trails of Western North Carolina and Farms, Gardens and Countryside Trails feature over 600 craft and agricultural sites, galleries, lodgings and restaurants. The guide books are being converted into an Internet trip planner, available by June 2008. For more information, see www.handmadeinamerica.org.
Tours
There are a number of organized crafts tours held in the Asheville area throughout the year.
The Weaverville Art Safari is a biannual driving tour through the mountain areas north of Asheville—participants vary from tour to tour, but there are typically about 45 stops. The self-guided studio tours are held the last full weekend in April and the first full weekend in November, coinciding with the beautiful spring and fall seasons in the magnificent Blue Ridge Mountains of western North Carolina. The tours are free and open to the public, and some artists' studios are open year-round by appointment.
An annual studio tour of fine arts and crafts is offered by the artists in Leicester, N.C., about 15 minutes west of the city. Items featured include paintings, jewelry, pottery, sculpture, fabrics, brooms, glass and more.
Twice each year, in June and November, Asheville's River Arts District opens to the public for two days of festivities known as the Studio Stroll. During the Studio Stroll, now in its fourteenth year, artists of the River Arts District welcome you into their studios to talk with them, see their latest artwork, watch demonstrations, and experience for yourself the magic hidden inside the old factories and warehouses along the French Broad River.
Want to learn how to use a potter's wheel? Blow glass? Turn wood on a lathe? Weave your own work of art? HandMade in America has a unique, online guide to one-of-a-kind learning weekends, getaways and workshops.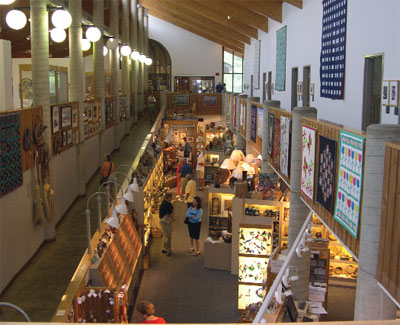 Galleries
Asheville has an abundance of excellent art galleries, many featuring crafts, both traditional and contemporary. Ariel Gallery is a contemporary craft gallery that features the work of 20 outstanding craft artists from the Asheville area. A cooperative effort, it was started in 2001 by several artists who wanted to gain greater control over sales. A storefront was the natural choice. Sharing risks among several people and having a gallery where artists could keep more profit from sales has proven successful.
The New Morning Gallery, a nationally recognized craft retailer now in its thirty-fifth year, and the annual Village Art & Craft Fair at Biltmore Village were begun by John Cram, owner of the Blue Spiral 1 gallery downtown. The 12,300-square-foot New Morning Gallery features decorative and functional crafts by regional and national artists. In 1991, Cram opened Bellagio (next to New Morning Gallery) which features wearable art, jewelry, and fashion accessories. A second art-to-wear clothing store, Bellagio Everyday, has opened downtown next to Blue Spiral 1, where shoppers can find unusual and attractive wearable art at affordable prices.
The Grove Arcade features boutique shopping, fine dining, and regional crafts. Galleries include the not-for-profit Grove Arcade ARTS & Heritage Gallery, Mountain Made, Asheville North Carolina Home Crafts, Larson Porcelain & Design and Alexander & Lehnert Jewelry.
Education
The Asheville area is also rich in craft education. The Center for Crafts, Creativity and Design at the University of North Carolina in Hendersonville has convened an annual meeting of museum and academic leaders to plan initiatives to advance crafts in education and to further the region's outstanding reputation and to attract the best craft artists in the country.
Nearby, the John C. Campbell Folk School, founded in 1925, offers over 800 weeklong classes each year in traditional and contemporary crafts, art, music, and more. The Folk School's Craft Shop reflects the Appalachian region and the talented artisans who live and work locally and regionally. Representing over 300 craftspeople, it offers everything from decorative jewelry to functional fireplace poker sets.
The Penland School of Crafts is a national center for craft education located in the Blue Ridge Mountains near Asheville. It offers craft workshops, artists' residencies and a craft gallery, and hosts over 1,200 people each year in 10 craft media.
Haywood Community College in nearby Clyde offers both a hands-on crafts curriculum and professional skills development. It began in recognition of the strong heritage of craft in the region. The college's goal is to create a place where students could learn the basics of their craft media as well as how to transform that craft into a business. The pottery studio was the first to open in 1974 and the entire program was fully operational by 1977 with comprehensive curriculum programs in clay, jewelry, wood and fiber.
"There are not too many towns this size where you can find this kind of art scene," said gallery owner and community leader John Cram. Once a tired and depressed city of 73,000, it's now one of the South's trendiest locations. "It's become a very artsy scene," said Cram. "Like Santa Fe, Asheville has become a leading center for crafts and craft artists. I'm waiting for the day they start calling Santa Fe the Asheville of the West." HB