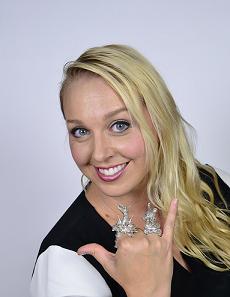 By Stephanie Finnegan
With her sunny yellow hair, wide blue eyes, and jovial disposition, Rebecca Rose could easily be confused with a Goldie Hawn character. She looks innocent and affable—a little bit quirky and a whole lot of cute. However, like the characters that Hawn spearheaded in the 1980s, there are also deeper levels to Rebecca Rose.
The constantly innovating silversmith is as apt to cite art curator and collector Sam Wagstaff, who championed the photographs of Robert Mapplethorpe, as an inspiration as she is to credit Walt Disney. In fact, the man who built his empire atop a mouse rates as one of her greatest heroes: "Walt is the most influential and prolific artist on the top of my list. He never slowed down his imagination, and, even more important, he never slowed down the physical production of his imagination."
Born in Mesa, Arizona, in 1980, the 33-year-old artist has been expressing herself in an indefatigable fashion since early childhood. Comfortable with channeling her creativity, Rebecca Rose initially pursued an education in music. Having won a scholarship to North Arizona University, she willingly gave up her music subsidy to pursue an art scholarship in its place.
Her immersion in the metalsmithing classes solidified her desire to be an artist, to watch her dreams come true in a malleable, tangible way. "When I felt the block of wax in my hand, I was hooked. I loved the idea that wax became metal. Hard wax to liquid wax, liquid metal to hard metal—all of that just by temperature. I took as many classes as possible and assisted my professor as his student supervisor. I created my first Sculpturing in 1999. I remember my professor looking down at the ring I carved and he asked, 'Where did you get this idea?' That's when I knew I was on to something!"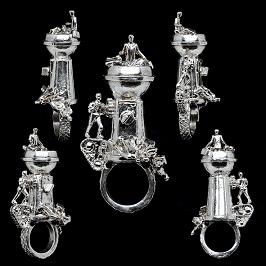 After she graduated, the realities of a burgeoning artist prevented her from continuing to explore and develop her Sculpturings. "Most art grads don't have the resources to set up a full casting shop in their studio, and most apartments don't allow combustible oxyacetylene tanks or torches on their patios! I didn't have the means to continue casting, so I stopped my art for a while. I painted, and had success showing. The money from each painting that sold went toward getting back into my Sculpturings," she reminisces.
Exhibiting a Pollyanna optimism forged with practicality, Rebecca Rose asserts, "I needed to be denied the chance to create in order to heighten my desire to get back into it again. I became anxious to build what I saw in my imagination all those years. I taught myself to be resourceful, and worked harder to make it happen, to set a higher pace for myself."
Her separation from her sculpting love lasted six years, and she became inspired to revitalize it in one of the world's most unlikely places. In Hiroshima, Japan, standing silently and respectfully, she was filled with a need to usher her ideas to life. "The floodgates broke open, and sketches for new Sculpturings poured through me. I was consumed," she shares.
Rebecca Rose's Sculpturings are linguistically inspired and many pieces have a socially aware theme as a prefix and the word "ring" as its suffix: "Hiring" (unemployment versus job compromise), "Pioneering" (fossil fuel and alternative energy), or "Featuring" (the adult entertainment industry) are just some of her titles. The Florida-based artist sees these as "sculpture and jewelry being redefined beyond their traditional sense. Each piece, with its unique form and storytelling, blends luxury with urban activism relevant to current social issues. The point of view is satirical and playfully snarky at times, but the long-term viability is built into the original concept of the series."

Currently her creations are attracting much attention from gallery owners, dealers, and curators. Her artwork was selected to be shown at the Beijing Museum of Contemporary Art, and the Julie Artisans' Gallery in Manhattan represents many of her pieces. She was a recipient of a 2013 Halstead Grant. Additionally, a bevy of well-known celebrities have acquired her original designs.
Andrew Lincoln, the star of AMC's massive hit, The Walking Dead, received one of her commissioned pieces as a "wrap gift" at season's end. For the horror star, Rebecca Rose fashioned a "Devouring" piece: "It has the Atlanta skyline, a tank barreled over a pile of dead bodies, a sheriff star, and zombies up the band. Lincoln said he was impressed by the accuracy of his physique I depicted in his sheriff character on top of the piece."
Committed to making art more available to the masses, and also sparking the notion that everyone is a potential artist, Rebecca Rose pushes an interactive art form called Paperings. They made their formal debut at Art Basel Miami Beach in December 2013. Just as graffiti tags have materialized all over towns, Paperings "popped up in random places, like on Miami store mannequins and tucked into the sandy shores of South Beach. Paperings are available online for you to download, print an image of a ring, cut it out on the dotted line, fold, and wear for fun. Preprinted, precut, and signed/numbered Paperings are also available around cities in tangible forms. The preprinted ones are printed on recycled paper with informative facts on Bridgism and art jewelry printed on the inside. All these efforts are to positively change the mainstream view so that jewelry can be an accepted and valid conduit of fine art."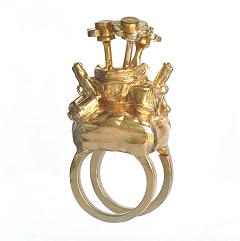 Changing how the public perceives art is close to her heart, and the prankster/pushing the envelope angle is reflective of one of her other art idols: Andy Warhol. "Warhol had a desire to shine an artistic spotlight on silver sculpture, but he didn't have the chance due to his untimely death," she states. "Warhol was quoted as saying, 'It would be very glamorous to be reincarnated as a ring on Elizabeth Taylor's finger.' I've always admired the interest he had hunting down weird, eccentric jewelry, too. "
The pop artist of the 1960s and 1970s also holds a significant spot in Rebecca's Rose's résumé because a visit to his Pittsburgh museum ushered in a business deal for her: "I was wearing one of my pieces and right after reading one of Andy's silver quotes painted on a wall, a gallery attendant looked at my hand and said: 'That's the most interesting ring I've ever seen. Where did you get it?' The door to talking about my work had opened. By the end of the hour, I was given vital contact information, which I acted upon the following week. The Andy Warhol Museum Store director loved my work and we worked out a consignment deal. It blew my mind."
Cherry-picking influential moments from her diverse background, the artisan plucks two important, familial anecdotes. "Rebecca 'Rose' is a moniker I use as a tribute to my deceased mother, Michelle, who was consumed by ovarian cancer in 2007. My mom was a rosarian and deadheadder at the Mesa Community Rose Garden, the largest rose garden in the Southwest. Her ashes are there among the Mr. Lincolns. My father continues to tend the roses on my mom's behalf. There's another story behind the name, though. I'm lying on my brother's couch in Long Beach, Calif., with crisp air leaking through the vents and gray clouds peeking through the living room's picture window. My mom is sitting at the table and The Little Prince is playing on TV. I always related to the character of the prince growing up, and consider it one of my favorite books. There's a scene where the fox, played by Gene Wilder, meets the little prince and shows him a field of roses. At this point in the film, my mom confidently said to me, 'You're my rose. My Rebecca Rose,' and it profoundly stuck."
Rebecca Rose has found a way to blend the sentiments of her mother's heartfelt declaration of her uniqueness with a career that is synonymous with fearlessness and the fervency to tackle any artistic topic: "I don't feel like any subject is off limits with my work, as long as it doesn't compromise my personal values. My work is designed to inspire dialogue, so I want each piece to be surprising, sentimental, or shocking enough to keep people talking. The best case scenario is to inspire change for the better."
www.sculpturings.com, www.facebook.com/RebeccaRoseArt, www.twitter.com/sculpturings