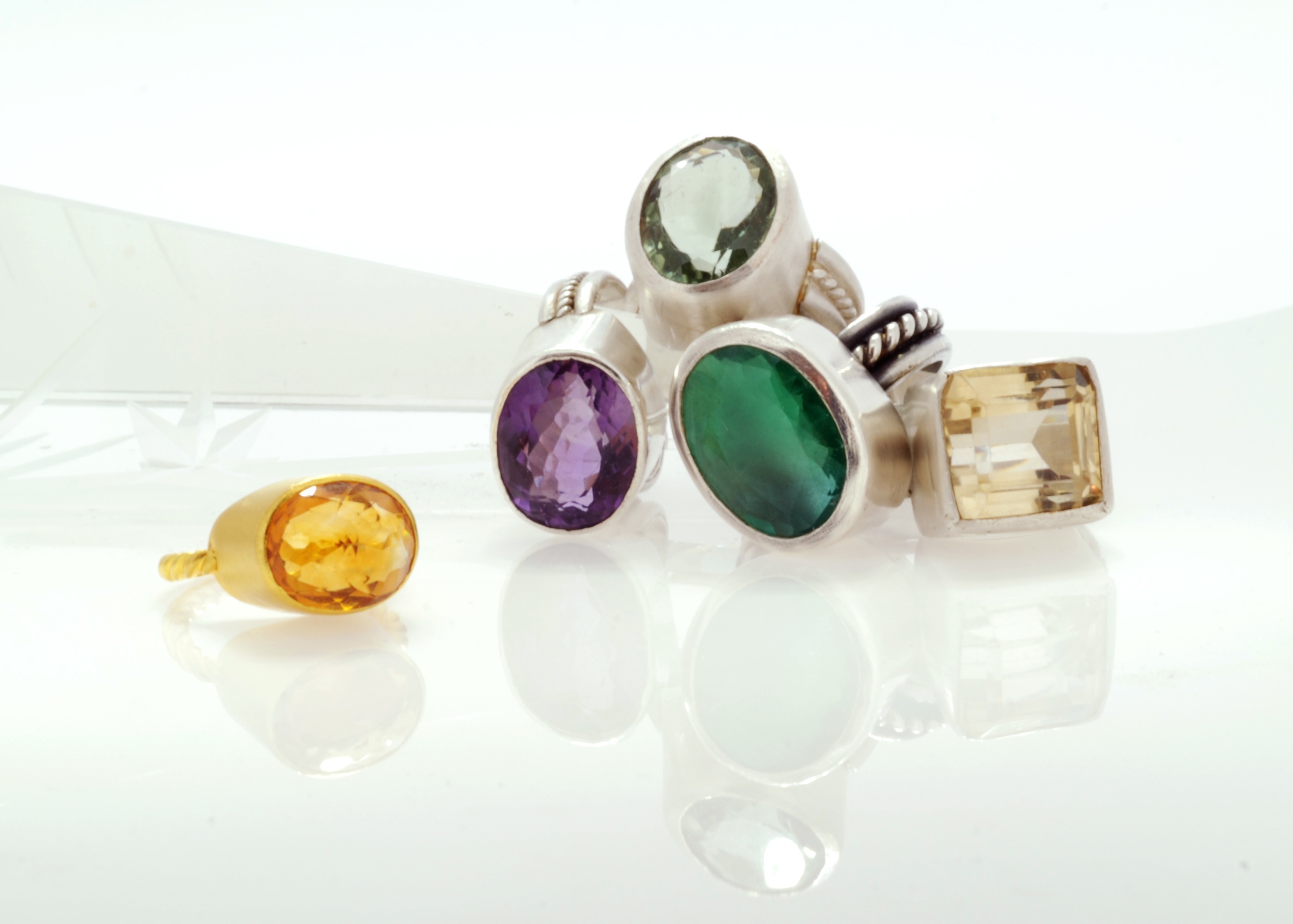 When New York–based artist Lori Kaplan is asked to furnish a photo for herself, she initially—and with a wink—sends off two images: a shot of Marilyn Monroe—looking solemn and sultry—and a cute image of a pint-size pooch named Max Kaplan (her mom's dog).
Obviously, Lori is neither a celluloid sexpot nor a cuddly canine, but she's got ties to both these images. Like Monroe, the epitome of Eisenhower-era style and sex appeal, many of Kaplan's designs seem to channel a retro time—a recent-past age where men wore cocktail rings and tie bars, women were never fully dressed unless they sported a flattering necklace and earrings, and sophistication was the ultimate ambition. So many of Kaplan's creations have that feel of classic allure coupled with a modern sensibility: they are Mad Men meets Girls, two cable-TV shows that have their fingers on the fashion of their time periods: 1950s and 1960s for the former; 2014 for the latter.
"I have always preferred classic to trendy," the Manhattan resident explains. "The trick is how to take 'classic' and merge it with 'today.' That is what I am trying to do. I am, and always have been, drawn to antiques in jewelry and furniture. I love to mix them up, though, with some modern bits. I only use precious and semi-precious gems and metals. My 'look' is generally delicate and feminine and unobtrusive. My creations shouldn't detract from the wearer, but rather enhance her."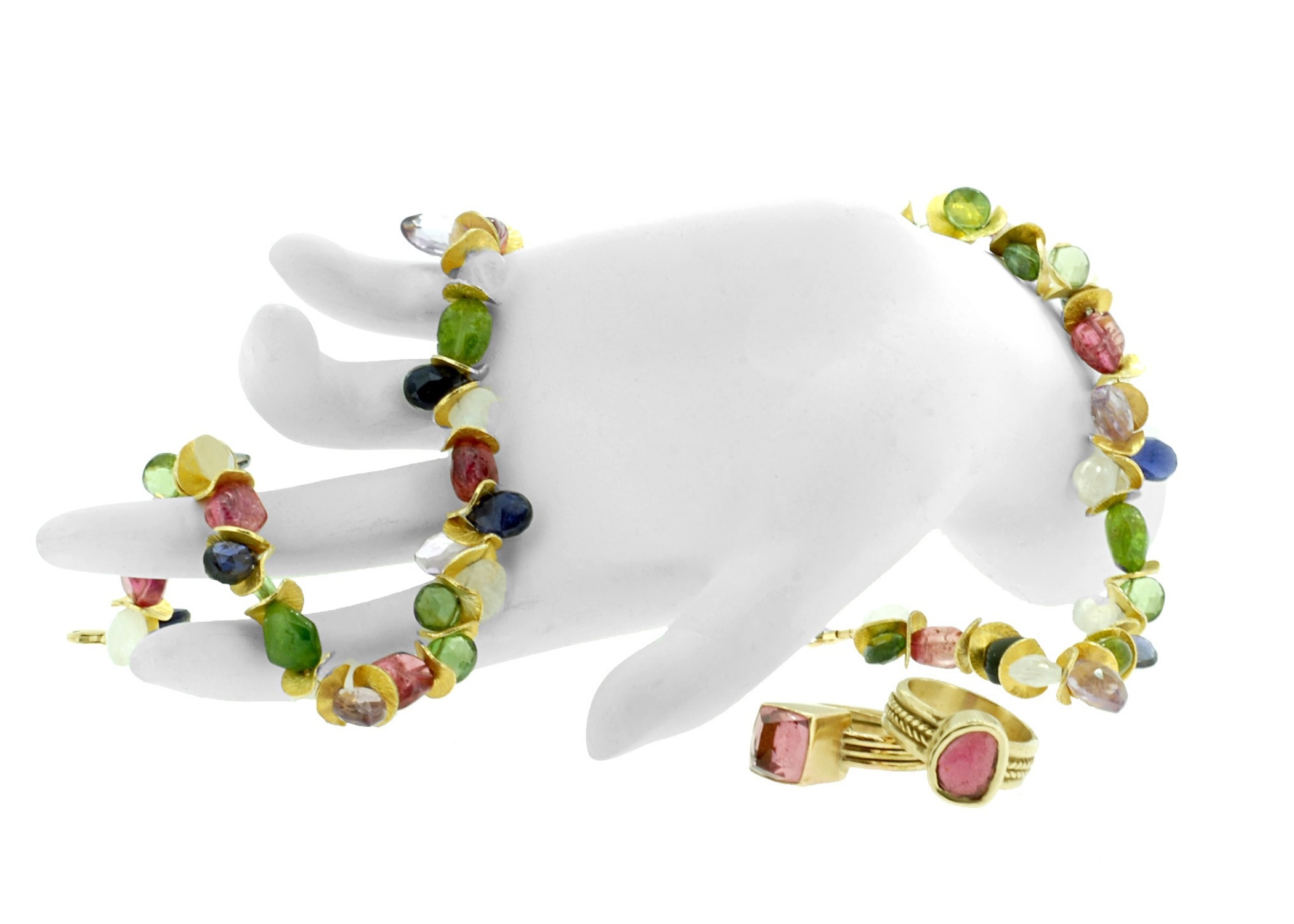 Regarding her affection for the furry Max Kaplan, that's emblematic of her attraction to animals and concern for their welfare: "Well, I was a late bloomer and came into my jewelry career after many years of struggling, trying to figure out what I wanted to be when I grew up. Designing and making jewelry is it—I'm doing what I was meant to do. It's what I was seeking all along. But, if I hadn't found this career, it would be something to do with animals. Really, anything at all working with animals. I confess, I'd love to own an alpaca farm!"
This pipe dream of being a designing Doctor Dolittle will have to wait until Kaplan decides to retire and retreat from her SoHo, New York, digs. Her lifestyle is part of the fashionable downtown scene—galleries and boutiques, not barnyards and granaries.
One of the early pioneers who moved into this section of the city before it became gentrified and desirable, Kaplan had initially thrived when it was more cutting-edge and off the beaten track: "I moved here in 1981, when SoHo had this great, quiet artistic undercurrent. It was incredibly stimulating to me back then. I was managing a fashion photo studio, and I had my darkroom in my kitchen. I felt like I was home!"
Having been born and raised in Pennsylvania—Philadelphia and its surrounding suburb of Media—young Lori was exposed to the cultural and theatrical benefits of city living. It was natural, then, that she would have emigrated to NYC when she came of age.
"My neighborhood has changed over the years and I don't feel the same sort of inspiration I used to here. I still see lots of art shows and do a lot of reading and traveling to keep inspired. I am always hunting for great books on the history of jewelry."
During one of her journeys to Italy, about twenty or so years ago, Kaplan had purchased a bunch of earrings along the Ponte Vecchio and received nothing but compliments when she wore them back home in the States. "People were always asking me where I got them! I woke up one morning with an epiphany. I decided to drop everything I was doing, paid off my credit card debt, and took what was left and booked myself onto a flight to the next fair in Milan. I was in love with everything Italian, and their costume-jewelry designs were better than anything I had ever seen. They were the best quality you could get without buying real. I started a wholesale import jewelry business right then and there. I had NO idea what I was doing, but I was able to keep it afloat for several years. It was an amazing experience. It was one of the scariest—and most satisfying—things I've ever done. And, as usual, I did it the hard way!" she recalls. "My best and worst trait is that I'm stubborn—and I always do things the hard way. I wouldn't listen to anything I'd tell myself," Kaplan admits with a laugh.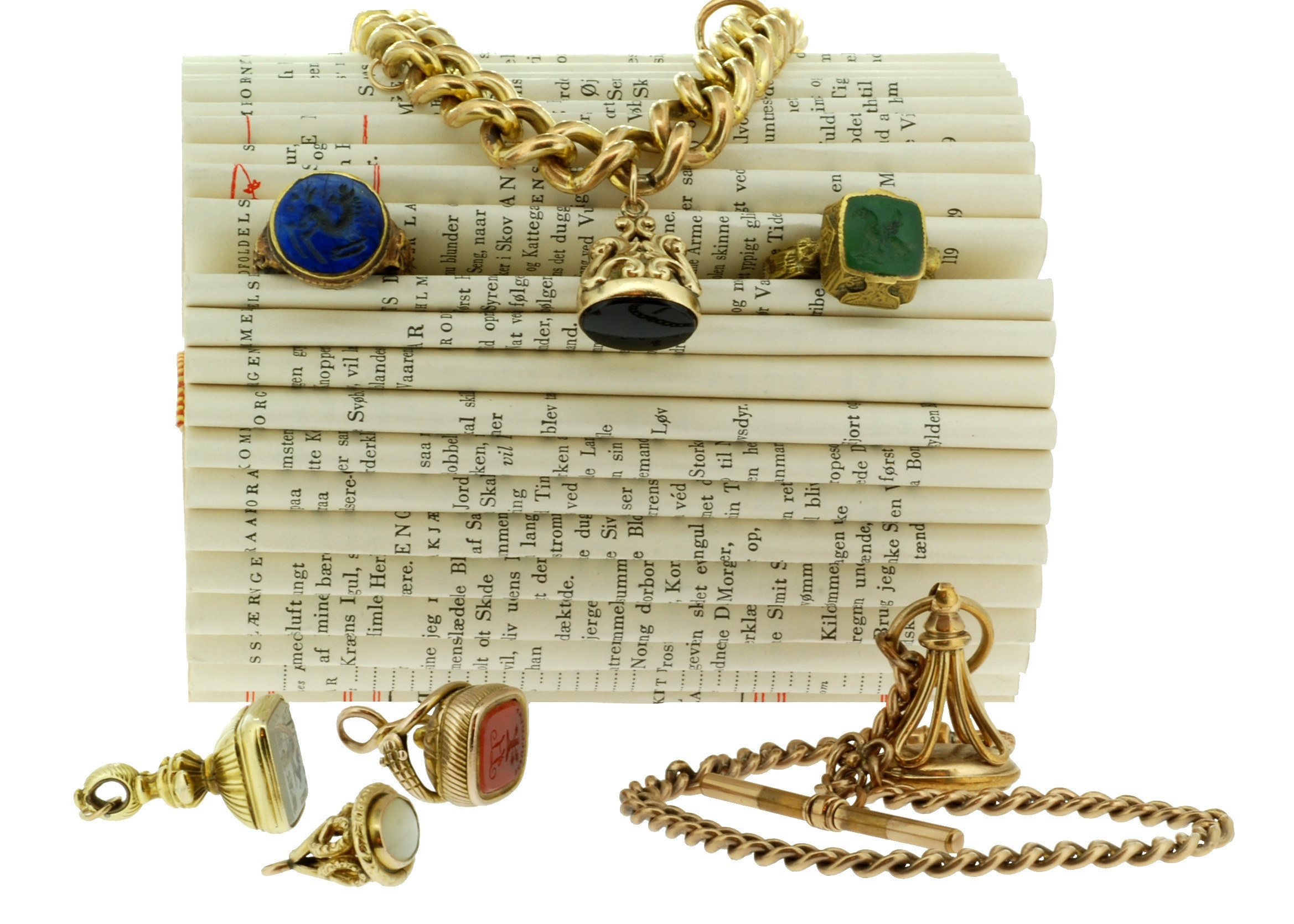 That combination of gut instinct, self-direction and re-invention, and a willingness to take a risk has served her well. She has never sat and rested on her laurels, nor has she ever considered herself to be finished with her pursuit of knowledge. Kaplan is always challenging herself to do more and be more: "I am continually learning my craft. There is much I do not know; and every time I learn something new, it breeds a new branch. I just started working in 10-karat gold. It's half the price of 18 karat, and I love the pale buttery color of it. I'd really like to extend that line. As a goal, I'd love to be able to submerge myself with a goldsmith in Germany or Italy for a few months. The future desire I'd really like to see happen is to grow two more hands! That would be the most helpful."
If genetic engineering isn't permissible or plausible, Kaplan's next order of business is the expansion of her men's line. She has commissions for her cufflinks—sight unseen—and her men's tie bars will be featured this fall on theKnot.com.
"I really think there is a need for male jewelry and accessories," Kaplan observes, "I have orders from a lot of people, so I had better get cracking! Regarding women, I am now a tad obsessed with rings these days. I buy rose-cut stones, so no two stones are alike. Each ring truly is a one-of-a-kind creation. I am interested in figuring out a way to make a one-of-a-kind faster. I've been working with both wax and metal fabrication in one product so that I can speed it up a bit but still have it be a unique, original handmade item."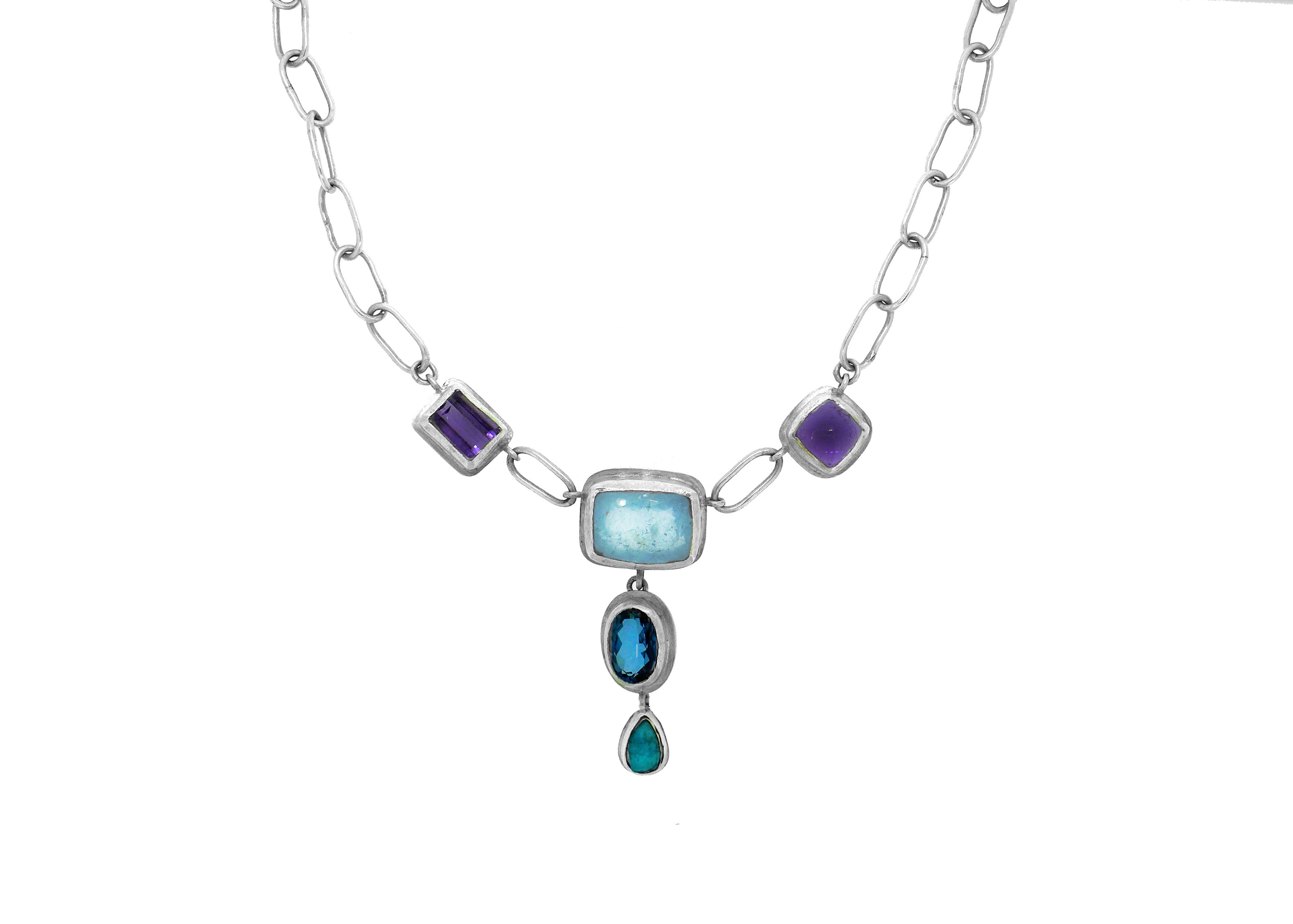 Though she comically longs for an extra pair of hands, Kaplan acknowledges that the ones she currently has are "very fast. I have fast hands! I believe I am both right- and left-brain capable. I am creative, but I also have the logical and organizational side, which I used to make a living in computers while I figured out what to do when I grew up! These days, I approach my business logically as well. I do my own photography for the website and manage that, as well as all the social networking. There just isn't enough time for all of it. I've also created a spreadsheet in Excel where I plug in my component costs and have a formula for markup for both wholesale and retail. The business side is something I have to and can do, but I'd rather put my energy and time into creating."
One day, Kaplan might like to own her own brick-and-mortar shop, where she would sell her own designs and other jewelers that she admires. Right now, however, "retail is just not practical for me. My work is currently carried in the Pennsylvania Crafts Council shop, the Brooklyn Women's Exchange, Surreal Eyewear NYC, and Vous Valet in Vancouver. I was in a recent issue of Lucky magazine, March 2014, and am waiting to hear about a Naomi Campbell and NBC Studios' use of my jewelry, as well as Vogue Brazil."
Lori Kaplan is creating and designing in the perfect venue—just like her adopted hometown of New York, she matches the city that never sleeps. For this jewelry maker, she is dreaming daily with her eyes and her imagination wide open.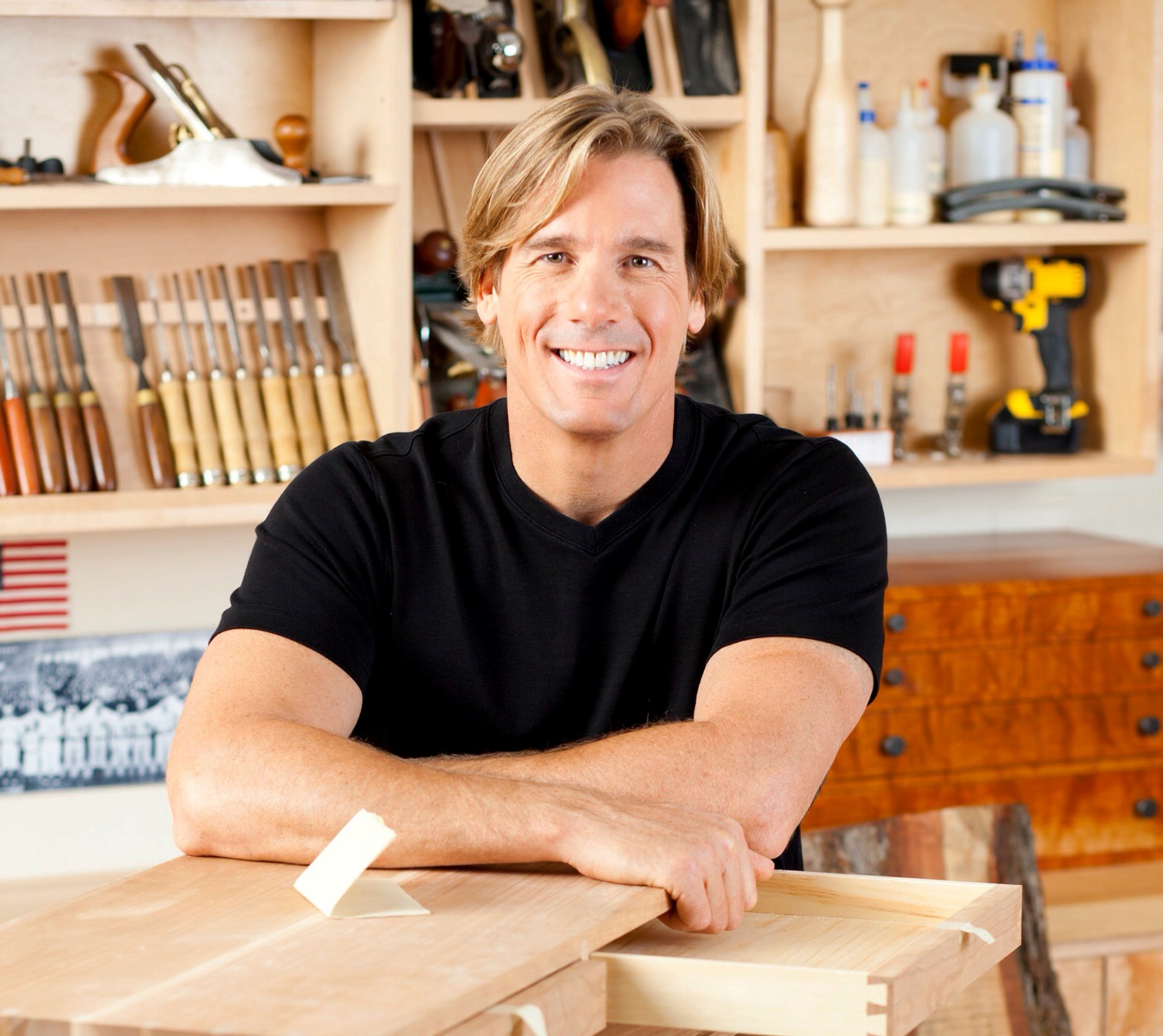 For more information, visit www.lorikaplanjewelry.com