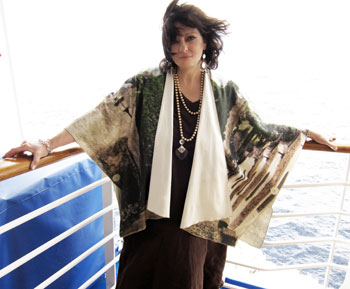 When she was a teenager, Angela Cartwright was a household name and a first crush for millions of American boys. As part of the galaxy-trotting Robinson family, Cartwright played youngest daughter "Penny" on the sci-fi series Lost in Space.
As a member of this interplanetary clan, Cartwright had to emote alongside a robot—one of the most iconic symbols in pop-culture history—a chimpanzee-like alien pet named "Debbie," which only uttered the sound "bloop," and, of course, Dr. Smith, probably the hammiest and most scene-chewing character ever unleashed on a TV screen.
Having to face down monsters and meteors on a weekly basis for three seasons, the indomitable Cartwright seemed unflappable and capable of absolutely everything. (Her role as "Penny" had her playing a teen with an IQ of 147 and an encyclopedic knowledge of zoology.) In her off-screen life, Cartwright had many of those same self-possessed traits. She was always brave when it came to flexing her artistic and self-expressive muscles.
"When I was growing up on the movie and television sets, I had to attend school for three hours each day to complete my required educational studies," Cartwright recalls. "If I got all my assigned work done for the week, Friday would be my art day. For three glorious hours, I could delve into different mediums of art. I always loved Fridays!"
Art was definitely part of Cartwright's DNA. Her father was an extremely talented technical artist. She describes his work as being "perfectly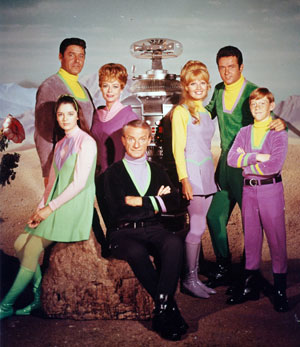 proportioned and exact." Her dad also had the performing gene, and was noted for his outstanding singing voice: "He cut a few records when he was a young man. He had a beautiful voice. But World War II began, and when he returned home to England, he married and then moved his young family to America."
Settling in the United States in the 1950s, the Cartwright family rented an apartment in California. While living there, Angela's mom became acquainted with their next-door neighbor, who had her daughter in show business. As Cartwright tells it, "This neighbor was the one who suggested my mom take my sister and me to a Hollywood agent who was in search of some young children to represent. The rest, shall we say, is history!"
Indeed, it is history of the entertainment kind. Siblings Angela and Veronica became recognizable faces in careers that have spanned the decades. For Angela, way before she ever touched down on outer-space terrain, she was receiving kudos for her portrayal of "Linda Williams" in the sitcom, The Danny Thomas Show, from 1957 to 1964. Young Angela had become an in-demand actress from the tender age of three when in 1956, she appeared in the Paul Newman vehicle Somebody Up There Likes Me. She had that intangible star quality that made producers want to hire her and viewers want to follow her. Her résumé is overflowing with beloved projects: Danny Thomas, Alfred Hitchcock Presents, Lost in Space, The Sound of Music, Love Boat, to name just a few.
While toiling on the soundstages or in faraway shooting locations, Cartwright never realized how enduring her performances would be: "I never had a clue! I don't think you ever know how a show or a character will be received, or whether a show will become a hit. But that's part of show business."
Many folks would rest on their laurels after having accomplished so much at such an early age, but Cartwright is not most people. She definitely marches to the beat of her own percussion section: "As I grew older, I transitioned into photography. As I got deeper into photography, I found myself wanting to explore different techniques. It was around this time, I discovered that merging photography with altered art supplies could create a comfortable balance. This was a balance that encouraged me to be adventurous, and I realized there was more than one way to create art."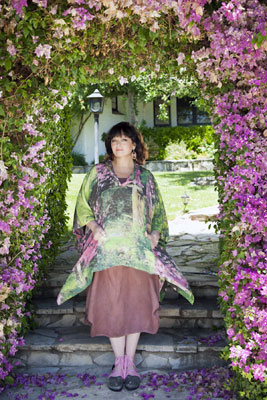 Traveling into an unknown creative frontier—much like her "Penny Robinson" counterpart—Angela set her mind to learn and to experiment as much as possible with her chosen medium. She knew she would have to be both an ambassador and a pioneer in this new field: "I waited years for the technology to catch up to the ideas I had for making my 'art.wear.' I have to carefully choose from my hand-painted photography. Because I do not use a repeat pattern, I have to keep in mind how it will look on a body."
Cartwright's "art.wear" is a series of personalized tops, bottoms, jackets, capes, handbags, accessories, and adornments. She develops each one with a painstaking eye toward aesthetic appearance and durable quality: "Each piece of clothing is made by special order. I am looking to partner with someone who is involved in the manufacturing side, so this way I can expand my 'art.wear' even further. I want to delve more into making a collection of scarves and I have some other ideas brewing in other areas, like home goods and the gift world." A visit to any of Cartwright's multiple cyber art sites and etsy shops is a chance to be overwhelmed by one woman's indefatigability and diversity. She excels at creating clothing, jewelry, pillows, pendants, sketches, paintings, collages, and even free e-cards.
Customers who buy Cartwright's self-described "art.wear" are not just draping themselves in it. Some are also collecting it and displaying it:  "Yes, I've been told by a few people that when they are not wearing the clothes, they have them hanging on their walls. I love that!"
One of the themes that she tackles in her textile, tactile artwork is her connection to the timeless Rodgers and Hammerstein musical The Sound of Music. Cartwright acknowledges that the 1965 film "is very much a part of me. It feels only natural that I would explore the use of that memory in my art. Salzburg, Austria, is an artist's and photographer's dream." Cartwright uses her dramatic photos of settings and landmarks from that Alpine locale as backdrops for some of her art fashions.
The 61-year-old artist recounts that in terms of being recognized, "it's a toss-up between 'Penny Robinson' and 'Brigitta von Trapp.' I continue to have a special relationship with my six siblings from that movie. I realize it's quite unusual, but we have been a faux family for 50 years in a movie that stands strong in its popularity spanning three generations."
In addition to the "art.wear" that celebrates those precious memories, Cartwright was instrumental in the gathering together of her and her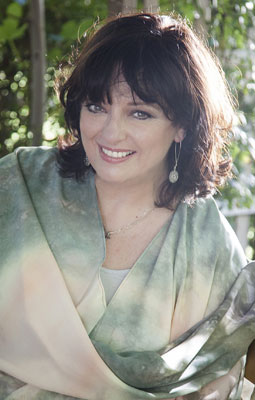 cinematic siblings' personal photographs and memorabilia from when they were shooting the film those many years ago: "We compiled it into a book that was released last year called The Sound of Music Family Scrapbook. We told our personal stories to author Fred Bronson, who wove them together and shared our experiences from making the movie to our lives now. I am so proud to have played 'Brigitta' and to have breathed life into that character."
Beyond her make-believe family, Cartwright has her own real-life brood. Married since 1976 to a business executive "with the soul of a musician," Steve Gullion and Angela are parents to a daughter, Becca, who is a producer, and a son, Jesse, who straddles both the business world and the realm of screenwriting, acting, and photography. "They all have creativity running through their veins."
When her children moved away from home, Cartwright helped to avoid empty-nest syndrome by converting their bedrooms into her workspace: "I made my daughter's bedroom into my studio. It is filled with personal mementoes and inspirational art. When my son moved out, I made his room into my clothing design studio. I also have a large space outside the house where I do larger, messier art. I am constantly roaming back and forth between all of these areas. I feel very grateful to have the amount of space I have to work in because I always have several projects going at a time."
An author, a publisher, a photographer, a collagist, a curator, a fashion designer, a webmaster, and an educator, Cartwright does seem to have a thousand balls constantly being juggled. It is surprising, then, to learn there was a time when she put her art tools away: She perceived her father's artistic talents to be so perfect and so precise that she felt she could never compete. Not being able to live up to the bar that he set—or that she perceived he had set—she locked away her art supplies for many years.
Fortunately, her immersion in photography allowed her to swing open that sealed-up part of herself once more. Today, Cartwright nods at her less-than-formal, wholly individual creations. She proudly terms herself an "unruly artist." With that in mind, she is a vocal and empathetic supporter for the necessity of an art-based education: "I believe everyone has that creative side to them. Sometimes they just don't know how to release it. This is why I am so perturbed that creative, artistic classes are being dropped from the school curriculum. The world will become so robotic and analytical. Who will teach our children to be free thinkers? How will they explore that side of their brain?"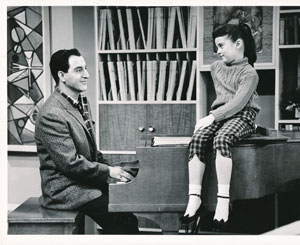 As an artist who has found her niche in both the fine arts and the crafts worlds, as well as in the printed-word field, Cartwright has had to develop a business acumen and a vocabulary that never rules anything out. She always leaves herself receptive and welcoming to new opportunities and new chances: "I don't believe anything comes from fear. You need to be open to let your creativity fall out. It's hard sometimes to put your emotions out there, especially when you are a private person. I have a very personal side that I put into my artwork, but people don't realize it's there. It's not in your face, but it's there."
Having been an actress since toddlerhood, Cartwright is able to sit back and analyze the different components of being a creative soul. She has been the receptacle for other people's visions, as well as the conduit for her own dreams and goals.
According to the versatile entrepreneur, "an actor is very much at the mercy of a good script, inventive directing, a capable crew, and generous, talented actors. Making art is instinctively motivated. When I think too much, I never like what I create. When I am motivated by freedom, I am happier with the result. But, keep in mind, this does not mean that others will like your work. You need to decide when you are making art, whom are you making it for? For others or for yourself? I think artists get disgruntled when they only make art for others and what they feel their audience wants. It does not allow an artist to grow. We need time to experiment. We need time to express ourselves."
Currently, Cartwright is captivated by a book project that will be debuting next fall for Insight Editions. This challenging endeavor has her "digging in the depths of the Twentieth Century Fox Studios archives. I am excited to be bringing forward these never-before-seen images for the world to see."
But even when she's not on the hunt, sifting through forgotten photos and cast-off film stills, Cartwright always feels like she is channeling her expressive self: "I feel art when I'm arranging flowers, making dinner, or painting a piece of furniture. My art ebbs and flows. Sometimes I can't keep up with all the ideas I have percolating."
Pragmatic and passionate, sensible and soulful, Cartwright knows that a successful artist has to navigate both hemispheres. She has to be able to calculate and ruminate: "The business side of art is work. The artful side is expression and joyful. It is difficult at times to balance the two. I could hole myself up in my art studio all day, every day. Instead, I constantly remind myself to get outside and smell the roses."
After nearly 50 years, Angela Cartwright still counts raindrops on roses, and whiskers on kittens (and puppies), as among her "Favorite Things." Rodgers and Hammerstein would be proud.
Angela Cartwright's artwork can be seen at http://acartwrightstudio.com and http://angelacartwrightstudio.com. Her showbusiness site can be found at http://angela-cartwright.com. Her Sound of Music site is http://thesom7.com. Her art is shown at Stephanos Fine Art Gallery and Stephanos Fine Art Gallery 2—BA Farmer (http://Stephanostudios.com).