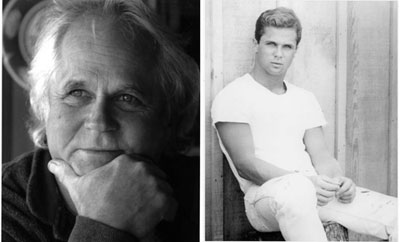 Pop culture is a fascinating arena. Certain books, movies, TV shows rise beyond their production schedule and become one for the ages. That's certainly the case with the late 1950s sitcom Leave It to Beaver. Initially running for six years (1957 to 1963), the gentle comedy focused on the funny foibles and the easily relatable daily activities of the Cleaver family. The parents, Ward and June, and their two sons, Wally and Theodore, the latter known as "Beaver," personified the ideal nuclear family. There was a wise, caring father, complete with cardigan and slippers; an immaculately turned-out mom (she even wore pearls as she baked cookies); a mischievous but goodhearted little rascal of a young brother; and an athletic, earnest, best-pal older brother, too.
The adventures and misadventures of this foursome entertained an audience during its nightly run; and it has continued to teach good old-fashioned virtues to generation after generation via its syndication and constant reruns. Leave It to Beaver has become more than just a title of a past TV program. It's become emblematic of a time that has passed, or, perhaps, never really existed, but continues to be hoped for and aspired to.
Tony Dow was a part of this cast and assumed the role of Wally during the show's lifespan. A Junior Olympics diving champion, he had the wholesome good looks and easy, graceful attitude to embody the big brother every child wished he or she could have. As a member of the Beaver acting troupe, he has had fame and applause; and to this day, he is recognized as a part of classic Americana.
However, playing a teenage son can only last so long, and other professions and other roles have to be pursued. In the case of Dow, the roles have not just been before the camera. He attained an admirable roster of credits behind the lens as a director, producer, teleplay writer, and visual-effects supervisor. He even revived his most famous role of Wally Cleaver in a 1980s retooling of the show (Still the Beaver, 1985 to 1989), but perhaps the best fit for Dow has been in a world that is separate from Hollywood and the demands of show business. He has carved out a standing for himself in the realm of fine arts as a first-rate sculptor. His reputation is based upon his creation of wood, bronze, and mixed-media sculptures. It's an identity that he has seemingly been groomed for his entire life.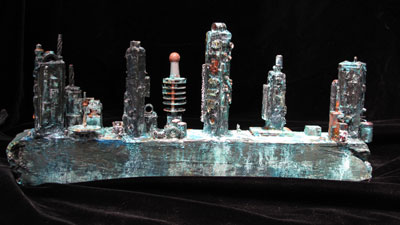 Dow grew up in a home where creativity surrounded and inspired him. His father was a building designer and contractor who had built multiple homes for people who were part of the film industry. Among the notables that Tony's dad constructed homes for were legendary directors George Stevens and Billy Wilder. His mom was also an entrepreneur with an artistic bent. She had a gourd business and made arrangements for New York City's prestigious department store Bloomingdale's. Later in her life, she launched the Belmont Shore Art Center, which sold supplies and had art classes.
Self-expression through one's hands was definitely lurking in young Tony's DNA. It only needed a simple nudge to release it: "In my late teens, I was given a welding set—I don't know why—but I started brazing copper into figures, houses, and what not. When the show ended in '63, I got more involved in sculpting and made the rounds at the art festivals: Westwood Art Show, Del Mar Art Show, Catalina Art Festival, etc. I got my first lesson in the art business. I would always have a number of larger pieces I was proud of and then a number of smaller pieces. It got so I was selling small weed pots, but none of the pieces I was more interested in. Suddenly I realized, 'I don't want to make weed pots anymore' and so ended my first attempt at selling fine—and I'm using the term loosely—art. During that same period, I was painting, collaging, doing some assemblages, taking art classes at UCLA, and, of course, trying to continue my acting career."
Playing parts before the camera, and managing the actors from behind it, eventually lost its appeal for Dow. Thirteen years ago, he officially bowed out of the TV scene. In a very straightforward manner, he explains why the allure of the industry was shriveling up for him: "The business is illogical and unethical, and run by and for the youth market. The few series that I had been directing went off the air and the idea of forming new relationships with new, young producers was not that appealing to me. Interviewing skills are very different from acting skills."
Walking away from a field that he had been immersed in since he was 12 years old took courage and confidence. Disconnected from the entertainment grind, Dow was free to pursue his own interests and pen his brand-new second chapter. He dedicated himself to his art.
Dow acknowledges that he is "fortunate that I don't have to view my sculpting as a job or a career. It's driven by inspiration and a need to be creative. My wife, Lauren, says that sculpting is my passion, my form of meditation."
His supportive spouse, Lauren, is an artist in her own right, and the two have worked together over the years. Dow is understandably proud of his wife's accomplishments: "She is an artist in everything she does and creates wonderful embeddings (mosaics) that in many cases I build the foundations for. We recently collaborated on a couple of assemblages for a local studio tour and show."
Dow's current work stems from the use of burl wood. His choice of medium is a conscious one and it informs what he attempts to do and what he achieves. According to the sculptor, "The wood is an integral part of the process, and the work is contingent upon it, as is what's inside. Burl wood has an incredible quality and natural form. I am able to find pieces of wood from fallen trees in the hills around our home. The rain unearths chunks; and after exposure to the elements, I find pieces that inspire me."
Since retiring from directing in 2000, Dow has grown more serious about the pursuit of his sculpting. The gravitation toward wood was a natural step in his artistic growth: "I had already done a couple of pieces out of interesting wood I happened upon and accumulated a number of woodworking tools from my building days, so working with wood, which I really enjoy, seemed like a natural place to start. In 2002, I began working on a series of figures that dealt with relationships. My pieces evolve during the process but always start with a concept, shape, as I look for contrast. When they're about half completed, I get to work on the details and the narrative is developed. There are about 20 pieces in that series, half of which are molded and poured in bronze. A newer series that I call 'Artifacts' are structures that contrast new and old, past and future. I generally don't like to explain or talk about the pieces."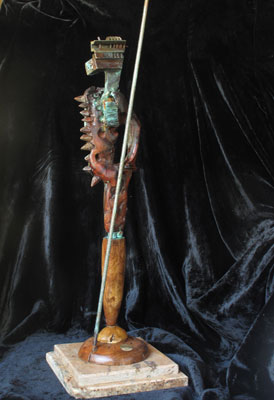 Dow is a big believer in a quote that he has uncovered in his exploration: "A work of art should tell people what they need to know."
Interestingly, Dow's sculptures resonate with him on different levels. Some end their "lives" in their wooden state; others are given a new identity and are cast in bronze: "There are a couple of factors that determine which pieces I will take to the foundry. Firstly, I have to like the piece more than others because it costs around $1,500 to get the mold, the wax, and then the first bronze poured. Secondly, some of the wood pieces are too complex or would be destroyed in the mold-making process. Sometimes a piece ends up in a gallery and is sold before I make a decision on whether to take it further. Or else I just feel it looks better with the amazing woodgrain finish."
Rather than traveling to a location shoot or to a studio soundstage, like in his cast-off Hollywood days, Dow plies his craft in a studio/workshop that he built on his property: "It's a 600-square-foot building, plus a 40-square-foot outdoor worktable, where I create the originals. I use a foundry, Masters in Metal, to make the mold and pour the bronze. It is quite an involved process and somewhat dangerous, and the equipment needed is quite costly." Rather than mastering the process needed to cast his sculptures in bronze, Dow prefers to spend his time working on creating the art.
Admittedly, Dow was not a "starving artist" in the financial, romantic notion of that term when he kicked off this rewarding chapter of his life. Still, it took a shift in focus and a channeling of energy to devote his days to an introspective and self-reflective pursuit. Becoming a full-fledged artist rather than a dilettante or a dabbler is not something that should be done lightly: "I'm not an advice person, but I think established artists should have a way to support themselves, especially in these economic times. Hone and experiment with your art until you're sure it will support you. The struggling artist thing is a drag. I don't necessarily have these traits, but you have to be energetic in your pursuit of your dreams. Be social and network with those people of like interests and learn from them. Forget everything you've been taught about art, other than technique and history. It's already been done before. Experiment and find your own truth and authenticity."
Dow's version of the accessible three R's (reading, writing, and 'rithmetic) are the three P's: patience, persistence, and practicality. He notes that "a successful artist often needs to spend half of his/her time marketing and the other half creating." That's an equation that holds no interest for him. He leaves most of the "business stuff" to the galleries that represent him.
He is wise enough to know that his entertainment notoriety might have given him a leg-up. "Perhaps some galleries take the art because of who I am, and some people come to see it for the same reason. Joni Mitchell said in a recent interview, something along the lines of 'if you look at a piece of art and you see the artist—celebrity in my case—you are not connecting to the art."
Much of Dow's art touches upon personal milestones and perennial, universal quests for knowledge. "I created a piece for my son, who is a firefighter, of a figure carrying another figure over his shoulder. I've also done a couple of acrobatic figures that relate to my history in diving and gymnastics. A number of my sculptures represent my interpretations of religious events. 'Adam's Rib' and 'In the Beginning' come from curiosity about the event, and I suppose 'Looking for God' comes from one's search for answers."
Having made his early mark as one quarter of the perfect 1950s family, Dow's real-life family consists of wife Lauren, 40-year-old son Christopher, 8-year-old granddaughter Tyla, and a "beautiful, gentle Bergamasco dog, Bodie." As for his sitcom sibling and parents, television friends and schoolmates, he still does keep in touch with some of the familiar faces.
Dow shares that the remaining members of the cast (Jerry Mathers, the Beaver; Ken Osmond, Eddie Haskell) will get together and do special appearances together. And before her death in 2010, at age 94, actress Barbara Billingsley—who so convincingly played the Cleaver mom—provided encouragement in Dow's off-screen life as well.
"Barbara, Lauren, and I were very close friends," Dow recollects. "As a matter of fact, her boyfriend, David Huenegardt, was a successful sculptor who, after dinner at our house, suggested he introduce me to his foundry. I considered him my mentor and true friend."
How heartwarming that the artifice of television that is often so far removed from reality held truth in this regard: Barbara Billingsley and Tony Dow really did like and respect one another, and were there for one another until the end.
And despite many detours, personal and professional struggles, inner and outer demons, Tony Dow has sculpted a place for himself in the world of art. It's not a tableau with a white-picket fence, a primrose garden path, and an oven where an apple pie is always baking before being cooled on a kitchen windowsill. Instead, it's a slice of an actual American dream: he's doing what he wants, and is doing it on his own terms.
Tony Dow's work is found at the DeBilzan Gallery in Laguna Beach, California, as well as Stephano's Fine Art Gallery in Little Rock, Arkansas. His website is www.tonydowsculpture.com.