From the Archives: This article originally ran in 2015.
By Stephanie Finnegan
There's always a bit of magic associated with the creative process. A person, in essence, takes an idea and formulates it into something visual and tangible. They truly make something out of nothing!
For metal clay artists, this "prestidigitation" is even more pertinent. This special breed of jewelry designers acknowledges that what they are doing is akin to "modern-day alchemy," as Anna Mazoń labels it. The young Polish artist is an award-winning metal clay visionary, and she has definite opinions on what she conjures up and what her collectors expect.
"Working directly with the clay gives me very intimate connection with whatever I create, but still I end up with metal," she observes. "From a technical point of view, metal clays become very fine and it is possible to work with them in a very precise manner, which is very important for me. At this point in time, metal clays are so good, that it's a matter of thinking 'what I want to do' rather than 'what I am able to do' with this developing medium."
Mazoń has been plying her trade with metal clay since 2008. In the six years that she has been fashioning intricate necklaces, brooches, bracelets, and the like, she has seen this manmade medium expand and evolve: "When I first found out about metal clay, everyone kept using the slogan that 'with metal clay, the only thing that limits you is your imagination.' Back then, I thought it was just a catchy phrase. Now I think it's really true. Even the strength of the material—which is a thing that you have to take into consideration in case of fine-silver metal clay—is not an issue anymore with the new bronzes and sterling silver clays. I can work as delicate as I want."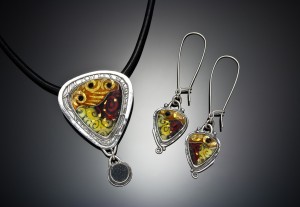 The Past Is Prologue
One of the most respected voices in the realm of metal clay creation and education is Holly Gage. The Pennsylvania resident has been a pioneering force in the movement since 2002. In the past 13 years, she's witnessed how the available choices in metal clay have increased and improved: "There are so many options for working with it, such as a choice of metals from gold and silver to copper, bronze, steel, and more. One neat thing I get to do is to test new products. Even as we speak, I am trying out Accent Rose Gold by Jewelry Material Innovations. I really like the combination of the romantic rosy color with my silver work. I expect to see the innovations keep coming over the next decade. When you consider the history of the jewelry industry, metal clay is still in its infancy."
Because metal clay is still so brand-new on American shores, many consumers don't know or understand what it is. Gage is happy to explain, and she defines it in a very easy-to-comprehend manner. "Metal clay is really a different animal than regular potter's clay. The word 'clay' can be deceiving, as there is no clay content in it! It was named as such because it is moldable, like a clay is. Metal clay is really just a flexible form of metal," Gage instructs.
She agrees that the notion of a malleable piece of metal that then becomes sturdy and everlasting is hard to grasp: "It is difficult to wrap your brain around the technology, but once it is put into the kiln, it does become a solid piece of metal with all the allure and beauty of a fine object made in gold and silver. It has the durability of metal. So for making lasting objects, it is perfect."
Canadian jewelry artist Beata Kacy also has definite opinions about the early days of metal clay and its impact on her creativity and that of her colleagues.
"The past has been slow, especially since only silver clay had been available," Kacy states. "Once the other clays hit the market, it felt like a revolution. I think the future for metal clay is bright. It will be thought of and taught in jewelry design programs as a credited subject. I feel it will be equally respected as metalsmithing."
In fact, according to Kacy's experience, metal clay is a superior choice than working with actual metal: "Once you know the techniques, metal clay saves time in production. Again, regular clay—as in potter's clay—has nothing in common with metal clay except for the pliability. With metal clay, it's easier to ply gorgeous deep textures. It is so much easier on the hands. Elders and kids can still enjoy creativity with metal clay, whereas metalsmithing would be too hard on their hands. The art of metal work arrived in Indonesia during the Bronze Age. Seeing the new trend that is metal clay develop while I am on earth is super exciting."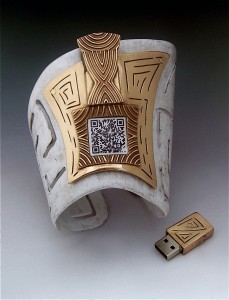 Present and Accounted For
The long-ago accomplishments of jewelry artists and artisans were honored by Lis-el Crowley and her Connecticut guild of metal clay colleagues: "My local guild had an interesting show last June. We partnered with our local historical society and were shown metal pieces from their archives. We then created our own interpretations of these items by using metal clay. Items from purse handles to pails and belt buckles were also reinterpreted through metal clay. It was a tremendous experience for all of us and the show was a huge success. We also explored the tools and materials used in metal work through the ages—many of which had not changed much until metal clay burst on the scene. The end results were beautiful and fascinating."
Crowley credits the camaraderie of the metal clay professionals with helping to advance and promote its public profile and recognition. "I see metal clay as having a more organized community through guilds, organizations, conferences, and special events. These organizations and the events support metal clay artists of all levels as we grow artistically. With the emergence of so many fabulous artists using metal clay and pushing it to new limits, we are seeing its true artistic potential in the present."
For the past seven years, Monique Perry has been actively working with Precious Metal Clay. Prior to that selection, the Pennsylvania craftswoman fabricated her work via sheet metal and traditional metalsmithing techniques. She has found the transition from metal to metal clay to be more "user friendly." According to the artist, "There are now many different kinds of base metal, sterling, and fine silver clays available. There have been advances made in the formula. Metal clay is now easier to purchase due to the increased number of suppliers. However, it is still NOT readily available at most retail craft or specialty art stores. That's unfortunate."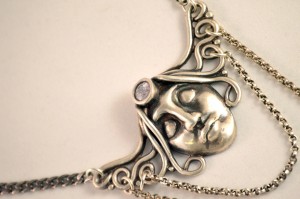 Perry's preference is to work with silver metal clay. She is a proponent of it because "the deep texture I can achieve with it adds a unique dimension to my work. It allows me to design a setting that complements an interesting stone or enameled focal."
Since 2007, Arizona's Jennifer Gastelum has been designing jewelry with metal clay. She recalls how in those "early days" there was only "PMC and Art Clay (silver) available. Within a few years of that, the base metal clays were introduced. Thankfully, currently, there are copper, bronze, steel, and the myriad hybrids in between. By that, I mean white copper, brilliant bronze, roman bronze, and so on. There are new and exciting techniques on hand, like the Silhouette cutting machine. This is significant. In the beginning, tools were adopted from other mediums and then a breakthrough occurred. Now there is the development of tools by metal clay users for metal clay users. There is also so much more mixed-media designs using metal clay. In the eight years that I've been a part of the world, there have been enormous changes."
Gastelum herself has changed as well. In addition to her artistry, she has also joined the ranks of the retailers of metal clay and supplies in this expanding market: "When I tell someone I own my own business, he or she will ask, 'What type of business?' I laugh because I know it's not a simple answer. More often than not, individuals have not heard of metal clay. If they have, they have strange ideas of what it is. People are interested in how a piece of clay can turn into real metal. Metal clay is still a hidden gem and a mystery to the general public. I foresee a future where there is a greater interest and understanding of the field."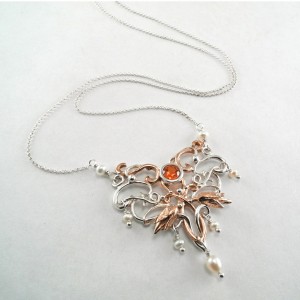 Future Shock and Awe
In France, artist Angela Baduel-Crispin notes that it took a while for metal clay to become available throughout continental Europe. Having worked in the arena for 12 years, Baduel-Crispin has watched and applauded many of the advances. She has a sunny, optimistic outlook about metal clay's future. Her expectation of what is on the horizon is excited and boundless: "The future equals more amazing work being made by more creative artists. Visionary engineers will develop new formulas, new techniques, and new tools. All of this will bring about more and more respect for this wonderful medium. When this happens, we will not have to keep on explaining what metal clay is and why we use it!"
One of the advancements that Baduel-Crispin looks forward to heralding is the "metal clay 3-D printer. I can't wait for it to be out to see what the creative minds will be coming up with next."
Today, the French artist has embraced the base metal clays that have become available for her. They have permitted her to make larger pieces using more materials. "The present and the future will permit us to be more liberated. We can worry less about the cost of materials and concentrate more on the final product for the client. We can think more in terms of what we would like to express. Restraint is good because it forces you to be creative in one sense. However, it is quite liberating to just let your creativity flow without the extra worry of cost."
It is quite fitting that the last observation about the future of the medium falls to Meghan Gage. She is the daughter of Holly Gage and, as such, grew up surrounded by the metal clay community and its proponents. Meghan has followed in her mom's footsteps and has created a jewelry business utilizing the various media: "I first tried PMC when I was 11 years old. My mother, Holly Gage, introduced it to me. My first piece was an oval pendant featuring a flower. I really picked it up a few years ago when I started making gifts for people—bracelets, trinkets—and using mainly Hadar's Metal Clays. Now I use everything from gold and silver to the base metals in my business, Precious Paw Prints Jewelry. There is such an improvement in the firing programs and in the durability of the finished products. It is becoming easier to find a distributor, as well as supportive help, for everything metal clay."
The 23-year-old artist has high hopes for her own role in the realm of metal clay, as well as great expectations for her fellow jewelry peers: "I feel that metal clay is becoming more commonplace than it once was—and that means more accepted. It is exciting to see where the medium will take the community in the coming years. It is growing more versatile and adaptable. It is becoming more useable for incorporating other mediums and materials with it. I look forward to it spreading among the young and the old, men and women—really, everyone—as the product's reputation grows and it continues to progress in its uses."
---
Stephanie Finnegan is a senior contributor at JP Media. A former editor of THE CRAFTS REPORT and SMART RETAILER, she is well versed in how commerce and creativity intersect. A contributor to HANDMADE BUSINESS and SUNSHINE ARTIST, Stephanie loves to showcase how artists rise to the challenge of being enterprising and entrepreneurial in today's competitive climate. An author of several books on collectibles and American artists, she has also written a time-travel book and a series of short stories. Stephanie can be reached at www.stephaniefinnegan.com