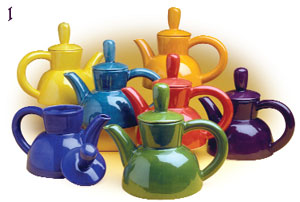 Remember your very first show? The first time you put your creations out there before the masses in a little 10-foot-by-10-foot booth, or smaller? Remember how you waited and hoped, and tried not to appear too anxious?
Nancy Pratt remembers that feeling, because it wasn't that long ago for the weaver from Albuquerque, N.M. Having played around with and perfected her art for about seven years, she finally succumbed to her broth­er's encouragement and applied for the New Mexico Arts & Crafts Fair in 2007. A juried event that began in 1962 and draws 15,000 prospective buyers over three days, the fair generates about $700,000 in sales for the 220-plus accepted New Mexico artists.
"I actually sold some scarves the first year and covered my expenses," Pratt says with the excitement of a first-timer. "But the good reviews from the judges meant as much as the sales, and the experience has taught me so much." The experience, along with gentle tutoring from other artists, encouraged Pratt to increase her inventory, raise her prices and improve her booth display. She returned for the 2008 show and sold a bit more, giving her enough confidence to apply for and be accepted at the Fall Fair in Los Alamos, N.M. "I've been told they have a lot more disposable income in Los Alamos and to bring my higher-priced items," Pratt laughs.
That is an important factor in making a living as a craft artisan in New Mexico where the median household income is $37,500. The national median is $44,500, according to the three-year average between 2002 and 2004 (reported by the U.S. Census Bureau). New Mexico ranks forty-fourth among the 50 states.
Abby Salsbury, a potter who lives outside of Taos, N.M., has participated in the New Mexico Arts & Crafts Fair for two years, as well as around eight other shows each year throughout the West. "I've found that the people of New Mexico are very faithful and I get more follow-up from locals," she comments. "But I also need to leave the state to go to wealthier areas to sell more."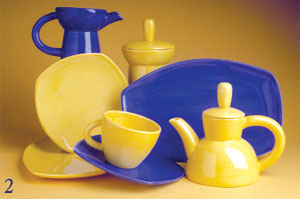 One of those shows is in Scottsdale, Ariz., another in Bellingham, Wash., both known for higher socio-economics than most of New Mexico. But Salsbury finds that sometimes her increased overhead offsets the additional profits. Her brightly colored functional pottery ranges from $12 to $140, with most items selling around $90."People everywhere want to know where you're from, and I think everyone likes to support local artists," she explains. "In Washington, they're very intrigued that I'm from New Mexico. We have a good reputation for art."
Salsbury admits she must do a better job of promoting herself after the shows with follow-up mailings, both e-mail and snail mail. Now that she is connected with PayPal, she covers the cost of shipping, and thinks that will be a big factor for more after-the-show orders.
An admission charge of $5 per person or $10 for a three-day pass, along with numerous corporate sponsors, helps offset the costs of the show, thus lowering the booth fee charged to artists. As it is, fees range from $325 to $510, depending on corner spots and indoor/ outdoor locations. With high June temperatures in New Mexico reaching 90 degrees or above many days, those indoor spots are quite coveted.
Like many major art shows, the New Mexico Arts & Crafts Fair offers a preview night for patrons that includes food, drinks and an advanced opportunity to shop and talk with the artists. That night generates more than half of the entire weekend sales for most artists. However, discussion is underway for the 2009 show that may eliminate one full day of the show, thus potentially altering the impact of the preview night.
A good number of the 15,000 attendees at the fair come from galleries on both coasts and many major cities, according to Ron Behrmann, member of the fair board. "New Mexico has such a good reputation as an art community, we find that many buyers come here year after year, appreciating any excuse to visit the state," he adds. The only advertising investment that reaches outside the state is in New Mexico Magazine. With a circulation of 120,000, the magazine has many subscribers outside of the Land of Enchantment.
Deborah Armijo, a clothing artist from Sandia Peak, N.M., has participated in the New Mexico Arts & Crafts Fair for 15 years, about as long as she has been creating her high-end women's clothing. She also served on the board for five years and has seen the ups and downs of the event, as well as the economy of New Mexico crafters. "I certainly see people being a little more free spending in other places," Armijo comments. "In Denver or Dallas, no one blinks at $80, but in Albuquerque, they have to think about it a while."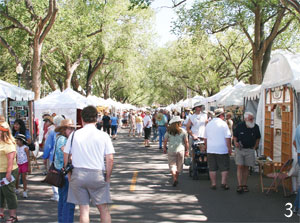 At the same time, the current tight economy has not impacted her work entirely in a negative manner. "People may see some artwork as frivolous, but mine they can justify as being practical because they wear it," she adds, agreeing that as some people are forced to give up luxuries like a new car or vacation, they will reward themselves with $100 or higher purchases at a craft show.
Among the artists who have greatest success at this show are the 13,000 youth exhibitors from area high schools and community colleges. Each year, almost half of the work by those participants sells, hopefully launching a career in the arts. In 2008, members of VSA arts (formerly Very Special Arts) were invited as keynote exhibitors, and more than half of their work sold as well.
The 2009 New Mexico Arts & Craft Fair is set for June 26 to 28.TCR
For more information, call (505) 884-9043 or visit nmartsandcraftsfair.org.
Captions
Photo 1: Kettles by Abby Salsbury
Photo 2: Tea set and tableware by Abby Salsbury; cast and handbuilt earthenware clay; hand-brushed glazes
Photo 3: Visitors to the New Mexico Arts & Crafts Fair enjoy the fine weather