I just did a nine-day outdoor retail show. If this story doesn't make sense, well, you try making sense after a nine-day outdoor retail show. …Parts of New Hampshire actually flooded that week from all the rain we had. I'm still a little grumpy. Does it show?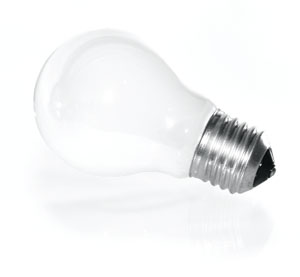 Anyway, I had to reconfigure my lights during setup. That got me thinking about my history with booth lighting. It's a long, sad tale with a happy ending, so bear with me.
I built my very first booth for this very same show, the annual League of NH Craftsmen's Fair. I was clueless. It felt like someone had handed me four tires and a safety manual and said, "Here, go build yourself a car!"
I was especially intimidated by lighting. I once plugged in a vacuum cleaner and the socket blew up, so I have a healthy fear of electricity. But I'm also a faithful follower of Bruce Baker's advice on booth design. I knew better than to use clamp-on incandescent lighting. I chose the expensive show track lighting advertised in a certain trade magazine.
It was beautiful. It was sleek. It was black. It was low-voltage and supposedly safer to use.
Little did I know, the lamp units were also so flimsy that they pulled apart under their own weight. A show angel helped me cable-tie each unit to hold them together. The low-voltage thing made them persnickety and fussy under certain conditions, like the damp environment you often find at outdoor shows (such as this one) and the electronic interference you sometimes find at big indoor shows.
The first two shows with these lights you could find me in tears, fiddling and adjusting each lamp, hoping and praying I could get them to work. After two years of wondering if they'd ever simply turn on when I flipped the switch, I gave up and bought a new system.
My next track system was from a popular home improvement store. It cost half of what my shiny sleek set cost, but worked fine. Most of the time. (I hasten to add that nobody else has so much trouble with low-voltage systems. It may be my body chemistry.)
I finally ditched the low-voltage and got line-voltage lamps. They were beautiful! They were reliable! They were heavy-duty!
Heavy being the operative word. They were much, much heavier than my old units. The first time I attached them to my old supports, the bars collapsed under the added weight. And, of course, most of the lights broke when the bars fell. (It would have been kinda cool to watch, if it hadn't been happening to me.)
I was far from home and had no other resources. So I strapped the remaining track and lights along the rim of my pole-and-drape booth. For the entire show, I endured the constant comments of buyers and fellow artists alike, as each and every one of them said, "You know, you need more light in your booth." (My jaws were actually sore from gritting my teeth.)
My fourth system: Reasonably priced clamp-on wall washer units. By "reasonably" I mean under $100 each. Three hundred watts of light flooded each wall. I only needed four or five to completely illuminate my booth. They were great! They were brilliant! They were…incredibly hard to clamp and stabilize on round pipe. I called the company after several shows where my lamps fell slowly and gently down into the booth. "Oh, yeah, we had a lot of complaints about that," the guy said. "That's why we discontinued them!" I sold them to an artist whose booth had hard walls. She loved them. I moved on.
My fifth light system was comprised of line-voltage units from that same home improvement store. They were tiny! They had long, flexible goosenecks! I could position them anywhere and there they'd stay! I loved those lights!
Until I set them up at a show that required the shorter version of my booth. Those long, lovely necks hung down an extra foot into my booth…and gently grazed the heads of very tall people. I moved all but the very essential lights, then spent the entire show begging dads not to carry children on their shoulders in my booth. "Oh, yeah, we don't want to hurt your booth!" said one apologetic and tall friend. "I'm not worried about my booth. That can be replaced," I answered. "I'm worried about Gabe's hair!"
My latest lights are beautiful clamp-on gooseneck halogen. They clamp securely on my new hard-wall booth. Black. Sleek. I'm in love! Life is good…
Until I set up in a new tent location for this show. I was right up against the sidewall of a big tent, with less than a foot of clearance above.
And realized my new lights were too tall to use on my back wall.
Fortunately, I haven't thrown out any of my old lights. (That's why I'm always whining about cleaning my studio—I never throw anything away.)
And fortunately, those old low-voltage track lights fit perfectly.
Nowadays, the only time my lights don't work is when show neighbors accidentally unplug them, or plug their electricity into my surge strip. But that's another story for another time. TCR
Luann Udell is a fiber, polymer and mixed-media artist. For more information on Luann and her work, visit her website and her blog.