Most artists put their heart and soul into their work. Joy Stember also puts her faith and heritage into her individually handcrafted sleek and stylish metal works of Judaica.
Clean lines and respective nature in urban landscapes, as well as mid-century design, inspire her work. But it was actually a recent trip to Israel that truly affected and inspired her, leading her to start her own studio focusing on contemporary Judaica. Today, she owns and operates Joy Stember Metal Arts Studio in Abington, Pennsylvania, where she creates made-to-order menorahs, seder plates, yads, spice boxes, mezuzahs, kiddush cups, and other classic items.
"Tradition is very important," says the 29-year-old. "It's just something I feel so deep down inside."
In 2010, Stember visited Israel through an organization that subsidizes trips for young Jewish men and women, ages 18 to 26. "I wanted to go because I knew it would be a great opportunity," she recalls. And in addition to leading her to a greater understanding of Jewish culture, heritage, and faith, she reaped a stronger identity as an artist.
On her website, she noted: This journey profoundly changed my perspective and led me to discover my true passion; [my trip] has not only provided great personal fulfillment, but also the opportunity to share my craft with the world.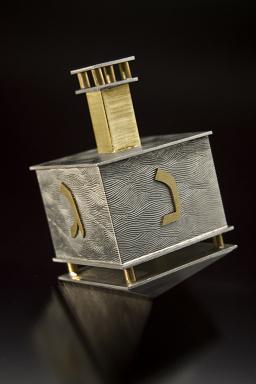 First Steps of Discovery
Stember's introduction to the arts came as a child, growing up around her father, a designer of fine jewelry, who mentored her in design, craftsmanship, and business. "He would bring me in [to his stores] and teach me how to work in it," she recalls.
But while Stember says she knew as a child she wanted to be an artist, she started out in ceramics. By the time college came around, however, Stember had returned to her love of metals.
"I loved working metal because the ideas I had in my head were easily realized in metal, as opposed to in clay," she says. "I found that metal was more challenging, and I really wanted to push myself. For me, [inspiration] just comes out from my head to my hands. It just feels right."
Stember attended Tyler School of Art, Temple University, in Pennsylvania and received a BFA in Metals. She has continued to refine her skills through summer workshops at Penland School of Crafts, Haystack Mountain School of Crafts, and Arrowmont School of Arts and Crafts.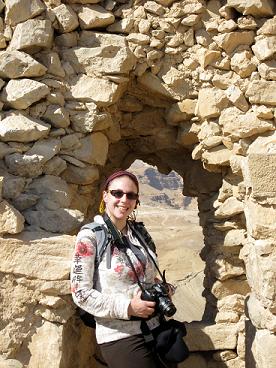 A Focus Narrows
Stember founded her studio after she returned from her life-changing 10-day trip. After taking a class with a master pewter maker, Stember says she fell in love with the material and felt it would be an ideal medium to fashion contemporary Judaica. That focus was important, she says, because her family was involved in the Jewish traditions, and she grew up around the items she is now crafting.
It's especially gratifying to make these items for families to then pass down to their offspring and descendants, just as Stember has used her grandmother's fine china and lit her great-grandmother's menorah. "It's a generational thing," she says. "I think that is beautiful and so important."
Stember's award-winning work, which has appeared in juried shows across the country, is fabricated by scoring and folding sheets of pewter (which she sources from Rhode Island) to created three-dimensional works of art. Most of her work is done in pewter and brass, although she does occasionally include bronze and silver—as in the case of her elegant cast bronze kiddush cup with a spun silver cup. The piece, featured in the book 500 Metal Vessels, was a limited edition of 18, each of which sold for $3,000. (In layperson terms, kiddush is a ceremonial blessing pronounced over wine or bread, in a home or a synagogue, on a holy day, such as the Sabbath.)
Like the kiddush cup, many of her items are present at Jewish feasts and in Jewish traditions; some, like her seder plates, are designed to be both admired and used at Passover dinners. Her important and spiritual mezuzahs have been affixed on homes and synagogues. And the stylized yads are functional, yet elegant, pointers used to study the Torah. And many pieces feature Hebrew passages, which Stember hand-letters onto the metal.
In addition to handcrafting the metal works, Stember also adds the time-consuming step of adding textures to the metal, using roll printing to emboss patterns—like stone, stripe, or patchwork—onto the surface. Pewter, a soft metal, will take any patterns put onto it. Stember etches a pattern onto brass, then places that between steel barrels to emboss the pewter. Items with smoother finishes are buffed and polished; others may be tumbled with steel shot, to burnish the surface.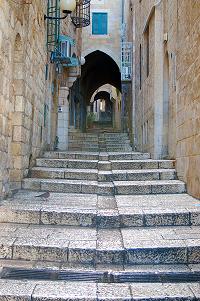 Doing and Dreaming
Amid competition for Judaica, Stember feels she fills a more contemporary niche. While that is, indeed, a successful niche for her, she is also considering branching out and doing a home line with more serving pieces, tumblers, candleholders, and other pieces to appeal to a secular audience. "Just beautiful aesthetics," she says. "I really see myself in everybody's home."
Just shy of her 30th birthday, busy with her artistry, preparing for shows, and planning her upcoming wedding, Stember does not take her success for granted.
"When I was little, my mother likes to remind me, I wanted my work to be in museums and in people's homes . . . and at 30, it is. It's kind of unbelievable. It feels fantastic. I'm so humbled and so excited to be doing what I'm doing at my age. I'm honored to make work that people love."
The artist knows that she is exactly where she should be, doing what makes her proud and perpetually inspired. "For me, I couldn't imagine doing anything else," she says. "This is the one thing in the world that makes me happiest—making work, talking to people, finding out their stories—that is the best.
"It's so important to give back. It's about affecting the world," Joy Stember asserts.
Stember's art will be part of the Sacred Voices exhibit opening this winter at the Canton Museum of Art in Ohio. Visit Joy Stember Metal Arts Studio online at www.joystember.com.