By Travis Manney
What better way to kick off the Handmade Business era than by bringing to light some of the most talented and visionary crafters and makers in the industry today? Many of these you may have heard of. Some you may have not. But they, all in their own way, are making noise and finding the heights of success doing what they love to do.
1. Scott Durfee and George Medeiros | Spathose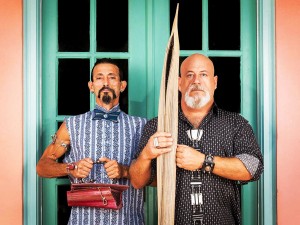 (Photo credit BWL Photography)
Scott Durfee and George Medeiros have been business and life partners for the past 25 years, and are the creative team behind the innovative brand called Spathose. The transition from fine artists to fashion designers was as graceful and seamless as their unique accessory designs.
Working with sustainable, organic material infused with an industrial edge, these pieces truly unify their vision for a fashion-forward approach to design. Their primary source of material comes from the palm spathe—the fibrous, woody bract surrounding the inflorescence or flower of the palm.  Their work transcends the realm of ordinary style by forging fine art with fashion, thus conceiving more than an accessory—they have given rise to wearable sculpture.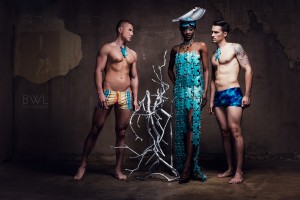 Like nature itself—ever evolving—their wearable sculpture progress with every new deconstruction, devise, and design to create an innovative attitude that bonds fashion, art, and up-cycling. www.spathose.com.
2. Tim McFadden | McFadden Art Glass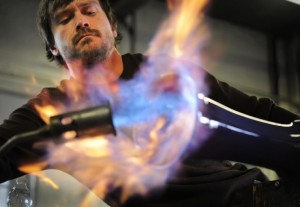 A Baltimore native, Tim McFadden found his love for blowing glass in 2001 while attending Salisbury University on Maryland's Eastern Shore. He was introduced to glassblowing by his older brother, Marty, who found glassblowing courses offered at Salisbury University.
His interest in this medium grew quickly. In the spring of 2005, he won first place and $5,000 through Salisbury University's Annual Bernstein Business Plan Competition to open a glassblowing studio, and qualified for the Fortune Small Business Magazine Student Showdown Competition. Tim McFadden's business plan gave him a head start to put his plans into immediate action after graduation from Salisbury.
In the fall of 2006, he retrofit a custom glassblowing studio and gallery in an existing property in Southeast Baltimore, Maryland on Eastern Avenue, and began teaching local glassblowing courses privately— through Towson University, and the Community College of Baltimore Count— while continuing to refine his craftsmanship. Tim's work is strongly founded on Italian techniques that he has studied and developed at some of the most reputable glass schools in the country, most notably the Corning Museum of Glass and Pilchuck Glass School.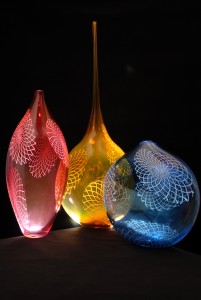 In 2011, Tim co-founded a new company with Aric Wanveer called Zero Gravity Creations. With Aric's background in metalworking, Zero Gravity bridges the gap between metal and glass to make work that transcends the limitation of each material individually.
Currently, Tim McFadden has created a local hot spot for Baltimore and surrounding communities. Local glassblowing events have been drawing crowds and building a lively, creative atmosphere for glassblowers and onlookers alike.
When Tim is not out entertaining the masses, you can find him in his glassblowing gallery with his wife Rose and their two young boys. www.mcfaddenartglass.com.
3. Holly Gage | Gage Designs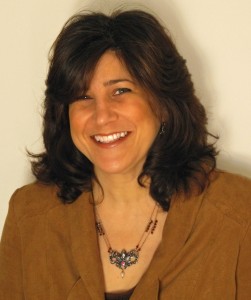 The Journey of Self Discovery is a life-long pursuit. Every good, bad, beautiful, and ugly occurrence in life has a purpose. It is our job along the way to put those pieces together and discover more about ourselves.​
Holly Gage has spent most of her life using art to assist in making sense of the world. Like a visual poem, images flow through Holly's hands in a way words do not flow through her brain.
"I've always felt a frustration with the slow, methodical use of written words, scratched out and rewritten to communicate an idea. Even though speed of artistic expression is by no means any quicker for me, it is more pure, accurate, enjoyable, and satisfying," Gage explains.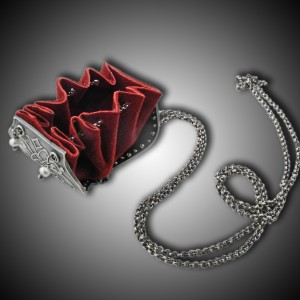 ​In 2002, Gage discovered fine silver Metal Clay. It was not the "eureka" experience you might imagine. In fact, first impressions were that it was thick, clunky, and unrefined. She put Metal Clay away for some time, but eventually tried it again.
​In 2004, she received her Metal Clay certification and sucked up every book written on the subject. At the time, Gage was doing a lot of shows and met several of the magazine editors who often cruise the show floors looking for something new. Gage ended up being featured in Lapidary Journal Jewelry Artist, Belle Armoire, Bead Unique, Beadwork, Art Jewelry, Metal Clay Jewelry Artist, Metal Clay Today, and others.
Having a body of work with symbolism, meaning, and purpose has become her way, giving her a unique voice—and the journey continues. www.hollygage.com.
4. Natasha Stargratt | Amos Pewter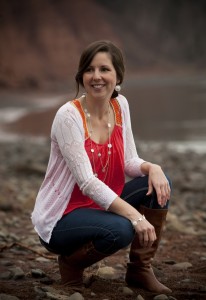 Amos Pewter designs and handcrafts pewter jewelry, home decor, tableware and ornaments. Inspired by nature and coastal surroundings, each piece is meticulously crafted and hand finished by master artisans.
Lead by Natasha Stargratt, the artisans at Amos Pewter are proud to be keepers of time-honored pewter practices and methods while at the same time offering innovative designs inspired by nature and beautiful coastal surroundings. Amos Pewter artisans carefully ladle hot, free-flowing molten pewter from the melting pot and capture it in a spinning mold formed from a wax sculpture carved in detail to mirror the original hand-drawn design.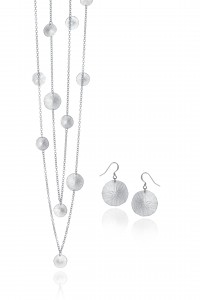 Once removed from the mold, each piece is carefully hand-finished in a process that ensures excellence in craftsmanship. Each piece of pewter that leaves the shelves is thoughtfully chosen by someone with a particular sentiment or memory in mind.
Amos Pewter was the first artisan shop in Nova Scotia to become a member of the international Economusee Network—the mission of which is to showcase traditional trades and skills. www.amospewter.com.
5. Derek Weidman | Derek Weidman Wood Sculpture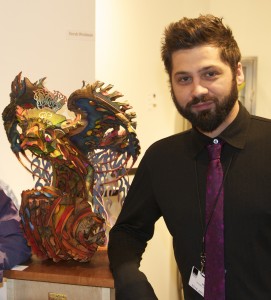 Derek Weidman is a lathe-based wood sculptor who has been pushing the boundaries of both technique and visual expression in his field for the good part of a decade.
He developed an eye and a technical process for creating animal forms on a wood lathe, a tool typically used for making perfectly symmetrical round forms (such as table legs, baseball bats, and bowls).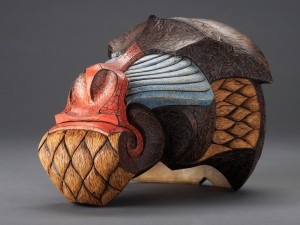 Derek began experimenting with the machine and ended up making work that was both novel in appearance and execution. He likens his sculptures to taking a picture of something with a "circle" filter, as the machine he uses cuts in only perfect arcs. www.weidmanwoodsculpture.com.
6. Louis and Christine Colombarini | Cosmic Clay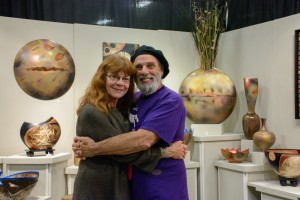 Over thirty years ago in Middle Tennessee, Louis and Christine Colombarini began to collaborate in the creation of clay vessels and sculptured forms.  Bringing the simplicity of clay to life with perfect form, texture, and color has become an infinite challenge.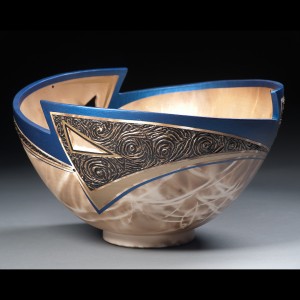 As artists, potters, designers, sculptors, and chemists, Cosmic Clay strives for excellence while celebrating the success of an aesthetically pleasing ceramic piece.  Through the years they have taken their audience down visual avenues of classical, abstract, deco, futuristic, and neo-primitive design. Current cosmic exploration involves two highly specialized directions they'd love to share with you. www.cosmic-clay.com.
7. Liane Crigler  | Ten2Midnight Studios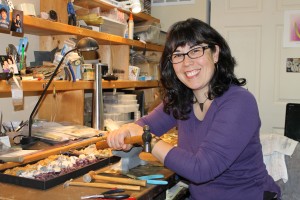 The focus of Liane Crigler's work is to craft modern, stylish jewelry with a raw, tactile quality. It is all about the texture of metal or stone, and inspiration from a theme (a friend's tattoo, old coins, spring flowers, or random comings-across in day-to-day life).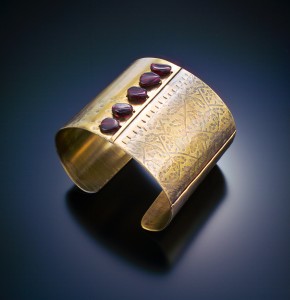 By showcasing layered texture, strong lines, and the skilled tool marks that distinguish handcrafted adornment, Liane creates miniature anthologies of her own stories and moments that beg to be touched, worn, and loved. www.ten2midnightstudios.com.
8. Vickie Hallmark | Vickie Hallmark Jewelry Design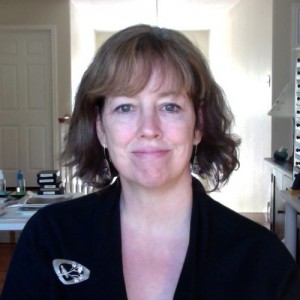 As an avid gardener and birdwatcher, Vickie Hallmark draws inspiration for her jewelry from the fauna and flora that gather around the stock tank pond in her central Texas garden. The scenes that appear in her work are based on studio views of the treetops, where warblers and wrens flit from branch to branch. Additional inspiration is adapted from close examination of the native plants she cultivates.
Each bird, leaf, and flower is hand-sculpted in silver or gold clay with the individuality that nature imparts, with details interpreted through an artistic eye. Once reduced to pure metal, these tiny elements are then combined with low-tarnish, 100% recycled Argentium sterling silver, high karat gold, and colorful gemstones to create charmingly individual vignettes meant to be worn and treasured.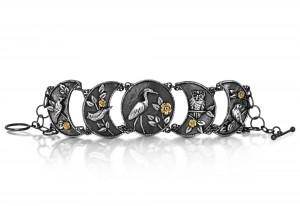 Trained as a research scientist, Vickie studied gold and silver in the laboratory for many years before returning to her birth name's heritage of metalsmithing (a hallmark is a maker and purity mark for fine metals). She sought training from recognized master jewelers to learn the craft, but combined the techniques they taught with her own experimental and artistic nature to develop a unique combination of high tech materials and processes. www.vickiehallmark.com.
9. Ted Ney | North Cove Design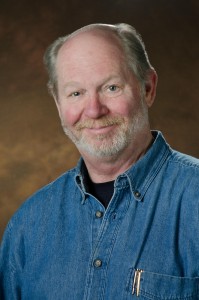 For over twenty five years, Ted Ney and the craftsmen at North Cove Design have been building a wide variety of fine hardwood products for residential and commercial use—custom designed with both new and retrofit construction in mind.
For retailers and museums, North Cove offers a standard line of display cases, shelving units, racks and pedestals as well as cash and back wraps, sales counters, and point of purchase display systems.  For exhibitors, they offer cases and display units that disassemble for easy transport.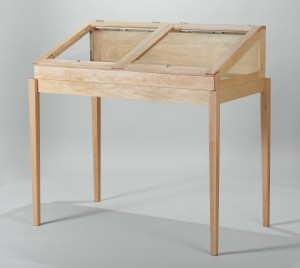 North Cove furniture and home accessory lines are available at many fine retail stores and galleries nationally. www.northcovedesign.com.
10. Curtis Rowland | Ildanach Studios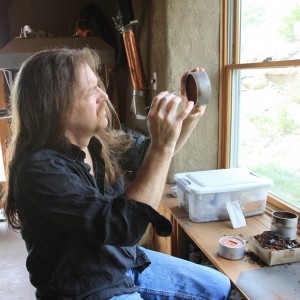 Here, you will find a continuing exploration into Awen, the Celtic Creative Soul.
Curtis Rowland's mission statement is simple. "Explore with no boundaries. Handcraft responsibly. Create heirloom quality affordably. Allow the materials their voice, the artist their creativity, the wearer their expression."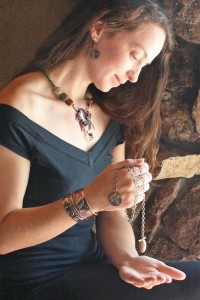 The joy of metalsmithing as art is an ongoing journey. Exclusively working in recycled metals—recycled copper and recycled bronze, reclaimed silver, and re-purposed titanium for example— you'll find works ranging from representative to morphic, historical to contemporary. Each piece is based on a strong blend of traditional and modern metalsmithing techniques.
With a continued goal of being at the forefront in Forensic Metalsmithing – bringing back ancient techniques and handcrafting methods once thought lost—Ildanach Studios is celebrating over 25 years of responsible handcrafting. www.ildanachstudios.com.
11. Avril and Cindy Joffe | Avindy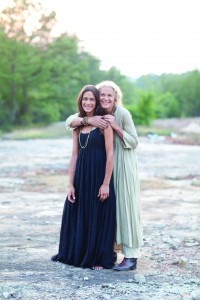 Mother-daughter founders, Avril and Cindy, combine their passion for found objects steeped in history, design, and nature. Together they create Avindy jewelry with a reverence to years of world travel and a philosophy built on the beauty of handmade craftsmanship. Avindy jewelry incorporates a distinct blend of gemstones, diamonds, antiqued metals, intricate chains, rare beads, and hand carved pieces.
Over the years, Avril and Cindy took time away from their careers to nurture their creativity at the family cabin nestled high in the Blue Ridge Mountains. The first Avindy collection was inspired  by a worldly mix of antique fine jewelry, bohemian trade beads, intricate African  seed bead work, the subtle textures of nature, and an affinity for layering textiles, chains, and leather. It was the artisanal blend of these elements that lay the foundation for what is now Avindy's signature look.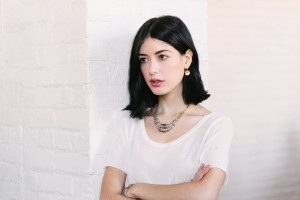 Continuing to thrive a decade later, Avindy jewelry is handcrafted in their historic loft studio in Atlanta, Georgia. Avril and Cindy continue to employ ancient metalsmithing and beading techniques, while always keeping an eye toward the flair of the season. Each piece reflects a level of artistry and an adherence to the company's heritage that keeps their devoted clientele collecting Avindy year after year. www.avindy.com.
12. Darrah Sikora | Otis B Jewelry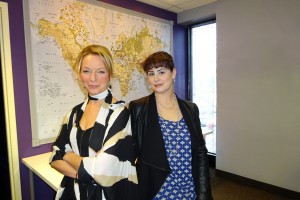 Darrah Sikora was inspired to begin creating her own line of jewelry while flipping through a fashion magazine back in 2001. She got her first temporary strand of beads, some copper wire and some scissors, and gave it a whirl. After the first project was completed, albeit a bit of a mess, Otis B was born.
Directly after, Darrah dove head-first into studying the proper way to create and assemble gemstone jewelry. She focused her reading on the many varieties of precious and semi-precious gemstones, and tinkered with a wide array of projects—proudly displaying at craft fairs, open air markets, and boutiques.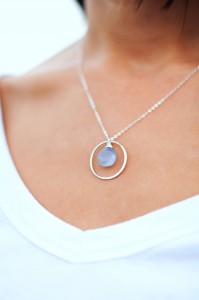 Fast forward to 2008 when Darrah created an Etsy shop after her mother and friends urged her to give it a try. It seemed like a good idea to create some extra income, and the Etsy shop Briguysgirls was officially open for business. Today, this is the seventh highest selling handmade jewelry-focused Etsy shop in the world.
Otis B now employs various women (Including business manager and CFO Johanna Sikora—they share a last name as their husbands are cousins), all mothers themselves, without whom Otis B could not function. www.otisbjewelry.com.
Subscribe to Handmade Business magazine for FREE at www.handmade-business.com