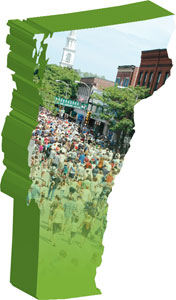 Visitors who travel to down­town Brattleboro, Vt., find a small, classic Vermont city with a twist. Located on the Connecticut River at the southern end of the Green Mountains, it offers spectacular views of the mountains and the river flowing along right next to Main Street. Brattleboro is an exciting and vital small art city with the flavor of a college town (without the college). Like many other nineteenth-century industrial cities in New England, it has been given new life by the spirit of the creative people who have chosen to live and work in the peacefulness and physical splen­dor of southern Vermont.
Donna Simons who, with her husband Larry, owns A Candle in the Night (one of the oldest downtown businesses) says, "It has always been great to be in Brattleboro; it's an expression of the people who live here and love it. Brattleboro is timeless—the kids on the street look like I did 30 years ago." This group of people brings music, theater, crafts and fine arts to life in the city. In 2007, Mother Earth News chose Brattleboro as one of the eight great places to live. AmericanStyle Magazine has named it one of the top 25 small art towns.
Brattleboro has held its place as a retail and entertainment center for nearly two centuries. In addition to its proximity to the river, it was also on a stagecoach line and benefited from the trade of lumber and farm products.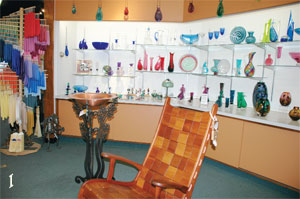 The Estey Organ Company, founded in 1846, provided an early cultural connection. It employed more than 500 people and marketed its reed organs as far away as New Zea­­land. As a result, Brattleboro prospered and became the organ capital of America. At about the same time, the city entered the tourist business—a water cure drew wealthy visitors from around the world to bathe in the cold waters of Whetstone Brook. Tourist business continues today and aids in keeping downtown lively. Most of the retail and restaurant activity takes place along Main Street and the blocks just off Main. There are many businesses offering handmade items, some with large inventories of primarily American-made items.
Vermont Artisan Designs, one of the oldest crafts-related businesses, has been in town for 35 years. This is a classic American craft store representing 350 American craftspeople and, in particular, a large collection produced by the many craftspeople living in Vermont. Unique jewelry, blown glass, pottery, wrought iron, pewter, turned wood, clocks and chimes fill the first floor. Meanwhile, on the second floor in Gallery 2 there is a large display of paintings and sculpture. Suzy and Greg Worden own this and two other downtown businesses. When asked, "Why Brattleboro?" Greg quickly answers, "I came to visit and the first time I walked down Main Street I felt at home."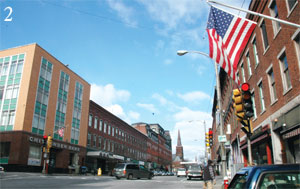 Across from Vermont Artisan Designs is Gallery in the Woods. This three-floor gallery features American crafts along with a mix of local art with folk objects from other cultures. The lower level is a more formal gallery for changing exhibitions.
Just up the street is A Candle in the Night. This is a great source for the finest Middle Eastern carpets. The store has evolved over the years, with textiles always being the thread that held the place together. They have recently added fine furniture from India, resulting in a full-scale home store. Scattered throughout the spaces are featured arts and crafts by American artists, most working with assemblage.
At the other end of Main Street is The Blue Moose—an interesting, multifaceted shop. Owners Ken Flutie and Paul Faust came to Brattleboro from Naples, Fla. They felt it was the place to be and now say "it's awesome." In The Blue Moose, they have created a blend of fine American crafts with high design (especially kitchen goods) from around the world. Their goal is to put together a collection of products that are colorful, bright and artful.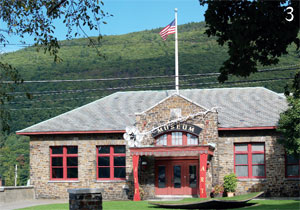 Brattleboro Museum and Art Center is a quick drive or short walk south on Main from The Blue Moose. The museum is housed in Union Station, a stop on the Vermont and Massachusetts Railroad from 1849 to 1966. Slated for demolition after the interstate highway system put the railroad out of business, it was rescued by a group of residents and opened to the public in 1972. Today the building is filled year-round with changing exhibits of work by regional and internationally acclaimed artists. In addition, there is a very full calendar of activities including a monthly artist and friend's potluck—an opportunity for creative folks to interact in a casual setting. The Art Center also offers classes for children and adults throughout the year.
Brattleboro is also the home of a successful Gallery Walk. Now in their fifteenth year, the walks take place on the first Friday of each month. Hundreds of people spend two hours moving from venue to venue, guided by an extensive program. The ads in this program pay many of the expenses of the walks. It is common for 35 to 50 galleries, artists and arts organizations to open their doors to the public to display new work or hold performances. In warmer weather, street performers add to the festive celebratory atmosphere.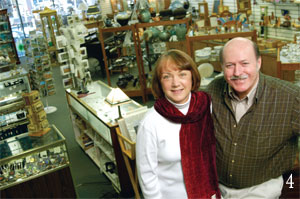 It should be noted that there is no shortage of restaurants and cafes. They are stuffed in among the retail shops all through downtown. There are coffee houses with delicious sweets and cafes (some with views of the river) that serve great lunches. For those lingering into the evening, there are full-service restaurants for both vegetarians and carnivores.
Whether you are in Brattleboro for a few hours or a few days, the unique quality of this art city will no doubt get under your skin and a return visit will be in order.TCR
For more information, visit www.brattleboro.com.
Captions
Photo 1: An interior wall at Vermont Artisan Designs
Photo 2: Brattleboro, Vt., Main Street
Photo 3: Brattleboro Museum and Art Center. Photo courtesy of Greg Lesch
Photo 4: Suzy and Greg Worden, owners of Vermont Artisan Designs. Photo by Michael McDermott