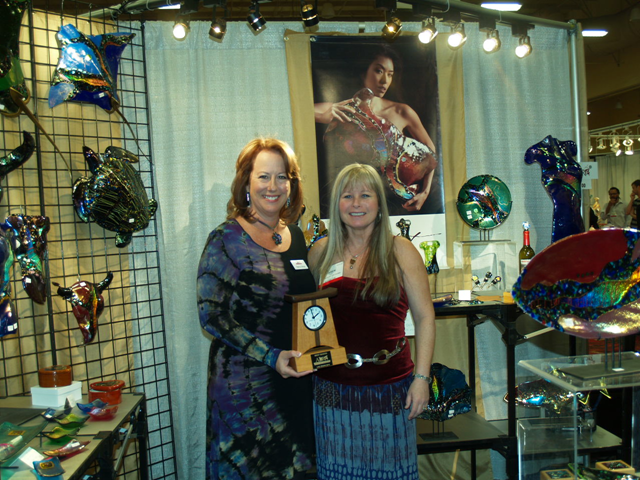 The revolution continues as Wholesalecrafts.com™ and the American Craft and Retail Expo (ACRE) shows continue to push limits while breaking new ground in the Art and Craft world. Owner Nancy Vince and her staff's innovative programs benefit both their artists and buyers. These efforts ultimately touch the lives of the American consumer bringing amazing handcrafted art into their homes.
This type of visionary planning is what sets Wholesalecrafts.com™ and ACRE shows apart from other wholesale trade shows. All artists participating are juried into the wholesale crafts marketplace. The buyers represent the best of American boutiques and galleries and Wholesalecrafts.com™ provides them with the products they are looking for.
Wholesalecrafts.com™ , the online marketplace, features an easy, efficient way for buyers to look for emerging artists, new work created by favorite artists and place reorders from makers they have built a working relationship with. Jolan Bogdan of Penelope's Den joined as an emerging artist, "The staff at Wholesalecrafts.com™ has been completely indispensable with my entry into the wholesale world. They have helped me in countless ways, offering feedback on everything from product photography to buying etiquette. They make me feel like I'm part of a strong, supportive community which has made a huge difference in my confidence, which leads to success with my accounts".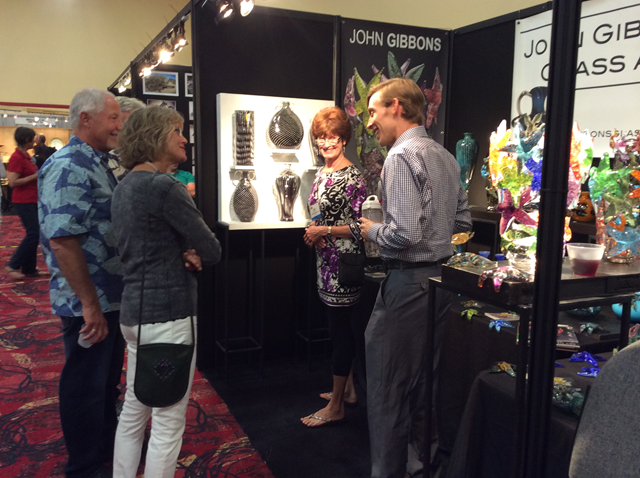 Christine Epstein, owner of Oceano Sea Glass is elated with the site and its' potential. "Sales generated through the website have been an unexpected perk and gives me a geographic reach the shows alone don't have!"
Talk with D2E Gallery owner Michell from Crown Point, Indiana and you quickly discover all the benefits Wholesalecrafts.com™ and ACRE shows offer. "Being both an artist and a store owner, Wholesalecrafts.com™ was like discovering a treasure for me! The more wholesale accounts I get as an artist, the more I can 'pay it forward' adding new artists work for my retail shop. We have met wonderful talented independent artists through the website and ACRE show.
The ACRE shows – ACRE Las Vegas in June, ACRE Northeast in August and ACRE Philadelphia in February are the ultimate in hands on shopping. With several showcases from Handmade Gifts and Accessories to The Gallery of Fine Crafts there is a multitude of products and price points from the best makers across the USA and Canada.
American consumers are looking for handcrafted items and the savvy buyer is at the forefront of this movement. Carolyn Luce of Timothy's Gallery in Winter Park, FL says, "Our gallery has only sold American made crafts for 24 years. The work is displayed with the artist's name; many include photos and short biography". Ms. Luce explains how Wholesalecrafts.com™ and ACRE shows have helped her enjoy steady growth, "Both have made it easier to buy and reorder. This year I am thrilled to be attending ACRE Philadelphia. I'll go to the Acre show and then on to Baltimore for the ACC show, only one plane trip, YAY!"
Judy Schroeder, owner of Schroder Studio Gallery in Orange, CA explains what handcrafted art means to her, "Beautifully created artwork made in the USA. I believe in the therapeutic value of living with beautifully designed pieces. We don't 'sell stuff'; rather we represent American artists who spend their lives creating work that enriches our lives. Our gallery is located in a historic district with several antique stores. We have people come into the gallery wanting to sell us something from an estate. We tell them our goal is to offer beautiful work and, equally as important, to support the makers creating it today. I've never had an argument to that yet".