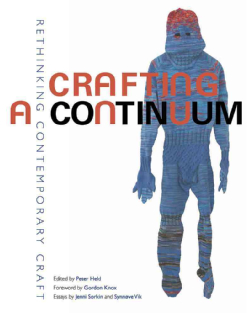 Edited by Peter Held and Heather Sealy Lineberry
Foreword by Gordon Knox
The Arizona State University Art Museum is renowned for its extensive and notable craft collection and features international acquisitions in wood, ceramic, and fiber. This book, edited by the museum's curators, uses the ASU collection to explore the idea of craft within a critical context, as both idea and action. Crafting a Continuum begins with the genesis of the craft collection and relates it to the historical development of craft in the United States and abroad, exploring both anthropological and cultural concepts of the field.
Peter Held and Heather Sealy Lineberry present photographs of the museum's objects alongside essays by distinguished scholars to illuminate historical and contemporary trends. Sidebars and essays by writers in the craft field offer a broad overview of the future of contemporary craft.
About the Author
Peter Held is curator of ceramics at the Ceramics Research Center, part of the Arizona State University Art Museum. He received the Ceramic Lifetime Achievement Award from the Friends of Contemporary Ceramics in 2007. Heather Sealy Lineberry is senior curator and associate director at the Arizona State University Art Museum and has a twenty-year history of curating contemporary art and craft exhibitions, including works in wood and fiber.
The book can be purchased by clicking here.