Join artists from around the world September 23-25, 2011, as they embark upon an adventure in the same quaint town of Iola where The Crafts Report is produced and published. Former publisher and artist Michael Harbridge will teach methods merging clay and glass in Raku firing, colorful horsehair techniques, combining airbrushed patterns and Raku glazes, clay puzzling, extruding, and additional methods he has developed and perfected.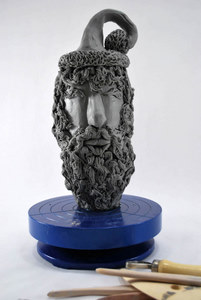 Michael Harbridge has been teaching workshops around the country for more than 25 years, and this is the first time he has opened his studio so other artists can come work with him. "In most of my workshops on the road, we create smaller items, because of firing restrictions, but now we can do big objects, because we have access to all my large kilns," says Harbridge. Renovations to the studio are near completion to accommodate this event. "Many artists think they can only fire with gas kilns, but I will show them how easy it is to do with an electric kiln indoors or out," explains Michael. "I will also take them beyond basic and traditional Raku firing by introducing glass and other materials to the mix."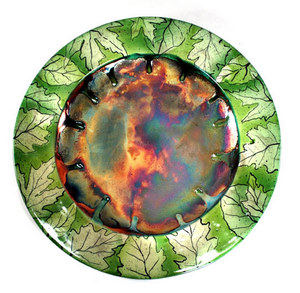 All-inclusive packages cover workshop fees, materials, meals, lodging, and transportation from the local airport and to and from the event each day. All materials, brushes, tools, and supplies are provided. As a bonus, local guest artist Lorrie Wickman will work with attendees to construct a clay face jug on Friday evening. Lorrie will also head up the gas kiln firing on Saturday evening during the picnic, bonfire, and festivities.
Iola, Wisconsin, is right in the middle of the state. Only an hour from Green Bay,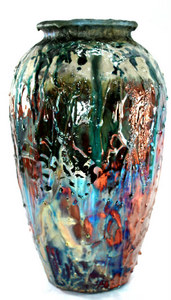 Appleton, Oshkosh, and Wausau, it is a great little community of less than 2,000 people. Surrounded by many lakes, the area attracts summer tourists to cottages and activities. Iola is best known for the annual antique car show where hundreds of thousands of car enthusiasts flock. The nearby Chain O' Lakes is a popular vacation destination for people all over the world. Some artists will make this a vacation. Check out many of the offerings here www.waupacachainolakes.com.
If you would like to join the fun and be a part of this exciting opportunity, check out all the details at www.claypuzzling.com. Register online or call (715) 281-2787.