North Carolina—A taste of Seagrove, the Catawba Valley, and other well-known centers of North Carolina pottery will visit Charlotte when the eighth annual Potters Market Invitational (PMI) sets up on the grounds of Mint Museum Randolph on September 15.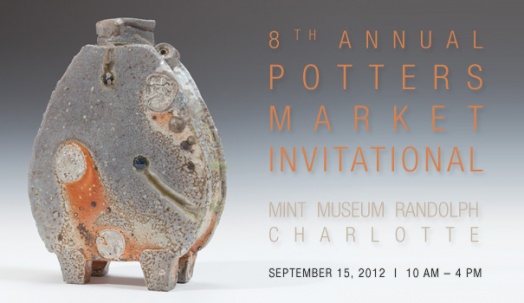 Forty outstanding North Carolina potters have been invited to participate in this year's event, presented by the Delhom Service League, an affiliate group of The Mint Museum dedicated to the support and study of ceramics. The event typically lures more than 1,200 collectors and enthusiasts, many of whom line up hours in advance of the opening to make sure to gain access to the day's best treasures.
"We are thrilled to have this opportunity to share our enthusiasm for this important art form with the Charlotte community and the region, and to give residents a chance to engage with some of our state's most significant artists and their work," said Lee Abbott, chairperson of this year's Potters Market. "The Mint Museum already boasts the largest collection of North Carolina pottery in the United States, and we look forward to future opportunities to put a strengthened focus on ceramics at Mint Museum Randolph."
PMI tickets go on sale online Aug. 1 at mintmuseum.org/delhom-service-league.html, or are available at the door. More information is available at 704-337-2010 or email PottersMarketInvitational@gmail.com. The event also includes live folk music and pottery-making demonstrations. Funds raised go toward acquisitions of pottery and library materials for the museum.
ABOUT THE MINT MUSEUM
As the oldest art museum in North Carolina, and the art museum with one of the largest collections in the Southeast, The Mint Museum offers its visitors inspiring and transformative experiences through art from around the world via innovative collections, ground-breaking exhibitions, riveting educational programs, and profound scholarship. The Mint Museum is a non-profit, visual arts institution comprised of two dynamic facilities: Mint Museum Uptown and Mint Museum Randolph.
Located in what was the original branch of the United States Mint, Mint Museum Randolph opened in 1936 in Charlotte's Eastover neighborhood as the state's first art museum. Today, in a beautiful park setting, intimate galleries invite visitors to engage with the art of the ancient Americas, ceramics and decorative arts, fashion, European and African art, among other collections. Resources include a reference library with over 18,000 volumes, a theater featuring lectures and performances, and a museum shop offering merchandise that complements both the permanent collection and special exhibitions.
Mint Museum Uptown houses the internationally renowned Craft + Design collection, as well as outstanding collections of American, contemporary, and European art. Designed by Machado and Silvetti Associates of Boston, the five-story, 145,000-square-foot facility combines inspiring architecture with cutting-edge exhibitions to provide visitors with unparalleled educational and cultural experiences. Located in the heart of Charlotte's burgeoning center city, Mint Museum Uptown is an integral part of the Levine Center for the Arts, a cultural campus that includes the Bechtler Museum of Modern Art, the Harvey B. Gantt Center for African-American Arts and Culture, the Knight Theater, and the Duke Energy Center. For more information, visit www.mintmuseum.org.