California—A showcase of recent work from the studio jewelers, metal artists and sculptors of the Monterey Bay Metal Arts Guild (MBMAG) will be on display from October 26 through December 14, 2012 at the Pacific Grove Art Center.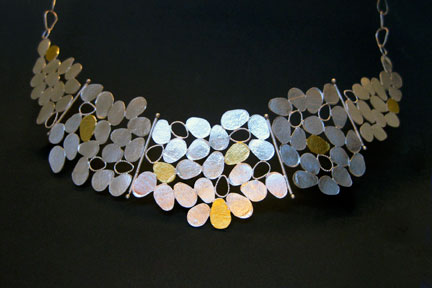 "Moments in Metal" features work from 50 talented artists from Big Sur to Santa Cruz who express their unique style and let their imaginations come alive in high-karat gold, silver, steel, copper, and brass. Techniques range from traditional gold and silversmithing, forging, casting, and enameling, to mokume gane – which translates as "wood grain metal" – a Japanese metal lamination technique, mastered by only a few U.S. artists.
The main focus of the show is art jewelry, but visitors will also find an array of outstanding metal art objects and sculptures. The Pacific Grove Art Center is located at
568 Lighthouse Ave., Pacific Grove. Gallery hours are Wednesday through Saturday from 12 to 5pm and Sunday 1 to 4pm.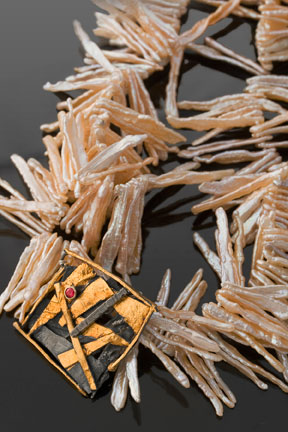 The Monterey Bay Metal Arts Guild (MBMAG), which started in the early 1990's, has evolved into a highly respected entity that provides education, exhibition opportunities, support, and community to its more than 200 members. 
For more information, visit www.mbmag.org or contact Ingrid Browning LaRiviere, Monterey Bay Metal Arts Guild at 618-303-5579 or email Ingrid@ingridbrowning.com.