Boredom is a problem that Heidi Hammel rarely has to deal with.
In addition to running her highly successful, one-of-a-kind wearable art business, the Media, Pennsylvania, artisan oversees Heron Crest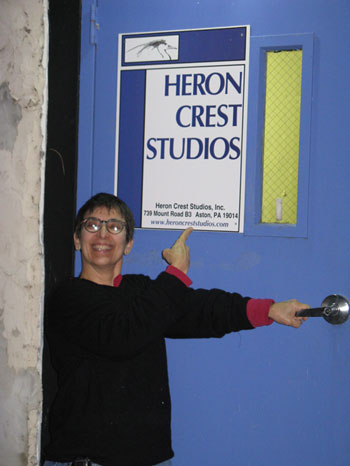 Studios, Inc., a 4,500-square foot space for studios, and is an active partner in another artisan venture, Hometown Collective, which provides an annual showcase for the wares produced by a group of talented artisans.
Both of the newer ventures grew out of Hammel's nearly lifelong love affair with textiles, which she says began in her childhood. The obsession began when she first laid eyes on the vivid, hand-woven Norwegian sweaters worn by the students of her research scientist father.
"They had the most gorgeous sweaters," says Hammel. "They were obviously knitted by their wives, and they employed the most amazing colors and patterns. I remember thinking how beautiful they were. Then, when I was about 10 years old, we went to Norway for a month, and my appreciation for that work grew, especially when we came to realize that the sweaters were made with vegetable-dyed wool, which produced the most incredible colors."
Since that initial discovery, Hammel learned to sew her own clothes, master embroidery, reupholster furniture, and craft imaginative costumes. In 2000, she cemented her relationship with textiles when she decided to devote her full attention to her company, Reclaimed Creations, which produces fanciful hats, scarves, and gloves from recycled and up-cycled wool.
"I aim for creating something that is beautiful, well made, and functional, and people definitely seem to respond to my work," she says. "I have a very happy booth whenever I do a show."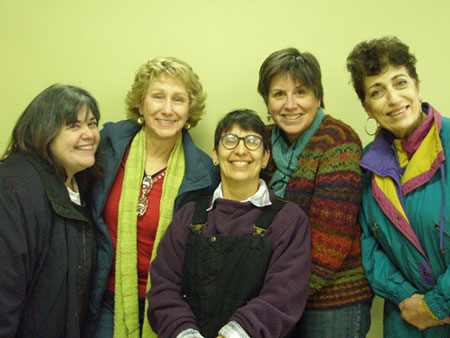 Her path of creative discovery paralleled a long and productive career in education, where she taught in the United States and in the People's Republic of China, and served as an administrator in several other educational ventures. Those accomplishments alone may be enough to satisfy most, but the University of Pennsylvania honors graduate seems to have the energy and drive to manage several successful ventures in one lifetime.
Rather than draining her of creative energy, Hammel finds that the varied pursuits have the opposite effect.
"I am now surrounded by all sorts of creative people, all working in different media," she says. "And I love being able to bounce ideas off other artists. It's helped expand my vision, even if we don't always share the same sensibility."
With little formal art training – she has a bachelor's in Chinese studies and a master's in the supervision of outdoor education – Hammel said she's learned a great deal through the years just by being in the presence of other artists.
"And if I do get stuck every once in a while, it's nice to be able to visit with one of the painters and say, 'How about this?' I'm certain I've broadened my perspectives through the association," she says.
Fortunately for Hammel, those spontaneous and fruitful interaction discussions are a regular by-product of her work with Heron Crest Studios, where she currently serves as president, controlling partner, manager, and resident artist. In addition to sub-leasing 14 other artist's studios, Hammel now runs her own business in space she occupies in the restored mill along the west branch of Pennsylvania's Chester Creek.
"I had completely outgrown my home studio, to the point where I had sweaters piled up everywhere and I could barely walk," she says. "I literally had a 12-inch path to walk through in my studio. A friend of mine learned about this old cotton spinning mill, which was built around 1809, and it seemed like an ideal setting for this type of venture. We signed a lease in the fall of 2006 and had a couple of months to convince some artists to lease space and get going."
Hammel has found that the studio space outside her home not only prevents her from being "distracted with other virtuous tasks, like laundry," but it also encourages a more productive focus. "I just come here and work, and when I go home, I don't work. It is such a relief to have that delineation."
While in her studio space, Hammel is surrounded by noted and accomplished artists from fields that include portraiture, fiber, leather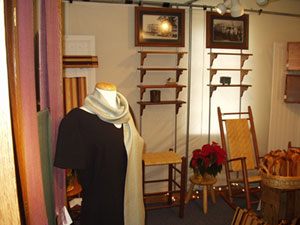 sculpting, printmaking, and mosaic murals. As important as her own evolution has been to her, Hammel is also gratified to see the growth in her colleagues.
"They're not hobbyists," she says. "I've seen them blossom just by having a studio space of their own, which has helped them adapt to the concept of themselves as artists. They're in a place where they can feel free to experiment and grow and to take advantage of this incredible community of creative people."
Hammel has been equally encouraged by the evolution of the Hometown Collective, a group of artisans who meet monthly to support each other's work, and who produce an annual event to showcase their work each autumn. This year's event, which will feature the work of up to 13 Philadelphia-area artists, will be held at the Providence Friends Meeting House in Media, Pennsylvania, on the weekends of November 11-13 and 19-20.
On those same days, other artists' groups will also be offering shows, so visitors will be able to view the wares produced by 25 or more local artists, according to Hammel.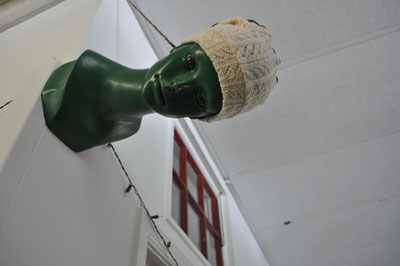 "Our location takes you off the beaten track, but it's a great area, and well worth the trip to see the work of so many incredibly talented and accomplished artists," she says.
Hammel's success, though well-deserved, did not come without hard-earned lessons. She shares the following advice for those who would hope to duplicate her success:
• Seek the input of other artists. No matter what level of acclaim you reach as an artist, there is always something to learn about the work, the challenges of running a business, marketing, or networking.
• Find a group of "kindred spirits" who can sustain you during productively down periods, help you reach a broader group of potential customers, or contribute to special projects. "I can work alone, but I also like to have a steering committee for specific events or programs," Hammel says. "Usually, no fewer than four people, but no more than eight is ideal."
• Release your inner "control freak." Hammel admits to struggling with this bit of advice, but she's grown to appreciate collective efforts. "You do need a leader to make things happen, but it is so much more productive to solicit opinions and ideas and then figure out a way to implement them," she says. "It always makes for a better end result."
• Don't overlook the power of social networking. "In this day and age, it's a must," she says. "You're just not going to reach a broad enough customer base under the age of 40 if you don't have a web page, or aren't on Facebook. You have to have a web presence."
• Bring in the pros when you need to. Hammel's group learned how to self-promote, but there is no substitute for professional experience when it comes to targeting a specific demographic, or generating the kind of buzz that launches successful careers. Professionals also helped her cross-pollinate efforts with other local businesses hoping to reach the "cultural creatives" that largely support the work of artistic communities.
• Love what you do. For Hammel, working with wool is the fulfillment of a dream she's had since childhood, and her love of her work propels her to log long hours and weather downturns. "I recently heard a quote from someone who knew he was dying. He said that there is so much hate in the world, and so much despair and so much negativity and cynicism, and he hoped the contribution he made to the world was to leave a sense of joy and hopefulness and optimism," she said. "That's what I shoot for."