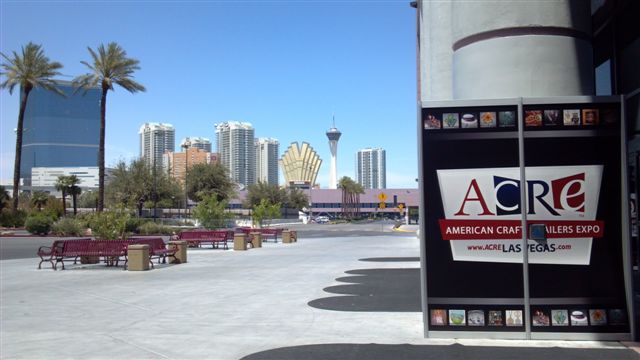 The weekend of June 2-3 marked a couple of firsts in my life. As the newest employee at The Crafts Report and new to the world of American Craft, I had never attended a wholesale craft show. In order to get plugged in to the industry, this obviously needed to change.
Another clear void in my life was that I had never visited Las Vegas. This revelation would shock most of those who personally know me, but it's true: 35 years of life had never led me in that direction. So, what better time to erase these two voids than during ACRE Las Vegas and NICHE The Show?
The weekend began Friday at The Crafts Report office in Wisconsin. My flight wasn't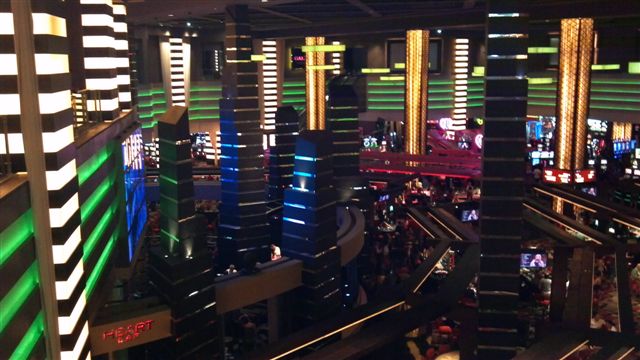 scheduled to leave until 7pm, so I was able to put in a semi-productive day's work. However, as the afternoon muddled along my mind was moving in the direction of Vegas.   Around 3pm I decided to call it a day as I had yet to pack for the trip (being the last-minute person I am).
After packing two small bags and driving an hour to the airport, I checked in and sat anxiously in the terminal gripping my boarding pass and looking forward to what the weekend would bring.
The first thing it brought was heat! Upon landing at McCarran International Airport in Las Vegas, I stepped out into 101 degrees of scorching heat—at 10:30 at night! That really slows you down. Fortunately, I already had a shuttle to my hotel booked, so I jumped on and arrived at the hotel around 11pm completely exhausted. ACRE Las Vegas was scheduled to open at 9:30am Saturday morning, so it was time to crank up the a/c in my room and get some sleep. And sleep I did!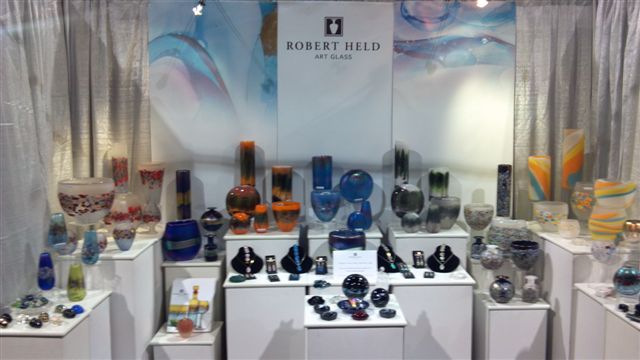 Saturday morning I hitched a ride on the monorail to the Las Vegas Convention Center for the opening of ACRE Las Vegas. After registering and attaining my press pass, I walked the floor of about 230 exhibitors. The first to catch my eye was regular Crafts Report advertiser Robert Held Art Glass. A pleasant conversation with General Manager, Liz Curry, ensued, as did a photo shoot of their lovely booth. A buyer then showed up and Liz's attention was, of course, diverted in that direction. I moved on and spoke with so many great artists with such unique pieces on display; Julie and Shelby from Yesterday's Best and Ed Dunne of VeloBling, among them.
Then, an ultra-unique booth caught my eye. It was called "Forked Up Art" and was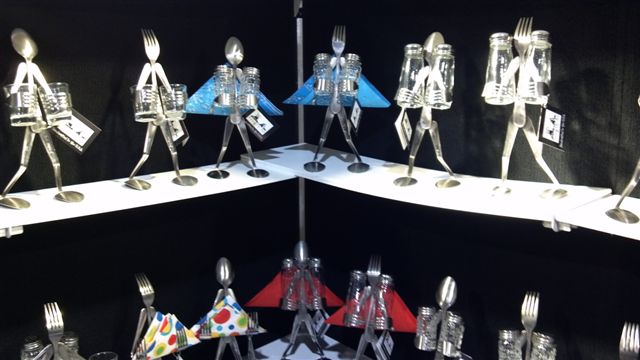 manned by Pete Wankier. Pete had just driven in from Salt Lake City and was ready to sell. We spoke for a few minutes, after which he presented his business card in the most unique way I have ever seen—planted in a fork that had been manipulated to hold it. How's that for making a lasting impression?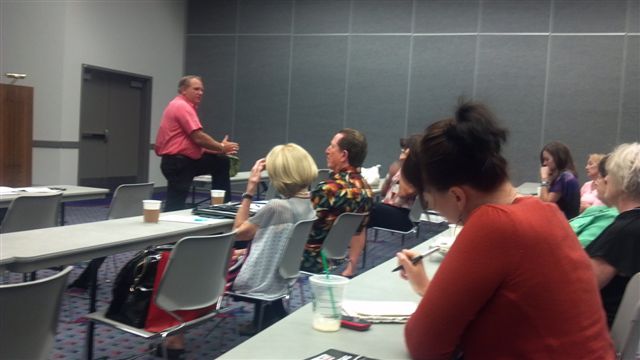 After several hours of perusing the floor, it was time for lunch. While seated in the cafeteria area reviewing my notes, up walked Nancy Vince, Wholesalecrafts.com/ACRE President. We exchanged pleasantries and she gave me a 10 – 15 minute rundown of the show. She strongly suggested that I speak with some of the buyers, as this would help me get a good feel for the quality of the show. I told her that I also planned on attending a few Bruce Baker seminars (which were amazing by the way) and a social media seminar by Zenee Miller.
The remainder of the afternoon was spent doing just that. Plus, I spoke with multiple artists who were attending the seminars—what great people with great attitudes. The ACRE Las Vegas experience was top-notch, and I look forward to the opportunity to attend again next year. It was a true pleasure.
Sunday morning led me to Planet Hollywood Hotel & Casino for the last day of NICHE The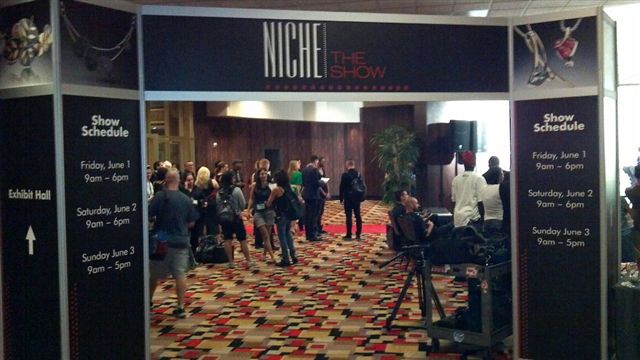 Show. After a four or five-block walk in the scorching Las Vegas heat, the ice cold a/c in the casino area was desperately needed. I proceeded to the mezzanine level of the Hotel & Casino to find the intimate setting that is NICHE The Show. It consisted of 40 vendors in a very sophisticated setting.
I was heartily welcomed by the staff and proceeded to speak in some detail with exhibitor Jeffrey from Flying Anvil Designs. He said that the show had brought him several quality buyers and that he was very pleased with the turnout.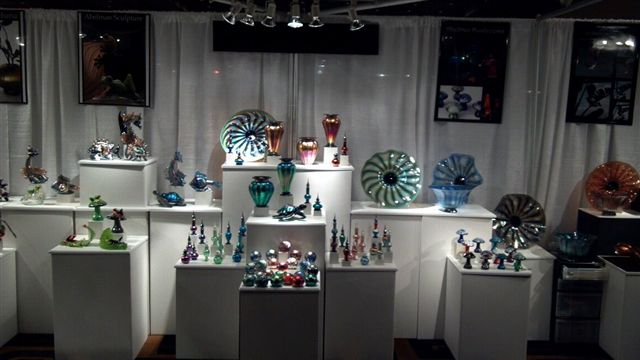 I continued on to the Abelman Art Glass booth and then to the Paula Jerome Jewelry display area. The first piece that caught my eye in the Paula Jerome booth was a silver charm bracelet boasting eight New York City inspired charms. Paula explained to me that she was debuting this piece at NICHE and her pride in the piece was apparent. It's called The NYC Charm Collection, and is inspired by her love for New York.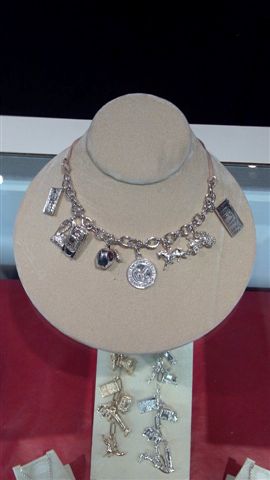 This love fully translated into the art, and I'm sure this will be a successful line for her.
NICHE show promoters starting opening wine to celebrate the end of a successful three-day show, and I decided that was my queue to leave—though I was not looking forward to the long walk back to my hotel in the 104 degree heat!
As I stepped outside the show area, I was shocked to find that my eyes had just landed on Donald Trump! Planet Hollywood happened to be hosting the Miss USA Red Carpet Event right outside the entrance to NICHE The Show.   Separated from the "real" press by a velvet rope, I stood next to four Miss USA contestants and snapped photos of "The Donald",   Arsenio Hall and Robin Leach—a pretty exciting moment for a first-time Las Vegas visitor!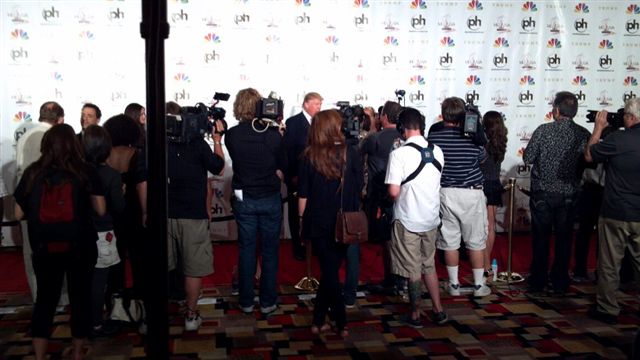 But alas, the long walk back loomed, so at around 5pm I headed back to my hotel. After a three-course dinner and a bit of sight-seeing on the Vegas strip, it was time to call it a day and prepare for the flight back home.      
Travis Manney, The Crafts Report