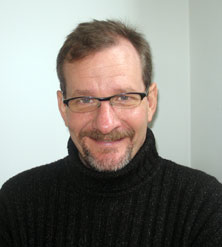 The resignation of Andrew Glasgow as executive director of the American Craft Council was announced today by the Chair of the Council's Board of Trustees. The action, requested by Mr. Glasgow for medical reasons, will be effective Nov. 1, 2009.
"This is devastating news for the craft community," said Board Chair Leilani L. Duke. "Andrew has been a passionate and effective advocate for the Council and for craft. We will always be grateful for the time Andrew spent with us. All of us on the Craft Council Board and in the Council office have him in our thoughts and wish him strength on the road ahead."
In a letter to the Board, Glasgow stated, "As you all know, the field of craft has been my life since 1988. Working with the Council was in so many ways an amazing achievement. Working with the staff, the constituents and with you has been challenging and rewarding. I had certainly hoped to have a longer tenure and a greater impact. My hope is that the Council will continue to be a vital component of the American craft scene for years to come."
Mr. Glasgow joined the Council as deputy director in October 2007, after serving seven years as executive director of The Furniture Society in Asheville, NC. He was promoted to his current position in November of that year.
Prior to The Furniture Society, Glasgow held the positions of Director of Education and Collections at Southern Highland Craft Guild at the Folk Art Center and Assistant Curator of Decorative Arts at Birmingham Museum of Art. Glasgow has served on the advisory boards of The Fuller Craft Museum, The Mint Museum of Craft + Design, and The San Francisco Museum of Craft + Design, and was Vice President of the Board of the Center for Craft, Creativity and Design, at the University of North Carolina/Asheville. He is currently a trustee of the Ogden Museum of Southern Art in New Orleans and has held a trustee position on the board of the Center for Craft, Creativity and Design, UNC/Asheville. He is also a well regarded curator, lecturer, and essayist.
The American Craft Council will begin a search for an executive director later this fall. Helene Blieberg, who has been serving as interim director since June, will continue in that role during the transition.
The American Craft Council is a national, nonprofit public educational organization founded in 1943 by Aileen Osborn Webb. The mission of the Council is to champion craft. The Council actively promotes the understanding and appreciation of contemporary American craft through its bimonthly magazine American Craft, annual juried shows presenting artists and their work, leadership conferences, awards for excellence, research library, workshops and seminars.