By Andy McDonald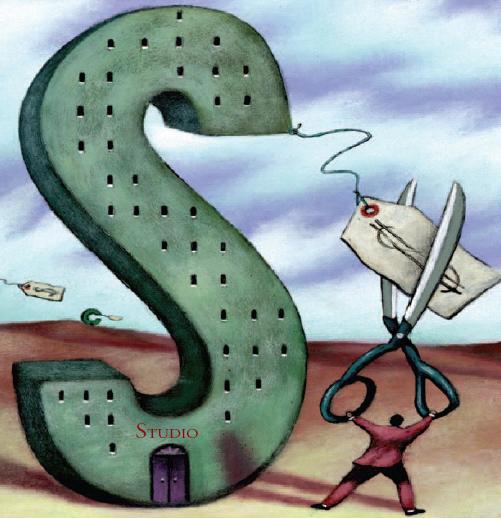 Like much of the American economy, the crafts industry has been profoundly impacted by low-cost labor based in developing countries.
Large retailers like Pier 1 Imports and Pottery Barn have capitalized on the growing trend toward outsourcing, allowing them to flood the market with low-end craft imports. American and European designers, meanwhile, have also begun taking advantage of the overseas labor market, having their goods produced at a lower cost in Asia or Central America.
So in an era of falling prices and fierce competition among large retailers, craftspeople may be wondering: Is it possible to compete against the retail giants, and when it comes to price point, how low can you go?
Low-end wholesale and the import Godzilla
Industry experts generally agree that competing directly with the so-called "Import Godzilla" is highly risky because of one fact: big retailers can always win on price.
"The risks are that you can get beat up by all the big box stores," says Richard Bellando of the Craft Retailers Association For Tomorrow (CRAFT). Retailers merchandise imports well, present them in a way that consumers find appealing, and most importantly, sell them at prices domestic producers usually can't match. "The closer you get to them at price point, the more difficult it is for you to survive because you can't compete with them," says Bellando.
That can present both financial and artistic dilemmas for craftspeople who are laboring just to stay in business. The artisans making products to suit the low-end market must be prepared to sell a lot of product to cover basic necessities — utilities, payroll or insurance. As such, they may find themselves producing what they think wholesalers will buy instead of what their customers actually want.
That may be the most significant risk for artisans trying to make a living on the low end of the crafts market: the volume required to stay viable may be so high that they are forced to focus less on the creative process and more on the mundane details of production.
Low end and direct retail
Despite the influx of craft imports into the wholesale market, the good news for American producers is that 51 percent of domestic crafts sales are still made through direct retail via crafts shows, traditional storefronts, or community events, according to the most recent survey by the Craft Organization Development Association (CODA).
Direct retail venues like fairs or shows can afford good opportunities for crafts businesses that offer low-end merchandise, especially if the products appeal to impulse buyers. But choosing the right kind of event is critical. For example, the craftsperson who sets up a booth at a community event not specifically focused on crafts — one that features carnival rides and corn dog stands — may make enough low-end sales to cover the costs of the event, but those hoping to sell mid- to highend work will likely be disappointed.
Likewise, the owner of a brick-and-mortar craft shop may try to make a statement about quality by carrying only mid- to high-end products, but in doing so, the store may be missing out on retail opportunities by failing to have something for everyone.
A study by the North Central Regional Center for Development (NCRCD) indicated that 61 percent of 1,400 tourists surveyed purchased crafts, most of which were in the low-end category. The respondents were tourists who visited Nebraska, Minnesota and Iowa. Those surveyed spent an average of $20–$30 on craft items for themselves, friends or relatives, $10–$20 for other adults or children, and $5–$10 for token gifts for coworkers. The respondents reported spending more only on lodging, fuel and meals.
Stocking a healthy assortment of inexpensively priced crafts can mean sales in the short term, but the results of the 2002 NCRCD survey may also indicate that if a crafts business is to remain viable, it cannot live by low-end items alone. Forty-six percent of the crafts producers surveyed were netting an average of $15,000 per year — contributing only 25 percent to their total household income. Moreover, 45 percent had another job in addition to their craft work. That may be good enough for the hobbyist, but depending on a Spartan line of low-end products is probably insufficient for the craftsperson trying to maintain a viable business.
Quality is still king
Even with a fiercely competitive labor market or uncertain economic times, some experts have concluded that price isn't always the most important factor when it comes to selling crafts. Low prices may get people in the door initially, but it's quality and good service that will cultivate repeat business and a loyal clientele.
"Consumers only interested in price points will buy the imports and be satisfied. But sometimes having a low price can work against the artisan, because the customer does not appreciate the value of the item," says Ann Barber of the National Craft Association. "I think true craft consumers interested in originality will spend the extra dollars for quality."
That appears to be especially true in the newly emerging home-décor crafts market, where affluent baby boomers are buying functional craft for their homes and workplaces. An imported vase from a large retailer may sell among rank-and-file consumers, but the affluent, mid- to high-end consumer is looking for something unique, regardless of price or how the economy is doing at the time, Barber says.
"What we see is that artisans who make original designs are selling," she explains. "I think [artists] willing to stay on top of the trends and keep their designs fresh will sell even in an uncertain economy."
Bellando says good service is also an important key to success since many consumers are loyal to crafts businesses that are attentive to their needs, providing extras like gift wrapping. In that instance, box stores may win on price, but they can't personalize their service or take the time to find out precisely what their customers want. That's when service can be a more decisive factor than price.
"The people who are doing well are the folks who are really centering in on their customer," says Bellando. "They know who their customer is, and they are giving their customer the best service they possibly can."
About the Author: Andy McDonald is a Kentucky-based writer and journalist.