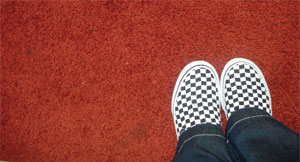 Flooring can make or break your entire display. Its potential to attract customers into your booth and keep them there cannot be underrated.
When I do booth evaluations at both outdoor and indoor shows, I frequently see someone who has meticulously crafted their work and gone to great efforts to build a fantastic display, but has omitted a floor covering. Usually when I tell someone during an evaluation that they need a floor covering, they say, "I have one, I just didn't bring it." This is a terrible error and no place to cut corners if you want to make the most out of a merchandising opportunity. The floor is so important that it should not be an afterthought or an element to be overlooked altogether.
The floor is of vital importance for two distinctly different reasons. One is aesthetic—interior design of any sort is not complete without floor covering. At an outdoor show, if you are trying to sell art and there is grass under your feet, you are basically having a yard sale no matter how you dress it up. Grass also gets worn out with a lot of foot traffic and, if it rains, there is the mud factor. People won't hang around your booth if they are slopping through the mud.
At indoor shows, a booth without a floor covering always looks unfinished; a properly chosen floor covering will look more professional. This is particularly true if your work has high price points.
The aesthetic of a floor covering is important, but it pales in comparison to the other reason for having one: comfort. A visually pleasing floor covering will attract more people into your booth, but the comfort factor will keep them there. When we get tired, walking is easier than standing in one spot. As a result, many customers move on to the next booth not because they're bored, but because their legs are telling their brain to "keep moving." And that is exactly what they do—they move on before you have a chance to sell to them.
Stepping onto a floor covering that not only looks good but also feels good will have an amazing effect on your customers. When you give them a soft place to land, they will stay longer and give you additional time to engage them in conversation. Don't miss out on this valuable time—make your floor a combination of pleasing looks and comfort.
The rule that the merchandising must match the merchandise is also true when it comes to choosing the right floor. I find many people don't use flooring because they don't know what to use or where to find it.
Carpet is by far the most common booth floor covering due to its availability and relatively low cost. Plus, there are endless choices of color, texture and price. If you buy a remnant, you can get excellent carpet for only a few dollars per square yard. Keep in mind, though, that you will have to bind the edges of this carpet (which can cost as much as the remnant).
If you only do indoor shows, carpet can certainly be an excellent choice particularly if it has a high pile. This will allow for the comfort factor customers appreciate. Carpet can also work at an outdoor show if the weather is dry, but a lot of rain can turn carpet into a soggy disaster. If you are using carpet at an outdoor show, at least consider putting down a layer of plastic first to keep it dry. An appropriate size carpet for easy transport will be no larger than 8 feet by 10 feet. If you want to carpet your entire space, consider two 5-foot-by-10-foot pieces that fit together. But be aware that there will be a seam running down the center of your booth.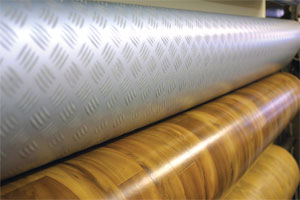 One issue with carpet is the tripping hazard for customers entering your booth. To avoid this problem, always roll the carpet with the pile side down—it will always lay flat. Another issue is storage: Make sure the carpet is dry when stored and placed in a dry environment. If your carpet is damp (from an outdoor show) when you roll it up, it is likely to mildew. Then the next time you use it at a show, it will give your whole booth a bad odor.
If you are worried that a large roll of carpet may be difficult to transport, you can easily create an inexpensive handle using basic materials. Tightly roll your carpet pile side down and measure the diameter of this roll. Cut two pieces of nylon or cotton webbing (the kind used for tote bag handles) two feet longer than the roll diameter. On each piece, sew a foot of heavy-duty Velcro (the hook side) on the outside of one end. Sew a foot of the loop side of Velcro on the inside of the other end (on both pieces). As long as one side of Velcro is sewed to the inside and the other side is sewed to the outside, it doesn't matter which side goes where.
Secure these straps around the carpet one third of the way from each end of the roll. Then hook the ends of an old luggage strap to the webbing strips and, presto! You have just created a carpet transporter that can be used by one person. This is particularly beneficial if there is a long distance between the parking lot and your booth space.
Rubber matting is another excellent choice for both outdoor and indoor shows. It is impervious to moisture, so there is no problem if it rains. Plus, it is easy to hose off if it gets soiled and will last for years. Weight is the biggest issue with rubber matting, but there are lighter foam alternatives.
Many rubber mat choices fit together like puzzle pieces. Some even have a beveled-edge piece that smoothly finishes the edges to prevent a tripping hazard. These foam floor mats generally come in 12- or 24-inch squares. I prefer the 24-inch squares because they reduce installation time.
These foam squares hold up beautifully, have an excellent look for many types of artwork, are high on the comfort factor and are easy to store and clean. Also, you can cover your entire booth, as the maximum length for transport is 24 inches. These mats come in a variety of excellent colors and are available for as little as $1.59 per square foot.
They are available from many places, but check online at CWF Flooring. If you search for "modular portable flooring" or "temporary flooring for trade shows," you will get a variety of sources from interesting to unusual that might fit your needs. There is a product from Cartwheel Factory called plastic tile; the interlocking, perforated tiles work well on grass or concrete.
At the very least, you need a comfortable spot for yourself to stand. There are many good antifatigue mats that will do the job. When you have a soft spot to stand, your feet and legs will feel much better at the end of a long day. Antifatigue mats are available at many retail locations and at websites such as Koffler Sales Company.
I have recently seen many artists using roll-up wood-style flooring to create an unusual, dramatic mood while delivering comfort through a thin carpet pad underneath. These mats vary widely in price depending on country of origin, so shop around. Some artists have told me they were able to purchase a 9-by-6-foot mat for around $80.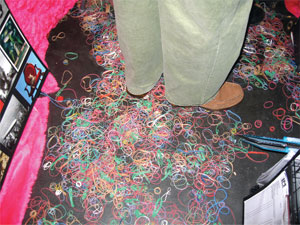 Be innovative and creative with your floor. Break the mold! One unusual yet dramatic flooring example I experienced at the National Stationary Show in New York was with a business from Holland. To create their floor, they bought 25 huge bags of multicolored rubber bands from a dollar store. They sprinkled the bands all over the floor until there was a layer about ¼-inch deep. This created a wonderful creative effect and was very comfortable. For $25, they had a floor like no other that was perfect for their funky Euro card line.
Final considerations
Overall, keep the flooring simple. Good floor covering finishes the space but shouldn't be too busy (this will detract from your work). A solid-color floor covering generally works best.
Rubber mats are an excellent choice. However, it is so common that someone will buy foam puzzle-piece flooring and alternate the colors to create a checkerboard pattern. Though it looks cool and will get lots of comments, people should be looking at your work and not at your floor.
Another hidden advantage of a properly chosen floor covering is that it might save inventory from damage if it is dropped or if you deal with small items. A dropped earring back will be easier to find on a floor covering than in the grass. Fragile objects will break if they fall on concrete but may survive a fall onto comfortable floor covering.
A floor is one more thing to carry and one more task to be performed in the setup and breakdown process. You will find, however, that customers stick around those extra few minutes if they are comfortable. Better yet, keeping more people in your booth will give you more opportunities to sell your work and will pay for your new investment.HB
Bruce Baker is a jeweler, gallery owner and nationally recognized expert in booth design.