By Kevin Warr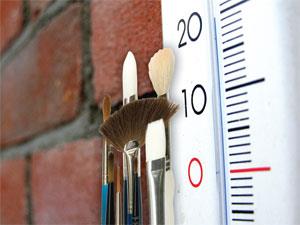 When an artist takes a photograph, paints a picture or molds a piece of clay, it can feel natural, magical and instinctive. However, when forced to execute the business side of art, it's often not so effortless. Whether dealing with complex inventory management or Internet marketing, so many facets to the business of art can seem cold.
These days, successful artists and gallery owners are pulled in many different directions and the result can be disastrous. When their focus is shifted to all-things-business, what happens to the art? Where do passion and creativity go? The reality is, sometimes they dwindle. This is where software and technology can play an integral role. By outsourcing the pieces of the business that are tedious or difficult, precious time—and often sanity—is restored.
Masterpiece Solutions is an art-focused business that knows the industry. With more than 12 years of experience, the company's solutions were built by gallery owners for gallery owners/operators and artists. We know the tools and the secrets to success that help artists and gallery operators welcome and enjoy business-enhancing technologies.
Have you recently had the time to thoughtfully consider inventory tracking, an online presence, point-of-sale (POS) technology, or customer relationship management? Even if you've tackled some of these challenges, which have escaped you? Inevitably something has been put on the back burner. The good news is that these obstacles can all be swiftly addressed.
Where's my art, again?
Many artists juggle exhibits in several locations, trying to strategically keep track of what is where. Handling inventory management and consignment agreements can become a burdensome element of the art business, and technology can make a tremendous difference.
For gallery owners, inventory is the most important factor of the business. It can be an expensive, time-consuming, full-time job to effectively manage and track inventory and sales. This is where software can change the business overnight.
Masterpiece Solutions is the leader in comprehensive POS and business-management software for art and antique galleries, artists and other independent retailers. With simple-to-use software solutions, you can track multiple mediums; differentiate between different kinds of inventory (limited editions, consigned vs. owned or a mixture of the two: i.e. consigned art, owned frame); effectively track artists, suppliers and co-ventures; watch stock locations (warehouse, store, home, framer); watch costs, retail prices, wholesale and Web prices; manage digital images and power search and filter your pieces by selecting criteria.
Get out there!
In retail settings, sales and marketing are the engines to success. But with online consumerism booming, traditional marketing has changed its scope and new ways of marketing and sales have surfaced. These days, the most successful artists and galleries utilize the Web as a sales and marketing tool.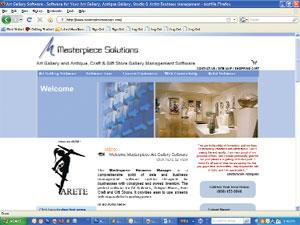 Masterpiece Solutions offers a comprehensive suite of marketing tools. The best source of new leads and sales for both galleries and artists are those people that have purchased or expressed an interest in purchasing before. The question is: How do you effectively leverage this data to develop marketing programs to convert these contacts into sales in the future? Our Customer Relationship Management module combines the power of a comprehensive database with a simple and intuitive e-mail marketing capability. With a few keystrokes, you can direct targeted marketing campaigns and generate new revenues.
Masterpiece Solutions also provides comprehensive Web services to build effective websites that showcase your art to the rest of the world. Once built, your site will be integrated directly with your software so that your website is constantly updated with your current inventory. This integration eliminates the need to pay pricey Web developers or dedicated staff to keep your site updated. With over 400 websites, we work closely with artists and galleries of all sizes to build an online presence that suits your individualized needs.
In addition, with more than $460 million in inventory, Masterpiece Online has become one of the most visited art sites on the Web. Masterpiece Online reaches tens of thousands of art consumers every month, connecting art galleries and artists directly with art, antique, craft and jewelry consumers worldwide.
"Masterpiece Online is the future of art distribution for every gallery and artist. Art buying in the twenty-first century has shifted its focus to online browsing and purchasing. With hectic schedules and less free time, the online marketplace has become a convenient and necessary source for clients looking to peruse available art. With its new unlimited listing service, Masterpiece Online offers an invaluable service to anyone looking to purchase or sell quality fine art," shares Dean Lombardo of Objects & Images, Inc. Fine Art in New York City.
Don't be afraid of the "T" word!
Technology: the all-encompassing term that often means change. With POS software, customer management, reporting, accounting and many more programs and products in the market, the current technology available to artists and art galleries can be overwhelming. However, software solutions should make life easier, not harder. Gone are the days of missing papers, broken calculators and handmade sales charts. Let your software system do the work in a one-stop shop.
Implementing new technology entails research, setup, education and support. But that process should be clean and simple. It should be the promise of money back in the bank, operational efficiency and a feeling of relief.
Technology is the heart of most successful businesses—and for a reason. Software systems can automate what historically has been time consuming, confusing or monotonous. Masterpiece Solutions offers a suite of products that takes administrative work off the plate of artists and gallery owners, so that they can focus on their art and their customers.
You are not alone
To many, the business side of the art world can be hard to embrace. In fact, many wonderful tools can assist in decisions that will improve your business, offering visibility, sales and continuity. But this is a tough time for all businesses, and artists and galleries need not feel alone. Behind the tools are people who are rooting for your success and can help you make decisions that can positively impact your business.
Masterpiece Solutions recently announced a comprehensive program to offer assistance to artists and gallery owners during this tough economic climate. The recently released Masterpiece Success Package offers much more than back-end software, including a suite of products to help small organizations stay above water during retail slowdown.
In addition to savvy technology, a good technical assistance program can be worth its weight in gold. Work with organizations that don't simply set up systems and disappear. Good customer service is the key to embracing new technology and sustainability.
So, whether you are a seasoned artist or just getting your feet wet, don't let the business of art put out your fire. Warm up to the idea of help, through technology, outsourcing and external resources.
About Masterpiece Solutions
Founded in 1994, Masterpiece Solutions has grown to be the trusted authority on art gallery software products and services. Art gallery, antique, craft, and gift stores' owners and retail staff rely on Masterpiece Solution's unparalleled art management software and support services to help them effectively manage their businesses for greater operational efficiency, return on investment and peace of mind. In addition, Masterpiece Solutions also meets the needs of independent artists, offering artist software, artist website templates and much more at an affordable price. More information on antique software, art software and a wide breadth of other offerings can be found at www.masterpiecesolutions.com.
Kevin Warr is CEO of Masterpiece Solutions.