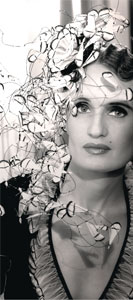 Hats off to a young German designer who is making a successful transition from fine quality craft to high fashion. Birgit Sophie Metzger of Esslingen, an ancient town near Stuttgart, Germany, has been making beautiful hats for more than a decade, but her mind is set on something more. With perseverance and creativity, Metzger is working her way into the world of high fashion.
Metzger's stylish creations for women and men are sophisticated, classic and even exotic designs for everyday wear or evening dress. She has been producing her own collection under the Szenario Birgit Sophie Metzger label since 1991, opening a retail shop and studio off the main square in Esslingen in 1995. Called Szenarioshop, it has attracted customers from Japan, United States, South Africa, Austria, Switzerland and Germany. Also, she has been a member of the German Arts and Crafts Association since 1996.
While men's hats are still an important part of her work, her heart is in sophisticated designs for women. She has set her course to become an internationally known designer of high-fashion accessories. You can view her work at birgitsophiemetzger.com.
All Szenario hats are handmade from Metzger's own designs using fine traditional materials like silk, cashmere, lambskin, rabbit hair felt, Florentine straw, and feathers. She also introduces unexpected elements like cling film, plastic, real pearls, and even gold. "For me," she says, "a material must be real and manipulated as little as possible. I don't see myself as a designer or artisan alone, but also as an artist." She recently collaborated with a goldsmith to create a collection of precious-metal hats and headpieces.
Hats are not a fashion necessity as they once were, Metzger explains. "But I belong to the young generation of German hat designers who no longer view this as a shortcoming, but see it as an opportunity for a new definition of individuality. I want to preserve the hat as a cultural asset, as something living, constantly developing and contribute my creativity to recapturing its proper place in fashion." It's unlikely the hat will ever die as an accessory since it offers such great potential for drawing attention to the face. An old saying goes, "If you want to get ahead and get noticed, wear a hat."
The fashion industry, once centered in Paris and New York, is now a worldwide enterprise. Dusseldorf is the high-fashion capital of Germany with a number of major fashion events each year. Berlin is home to many creative designers, but has yet to regain its prewar position as a leading commercial fashion center.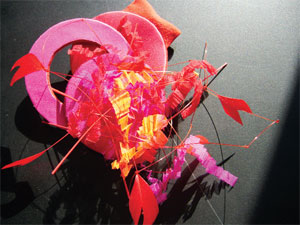 Twice a year in Paris, PREMIERE CLASSE stages Europe's most unique fashion accessory event. A selection of designer and commercial brands is showcased, including hats, shoes, gloves and handbags. Show applications are through live presentations to a selection committee. Metzger has applied and hopes to participate in upcoming shows. She has already shown her hats and headpieces at fashion events in Frankfurt, Stuttgart and Dusseldorf and at Galerie Slavik (galerie-slavik.com) in Vienna, Austria. Her hats have also been seen in numerous fashion shows and on a German television soap opera.
In 2000, she received the "Young Handcraft" award from the German Ministry of Trade and Commerce. In 2002 she received an important crafts association award. Her hats have been featured in fashion trade journals in Germany, France and Great Britain, and in several newspapers in Germany. She has also been featured on the German national television channel and on television shows in Austria and Australia. A recent film production on the history of hats featured several of her pieces.
A strikingly attractive woman, Metzger models her own hats. Working with a talented young photographer, Eric Danzinger, she presents her creations in a highly dramatic manner that adds to their allure. Now every woman wants to look as good at she does in her hats!
After graduating from German Abitur (academic high school), Metzger hoped to study industrial design at the University of Applied Arts Vienna. In October 1990, she took a weeklong entrance examination, but found she was inadequately prepared in areas of technology.
"My father wanted to be an engineer, but I was interested in becoming a fashion designer and was actually happy when I didn't pass the exams," she shares. Metzger stayed on in Vienna to enjoy life there and began (with no training or experience) to design bathrobes.
When her mother no longer wished to support her bohemian lifestyle, she found a job selling hats at the Christmas arts and crafts market.
There, in the chill of the outdoor market, Metzger caught the hat virus. "I learned a lot about faces and different types of people in a short time. Together with my boyfriend, I began to make simple caps. Unlike most German (Berlin) designers who were making cheap and crazy styles, we made ours like the craftspeople in Vienna—from velvet, well done and more elegant.
In March of 1991, with her first collection (about six pieces), Metzger went to Igedo, the biggest fashion fair in Germany at the time.
On a creative impulse, she had changed her hats from velvet to cashmere to achieve a cleaner, more German look. When a buyer from Ludwig Beck (a women's fashion retailer) in Munich ordered 2,000 deutsche marks worth, she felt like she was in heaven.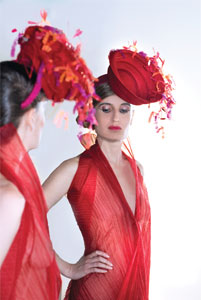 Then the real work began. Finding a studio in Vienna proved too expensive, so she went back to Germany to Esslingen where her family lived. Metzger located a studio and hired a tailor and a milliner to work for her.
She also began her continuing struggle against the idea that hats are only for elderly women or should be made and sold cheaply.
Headpieces are works of fantasy. Little hats mostly made from feathers, they are sophisticated fashion statements for evening wear. The idea comes from mostly 1950s headpieces of New York City. "So the idea is not really new, but my interpretation is original," she maintains. Today, London designer Philip Treacy is best known for headpieces, but Metzger was designing and marketing hers a decade earlier. Treacy made the royal wedding headpiece for Camilla Parker Bowles. Widely covered on television and in the press, it makes both headpieces and Treacy well known. Now all the top designers are making headpieces.
Since she first began making them, Metzger's headpieces have been highly original and creative. They are small, often made of feathers, and easily worn with a hair clip. She now works with a goldsmith to make jeweled headpieces with diamonds, real pearls and gold or silver. You might think of them as "jewelry" for the head.
Many fashionable women now wear headpieces for weddings as the bride or simply a guest, since they are much easier to wear than a big hat. Others wear them to the opera, concerts or theater or to dress parties or fancy balls. Plus, women can place them easily in their hair without help of a hairdresser.
In spring 2007, Metzger presented her work in a highly successful show at the Württemberg State Museum in Stuttgart, exhibiting with H.R.H. Diane von Württemberg, a member of the royal family and a precious metals artist. Metzger was also recently featured on another German television special.
"I don't have a university education like many others," she adds, "but I can tell you life provides the best education. Success is really possible with hard work and dedication." HB